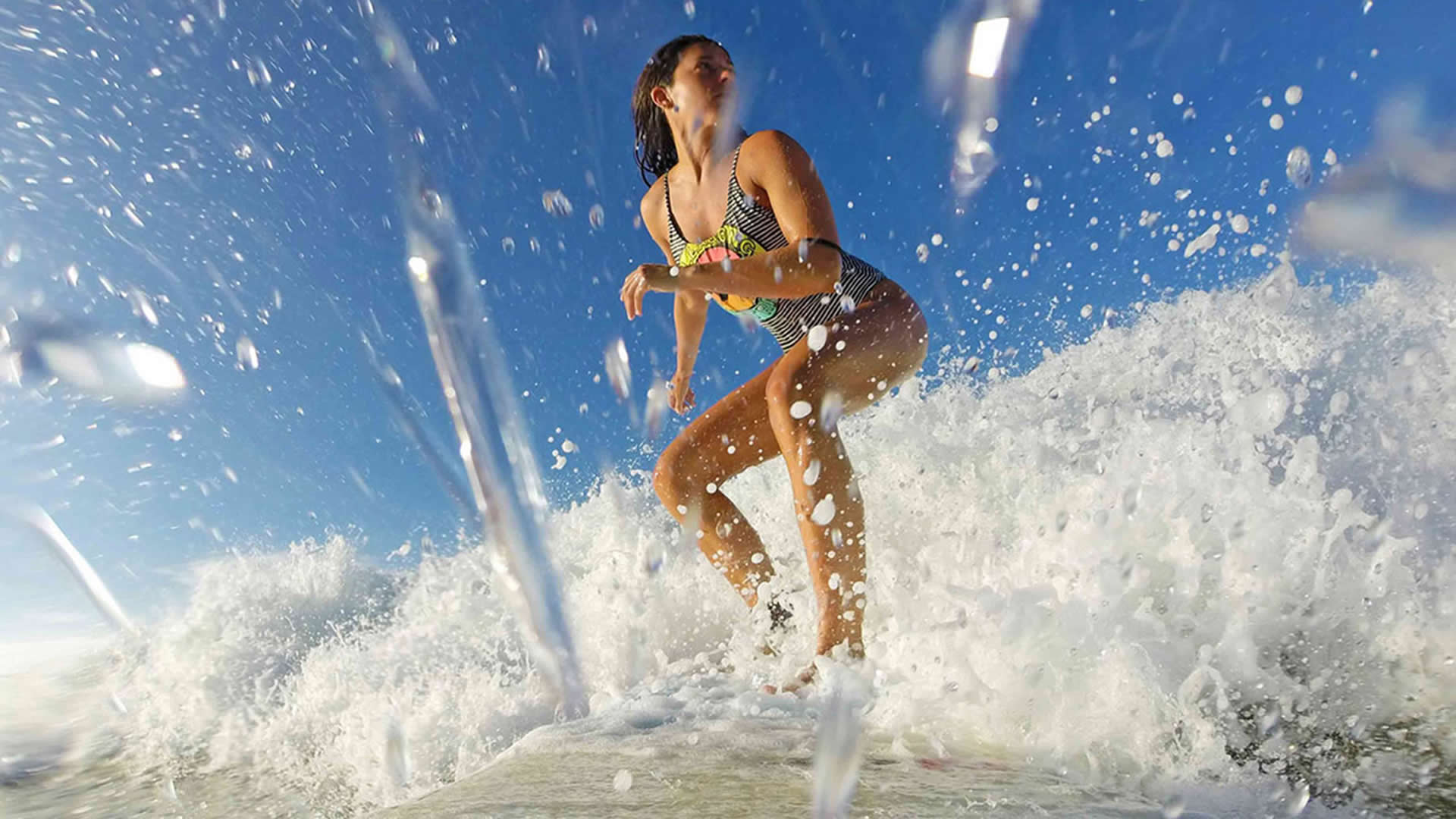 Whether you start as a complete beginner, or a pro surf instructor aiming to improve your skills, this fully immersive surfing programme will have you on your feet and riding the waves in no time!
Duration: 2 – 12 weeks
Dates: Throughout the year
Arrival day: Saturday
Return day: Saturday
Eligibility: Need to be a confident swimmer.
Age: 18+
Become part of a small surfing camp community and enjoy a laid back lifestyle living on the beach
Become a pro-surfing instructor by learning on some of the best surf beaches in Australia
Video analysis sessions, strength & conditioning classes and breath enhancement training
You're only an hour away from Sydney!
Thirroul, New South Wales, Australia
With its beach culture and some of the top surfing spots in the world, it's not surprising that the thought of surfing and Australia often go hand in hand. Whether you're already a proficient surfer, or you're looking to try out this thrilling sport for the first time, there really is no better place to develop and improve your skills, whilst enjoying the fun that comes with living within a friendly Australian surf camp community.
Choose from a 2, 4, 8 or 12 week surfing camp programme at one of the best surf schools in the country, each of which has been carefully designed with the aim of improving an individual's surfing. Upon arriving at the surf camp, novices will embark upon an intensive 14 day schedule, designed to develop your technique from absolute beginner to intermediate, and give you the foundations to go beyond. If you choose to take part for longer than 2 weeks, you will continue to practice and hone your skills, fully immersing yourself in the rhythm of a surfing lifestyle and making great friends along the way with other like-minded people attending this fabulous surfers camp.
The College puts on weekly afternoon tourist activities for you to get involved in if you choose. These might include scenic bush walks, visiting national parks, swimming under huge waterfalls or climbing mountains. At the weekends, you will be free to do as you please. Set out with your new-found friends, and take the chance to explore the beautiful Australian coastline, lively cities and tranquil countryside, or simply make the most of your unspoilt beach-front location.
2 week Surf Camp
This allows you to receive 18 practical surf lessons and 2 surf style skateboard training sessions. You will be able to use high quality equipment including surfboards and wetsuits as part of the experience.  The team provide transport from Thirroul train station, a healthy breakfast each day, a professional photographer on hand to capture your best bits, trips to beautiful coastal locations and first-class accommodation.
4 week Surf Camp
You will receive 20 days of progressive surf lessons (including 28 water-based sessions, 4 class-room theory sessions and 6 on-land fitness sessions). You will have access to first class boards and wetsuits provided by the surf camp at any time during your stay, and undertake weekly video correction sessions aimed at increasing your skill development. You will also visit a working surf board factory, and enjoy guided tourist activities in and around the beautiful surf camp location on the south coast of New South Wales.
8 week Surf Camp
Uou will cover the full set of skills required in the developmental phases of surfing for beginner and intermediate surfers, as well as oceanography, meteorology and surf science. By the end of your stay at surf camp, you will be able to fully understand the ocean and be independently surfing confidently. You will receive 40 days of progressive surf lessons (including 48 water-based sessions, 12 class-room theory lessons and 18 on-land fitness sessions), as well as the weekly video correction sessions and other extras described for the 4-week surf camp course.
12 week Surf Camp
This course is designed not only to develop your surf confidence, build your fitness levels and improve your surfing skills, but should also give you a level of surfing ability and knowledge that would allow you to continue into a career in the surf instructor industry if you choose. On this course, you will receive 60 days of progressive surf lessons (including 68 water-based sessions, 20 class-room theory sessions and 30 on-land fitness sessions), as well as the weekly video correction sessions and other extras described for the 4-week surf camp course.
Accommodation is included in the programme cost and will be at the Surf College's own Beach Motel. The rooms are newly renovated triple share, fitted with en-suites, kitchenettes, lockable draws and top quality king single beds
You can request to have a private room at an extra cost if you choose
The rooms are serviced weekly, but it is your responsibility to keep them tidy
Free WiFi is available throughout the Beach Motel
There is a recreational room and small bar, perfect for socialising
An eating area, screen with Netflix and a pool table
There are laundry facilities but you need to bring your own powder
A daily continental breakfast is provided for surfing camp attendees, but you are expected to make your own lunch and dinner using the facilities in the Beach Motel
Every Friday night, the surf camp staff put on a free BBQ meal
The surf camp is only a few minutes walk from bars, cafes and supermarkets, so you will have plenty of choice when it comes to deciding what to eat and how to spend your evenings
What do I need to know regarding Covid-19?
We have been working closely with our partner organisations to ensure that you travel with the utmost confidence and peace of mind. Follow the links below to learn more about how to do this:
Airport: Sydney (SYD)
Arrival day: Saturday. Catch the Airport Link train to the Central Station (13 minutes). From here catch a train to Thirroul in the northern suburbs of Wollongong (1 hour 30 minutes away).
Departure day: Saturday

Once you are in Australia you will be really well supported by our fantastic partners. The whole team are fanatical surfers and surf instructors and will be delighted to share their enthusiasm and experience with you.
Originally from New Zealand, Ash has made the Australian coast her home and she will be there to help and support you during your Aussie Adventure.
Access to your own personal 'My Oyster' account – our online portal where you can find out much more about the program and manage your booking
Dedicated contact time with an experienced destination manager to discuss the project, answer any of your questions and for us to find out more about you
Help and advice from our UK office before arrival and whilst you are away
In-country support
Pre-departure information covering medical, safety and project advice
Financial protection: ATOL (if we book your flights); IPP (if we don't book your flights)
Thorough orientation on arrival
Accommodation (see the 'accommodation' section above for details)
Advice on visa requirements
Oyster plants a tree in Africa with TreeAid to help reduce the impact of global carbon emissions
Transfer from Thirroul train station to the Surf College.
Full continental breakfasts (special diets can be catered for on request).
5 surf lessons every week.
3 surf specific fitness sessions every week.
2 surf theory sessions every week.
Full use of high quality surf boards and wet suits in and out of lesson times- provided by the surfers camp.
Discounts at the surf camp's Beach Motel bar and café.
Discounts on wet suits and surfboards for those who wish to purchase one.
Oyster Worldwide t-shirt
Oyster Worldwide luggage tag
On your return:
Welcome home pack
Certificate of Recognition (on request)
References (on request)
Flights – as an ATOL bonded company, Oyster can book flights for you
You need a valid passport that meets the requirements of the country you will be travelling to
Insurance (covering your time with Oyster and any planned independent travel)
Any costs associated with changing your return flight date if you need to
Independent travel costs
Home country travel costs
Spending money for additional trips, food and entertainment
An Australian tourist visa (for visits of up to 3 months).
Your travel costs from Sydney airport to Thirroul train station.
Money for lunch and dinner whilst on the programme.
The train from Sydney central to Thirroul
" There is nothing more Aussie than taking some surf lessons and learning from the best. This is the best surf school on the east coast, the team are so friendly and you'll meet so many new friends along the way! " says Georgie, Project Manager
Oyster is working hard to reopen this project. This will involve some changes to the running of the project including:
Transfer amendments – to be confirmed
Accommodation amendments – to be confirmed
All volunteers must bring masks, gloves and hand sanitiser
All volunteers must be able to provide proof of a negative Covid-19 test (taken within 72 hours before departure)
Prepare for a thorough orientation on arrival regarding health and safety measures at your project and in your country destination
Social distancing of 1.5m must be observed during project work
Volunteers must wear masks during the airport transfers
There will be a daily check for temperature and symptoms
Protocol is, and will continue to be, followed with the aim to minimise risk to staff and volunteers
Strictest hygiene controls are in place for equipment and all public areas.
This programme is for anyone who is physically fit, and up for the challenge of learning to surf or improving their surfing technique. Surfing is not easy, and you should not expect to go from beginner to proficient surfer in a week. However, with perseverance, and under the guidance of expert surf instructors, you will certainly see your practice and technique develop and improve. As opposed to other types of surf holidays or surf trips  you could  spend part of your gap year surfing and really developing your skills.
The Wollongong area enjoys a mild temperate climate. Temperatures stay warm throughout the year, reaching average highs of around 22°C in January and February, and lows of about 13°C in July. Rainfall occurs throughout the year, but is lowest in the southern hemisphere's winter and spring (July – December). The wettest months tend to be February and March.
No, you don't have to be a strong swimmer but you will need to be confident in the water. The team will adapt the surf instructing depending on your level of ability.
When people ask about where to surf in Australia, we tell them on this project because there is never a day when there is no surf on the NSW South Coast! The Surf Camp uses three different locations, all facing different directions, so you will always catch some swell.
The start time of the sessions always depends on the weather and wind conditions, but they usually start in the morning or late morning and continue for the rest of the day.
Each surf session starts with an introduction of basics and some dry runs such as paddling and standing up on the beach. Safety and beach conditions are also discussed. The rest of the session is spent in the water putting everything that you have learnt into practice and trying to catch some waves.
Whilst late-availability is possible, we would advise booking as soon as you can to guarantee your ideal dates. Our projects are very popular and spaces can fill up several months in advance.
Nothing beats the thrill of successfully riding your first wave – except when you ride your second better, and then your third, and your fourth… The ability to surf, once the basics are mastered, will never leave you, giving you the freedom to enjoy the waves, wherever you are, again and again and again.
Come armed with perseverance and a smile, and throw yourself into one of our Surf Australia Development programmes to understand for yourself what it is that surfers are raving about. Entrust yourself to the care of our expert surf instructors, and come away with a skill for life, and a potential starting point for a career in this industry.
Take the opportunity to hit the waves in one of the most surfer-friendly countries in the world, and get a true taste of the Australian surfing culture – just don't be surprised if you find it very hard to leave!
Yes, you and a friend can apply to do any of the programmes together, however we cannot guarantee that you will always be put in the same surf sessions, particularly if you have different surfing abilities.
You will surf in a group with a maximum of 6 people, so you will receive plenty of individual attention from the surf instructors.
The total number of people at surf camp will be much greater, so you will be able to socialise with many different people out of the water.
There is no upper age limit to join any of the surf programmes, as long as you feel physically fit. You must be over 18 years old to take part on these programmes.
You will be provided with everything you need to take part in the lessons  – board, wetsuit, leash, rash top. You should bring your own swimming costume and towel.
Yes, you are welcome to bring your own board or wetsuit. Just mention it to us when you make your booking.
Life in Australia will probably be more expensive than you are used to at home. You could expect to pay $4 upwards for a bottle of beer and $4 for a bottle of coke. How much you spend will really depend on the food you decide to eat for lunch and dinner, and the activities you choose to do in your free time.
You will enter Australia on a tourist visa which you can apply for online before you go. This is valid for up to 3 months (12 weeks).
You should have a passport valid for 6 months beyond your planned return date.
You should visit your doctor or travel nurse to find out what vaccinations you will need. It is likely that only your routine vaccinations will need to be up to date.
There are hospitals within 30 minutes of the project sites.
You will be given a safety briefing before entering the water at the start of each surf session, and providing you follow all instructions and advice given by your instructors, you should be as safe surfing in Australia as you would be at home.
Whilst Australia is an extremely safe country, it is important to be aware of your surroundings, keep your belongings safe and keep your wits about you. Crime levels in Australia are similar to the UK.
Surf Camp is located in the a small South Coast town in the northern suburbs of Wollongong, which is only one hour south of Sydney City. It is conveniently located within a few minutes walk to the beach, bars, cafes, super markets and train station.
You will have access to free WiFi in the Beach Motel where you will be staying during your time on the programme.
Sydney is 10 hours ahead of GMT (GMT+10).
Australian electrical appliances operate on 240v at 50hz but the socket outlets are not compatible with other countries' plugs. This means you will need a specific Australian adaptor.
Supervision will be fairly intensive during the first few days, when you will receive a thorough induction and safety training.  Once you are comfortable with things, you might not always have a supervisor alongside you, but there will always be staff and other participants around to help, and you will always be accompanied for any high risk activities.
Staff at Oyster's head office and in-country will be responsible for your safety and welfare while you are on the programme.  This will start from the moment you are picked up from the train station until the time you are dropped back there.  Before and after these times, you will be outside Oyster's responsibility and should make sure that you act safely and avoid risk.  This is also true if you choose to leave the programme during your time off. We will give you plenty of guidance and advice about this
The town of Thirroul is actually a part of the city of Wollongong which is Australia's 9th largest city, although you might feel that it's a small seaside village with the laid back attitude of locals and the proximity to the beach.
Wollongong is a 10 minute train ride South and is a beautiful beach side city and a vibrant University town. There are nice beaches, loads of bars and cafes to hang out at and no shortage of partying to be done for those who want it.
Thirroul is also only 1 hour and 7 minute away from Sydney Central Station so is the perfect distance from the bright lights of Sydney and all the tourist hot spots. It's extremely easy to catch a train up through the Royal National Park along the beautiful scenic railway for a night out or to take a look around and come back the same evening to the relaxed atmosphere of the Surf camp.
Surrounding Thirroul is the Illawarra Escarpment which keeps everybody living by the ocean and provides for a serene rainforest surround. To the North, the Royal National Park separates Thirroul from Sydney and has amazing bush walks, waterfalls and beaches to explore and really highlights the vastness of the Australian landscape.
We haven't even mentioned the waves yet! There are over 20 beaches within walking or riding distance. Epic point breaks, soft beach breaks, heavy beach breaks and a few reef breaks. All of these places face different directions and have different set ups. What this means? Every day there is somewhere good to surf and its not far away!
There is free access to surf boards, wetsuits, bikes and skateboards through out the whole stay so you can free surf and explore as much as you like.
A quick reminder that Oyster can't take responsibility for your safety when doing additional activities outside the surf camp.  Make sure you follow advice about safe/unsafe activities and choose providers with a good attitude towards safety.  You should also need to check that your travel insurance covers any high-risk activities such as bungee jumping.
Other adventures like this