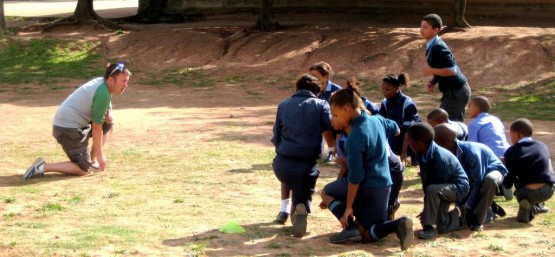 Cricket could easily be described as the national sport in South Africa. Thousands of people play it around the country, from the top at national and international cricket level, right down to kids in the townships. This is certainly a sport which crosses all boundaries.
Passing through townships in South Africa, it is not rare to see kids playing an improvised version of cricket in the streets outside their houses. Very few of these kids get the opportunity to play cricket in a structured and competitive environment, and even fewer will get the chance to really improve their game. This is where you, as on your gap year cricket coaching programme, will come into your element and help the kids progress.
As a cricket coach volunteer, you travel around several township schools with other volunteers, bringing your favourite sports to these townships. As a group of cricket coaches, you will be working with township kids to help them to improve their game- helping with catching, drills, how to place the ball, bowling etc The kids love it, and will love you for teaching them! There is ample opportunity for you to play too –  the kids love for you to get involved and there is even the opportunity to play in your free time too should you wish.
This is a fantastic opportunity to spend your gap year cricket coaching as a volunteer. Bringing sports to the townships is so important, as often this is their only access to play, teamwork and learning something outside of a classroom. Many of the children rely on their school to provide them with food, as it is simply not available at home. To be able to teach them something that they really enjoy is such a gift.
Oyster welcome coaches of all abilities- whether you play for a club or school, or just enjoy having a game with your friends in the park or at the beach, we need all levels of volunteers to bring the sport and enthusiasm to the townships.
For any questions about this project, do get in touch with Anne [email protected] who actually spent some time on this project! Find out more about our gap year cricket programme on our volunteer sports coaching website.