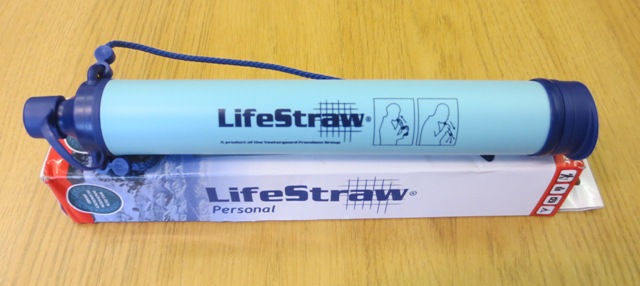 At the end of last year our friends over at the Gap Year Travel Store sent us a LifeStraw (a different water purification method) to test. Desperate to try it out, we couldn't wait until our next trip overseas so tested it in a murky puddle next to Oyster HQ in East Sussex. I drew the short straw, if you'll excuse the pun… and one near miss with the mud later and I can report that it turned murky brown looking water into something fresh tasting and palatable.
Check out my video review of the LifeStraw:
The LifeStraw promises to provide 1000 litres of clean drinking water (far more than the 'Water-to-Go' bottle) and to remove 99.9999% of waterborne bacteria and 99.9% of all waterborne parasites. It is compact, lightweight and pretty easy to use (it takes a bit of effort to get the water up the straw initially). One of the best things about this is that the water purification is instant. There is no need to hang about waiting for the water to be safe to drink, you don't even have to transfer the water to a bottle. Another bonus is that it stops working when 1000 litres of water have been filtered, this is great as it means there is no way you could drink water that hadn't been properly filtered when the filter wears out.
In our opinion, there are a couple of cons to the LifeStraw though.  The LifeStraw is not particularly discreet to use as a method of water purification.  If you were with friends or local people abroad you would look a bit odd whipping this out and it could be seen as impolite in some communities. It also relies on you finding a water source, most other methods allow you to take water with you when you find it, but this doesn't. However, you could fill up your bottle from any water source and then use the LifeStraw to enjoy fresh clean water. If you are trekking it might be good as a back up but I know that I would want the security of knowing that I could have a drink whenever I wanted it and didn't have to hope to find some water when I got thirsty.
If you were on a trip through the rainforest or could be sure that you were always close to a water source, the LifeStraw would be an excellent bit of kit. However, for participants on our projects, we think the 'Water-to-Go' bottle (link goes through to our product review) might offer more flexibility and discretion, although is slightly more expensive.
The LifeStraw is available through our recommended kit supplier – Gap Year Travel Store and is currently on sale for £19.99. Remember that Oyster participants get a 10% discount on all orders from this website. If you haven't received your discount code, contact Jon ([email protected]).