Tales of spectacular scenery and beautiful landscapes have put New Zealand at the top of my list of places to go for many years. At the start of 2017, I was lucky enough have six weeks to spend travelling around both islands of this magical country, and my experiences there did certainly not leave me disappointed. The highlights that I write about in this blog are only some of many, and have been hard to choose. I hope that they will leave you inspired to get out to New Zealand yourself, whether it is to travel, volunteer on a conservation project, or work and experience Maori culture.
Emma – Oyster
The Bay of Islands, North Island
I started my travels around New Zealand in the very north of North Island in Paihia, a small beach-side town in the Bay of Islands. New Zealanders are very into their outdoor activities (which is not surprising given the pleasant climate and amazing natural landscape which surrounds them), and after arriving on my first afternoon, I got immediately involved with a guided kayak up the river estuary to the area's well-known Haruru Falls. After a fairly leisurely paddle to reach our destination, things got more exciting as we began attempting to paddle into and behind the waterfall, which is much more difficult than you might think! Then it was into the water ourselves as we left the boats behind to jump in for a swim. It was an exhilarating introduction to the area, that's for sure!
The following day, I took a boat trip out through the many small, forested islands to see the famous 'Hole in the Rock' – a very large arch that has been carved through one of the taller outer islands by the power of the sea and, given the calm conditions, we were lucky enough to be able to drive straight through it. As we cruised through the bay, I couldn't help imagining scenes from Peter Pan in Nevernever Land unfolding amongst islands very similar to these – it was a very calm and beautiful place.
To complete my brilliant time amongst New Zealand's northern beaches, I booked an overnight stay on a houseboat to explore more of the bay and some of the further flung islands. This was certainly one of the highlights of the trip, and I will never forget the brilliance of the stars and the shimmering of the bioluminescent algae beneath the waves as we paddled out into the darkness on our night-time kayak.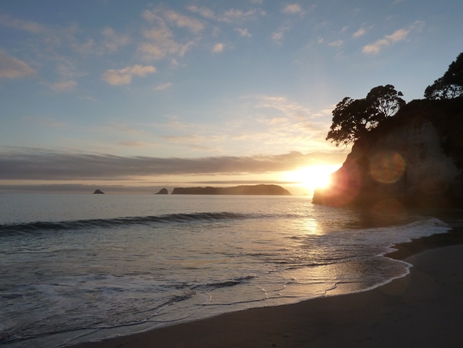 Taupo and the volcanoes of North Island
Travel south through New Zealand's North Island and eventually you will arrive at the vast Lake Taupo – a lake equal in size to the country of Singapore! Formed in the crater of a supervolcano which erupted over 25,000 years ago, this glistening blue lake, lined by a range of volcanic cones (some more active than others), really does make a spectacular sight. After enjoying several walks in the area, including up to the fearsome Haka Falls, and beautiful sunsets over the lake, I travelled along the shoreline to the most distant, looming mountains (the same as those used in The Lord of the Rings films to represent Mount Doom and its surrounding peaks). This area, known as the Tongariro National Park, is home to one of New Zealand's Great Walks – the Tongariro Crossing (an 18km hike up and over the most iconic volcanic cones). Completing this walk was another highlight for me – the opportunity to walk amongst lava fields and volcanic debris, and witness the glistening emerald lakes formed in the craters amongst the peaks, was a once in a lifetime experience!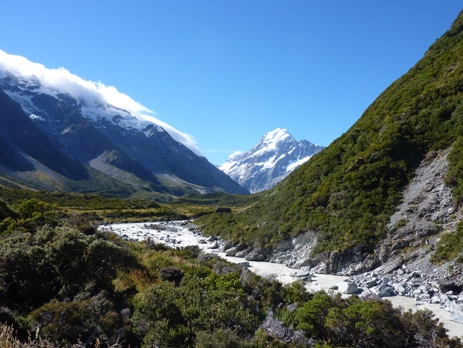 Franz Josef Glacier, South Island
After spending some time walking, kayaking and swimming amongst the golden sandy beaches, lush green hillsides and crystal clear waters of Abel Tasman National Park in the north of New Zealand's South Island, I continued my journey south along the dramatic West Coast, passing the unusually formed Punakaiki (pancake rocks), and eventually heading inland to the glaciated mountains of the Franz Josef area. The combination of amazing weather and exciting activities made my days here stand out as another trip highlight.
With clear blue skies, and brilliant sunshine reflecting off the ice running down from the mountains, conditions could not have been better for a helihike up onto the glacier. Having never been in a helicopter before, the ride up onto the ice was an experience in itself – it was amazing to see the wide, open valleys, forested lower slopes, and ice-capped peaks falling away below us as we made our way up to land on the glacier. Once on the ice, we enjoyed a three hour guided exploration of the glacier surface, including squeezing sideways through narrow crevasses, and crawling through ice tunnels. It was like nothing I've ever done before, and it's very possible that I'll never get up quite so close and personal to a glacier again!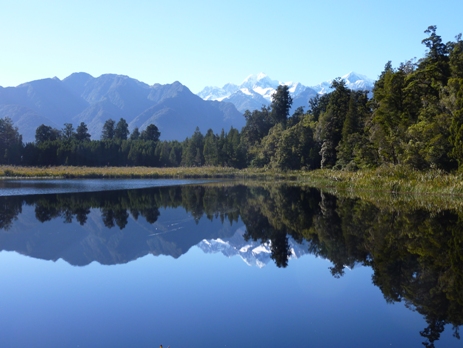 Christchurch, South Island
This city on the east coast of South Island has suffered a series of unfortunate natural disasters over the past decade, including several powerful earthquakes and, very recently, severe forest fires in the surrounding area. Nonetheless, I was impressed by its liveliness, and its clear drive to move on and to make the most of the destruction which has come its way. The best way to explore any city is often on foot, and this was certainly the case with Christchurch. Interactive art installations, community spaces and sculptures are present at every turn, and impressively detailed and colourful murals transform the remnants of brick and concrete walls into works of art. Fortunately, much of the historic centre is still standing (the cathedral being an exception), and the city's botanical gardens (complete with pear and apple trees laden with fruit) were amongst the best that I visited in New Zealand. For a city stay with a difference, and a powerful display of human resilience and positivity, Christchurch is a must.
It has been hard to do New Zealand justice in the short space of a blog article – I haven't even mentioned my night-time kiwi-spotting adventure on Stewart Island, my mystical boat trip through Milford Sound, or my mountain hikes around the Mount Cook and Tekapo regions of New Zealand's South Island, all of which were just as amazing as the experiences I have already described. All I can say is that you will just have to visit the country to find out its magic for yourself! The projects that we offer here at Oyster are a great place to start – check out our pages on conservation volunteering in New Zealand, or, if you'd rather get a job first to earn money to fund your further travel, have a look at our paid work in New Zealand programme. You won't be disappointed!