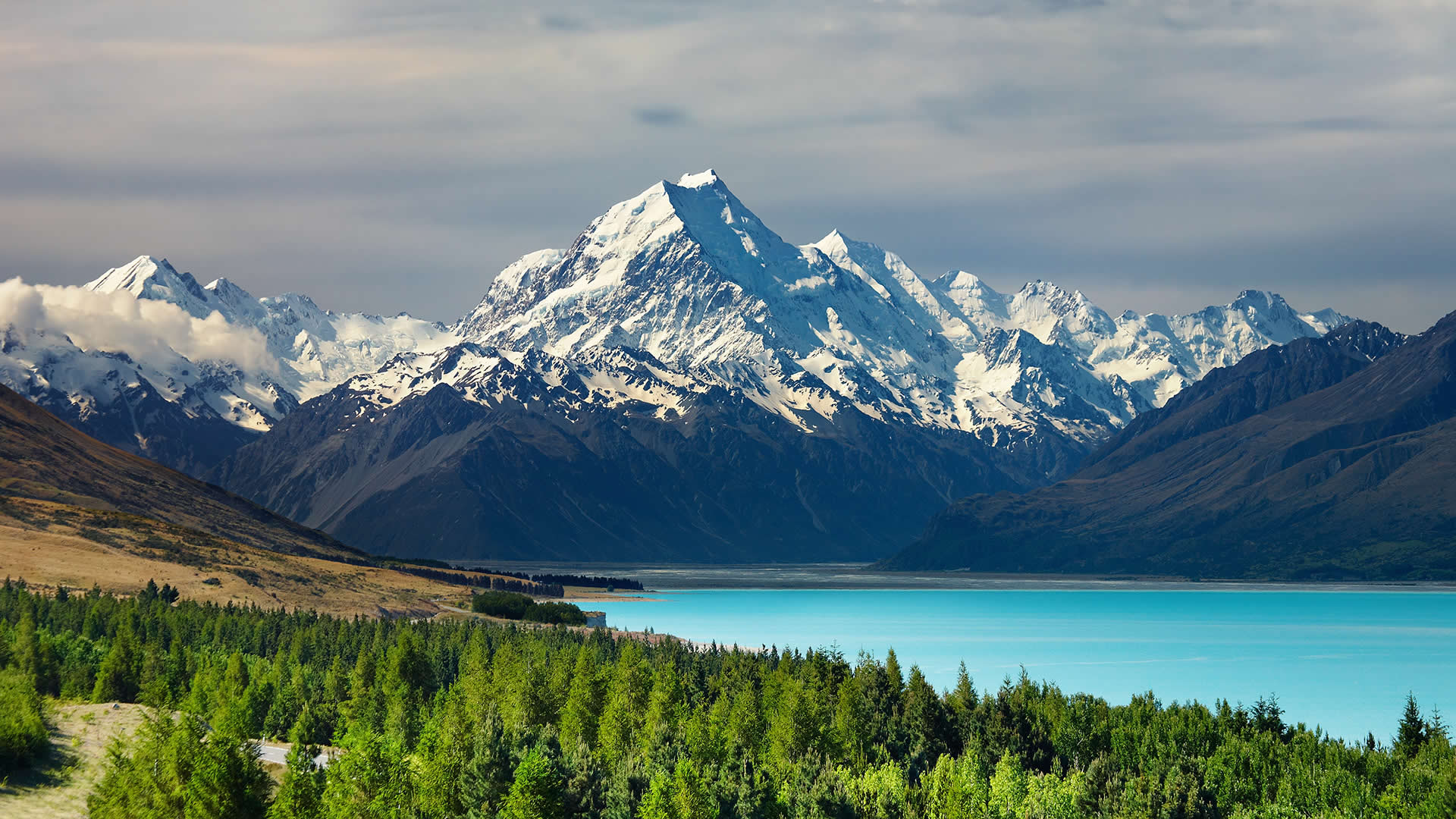 Head to beautiful New Zealand and take part in an orientation week with other like minded travellers! Let our team support and guide you in finding paid work abroad through access to our online database of exclusive jobs.
Duration: 10- 52 weeks
Dates: See here for dates
Arrival day: Sunday
Eligibility: Must be eligible for a work visa
Age: 18+
Earn a good wage to fund further travels!
Auckland city sightseeing tour including the Harbour Bridge, The Domain and Mt Eden Volcano
Immerse yourself in the Maori cultural experience and enjoy your own performance of the traditional Haka dance
Try your hand at dune surfing and sand boarding on the famous 90 mile beach
Hike to the legendary Harura falls and visit Russel the first capital city of New Zealand
12 month job finding assistance with access to an exclusive job database
This programme offers a fantastic opportunity to work and travel in one of the most diverse and beautiful countries in the world. This is a 12 month work and holiday package where you will be assisted with finding work and setting up all necessary paperwork to make sure you are in the best position to start the ball rolling. You will begin your adventure in Auckland with a fantastic 7 day orientation package.
The work available to you is varied, with the majority of the jobs at entry level positions in industries including admin, retail, hospitality, farming, factory and construction. Pay will allow you to support yourself and save a bit of money for travelling.
New Zealand is renowned for its attractive beaches, remarkable volcanic history and vibrant indigenous culture. Enjoy this beautiful country and take advantage of work prospects which will enable you to live and work like a Kiwi and fully appreciate everything that these incredible islands have to offer.
When you arrive at the airport in Auckland you will transferred to the YHA hostel. It is situated in the heart of the city and very close to urban amenities such as shops, restaurants cafes and pubs. After you arrive, the rest of the day is designed for you to relax, refuel and get over jet lag before the programme gets into full swing!
On Monday, you and other participants are invited to a day of presentations relating to work and travel. You will also be assisted in creating an application for a tax file number and introduced to an exclusive job finding database. Enjoy a full and friendly welcome and an evening pizza night designed for you to get to know other like-minded travellers
Tuesday involves an exciting city tour to see highlights such as the Auckland Harbour Bridge, The Domain and a trip to the Mt Eden volcano. You will meet the bank and finalise your account application. In the evening join the team for a BBQ and then prepare yourself for an awesome Auckland city pub crawl!
On Wednesday you will journey up north and visit the breath-taking Bay of Islands known for its spectacular beauty and as a unique subtropical micro-region. In the afternoon, get your walking boots on and get ready to embark upon a magnificent hike to the Harura Falls. Tonight it's burgers back at your accommodation in the lovely town of Paihia, and a chance to rest your weary feet
Thursday is a day to witness New Zealand's amazing cultural history. You will be taken to the historical site of Waitangi to learn about indigenous culture and customs from your Maori guide. As a manuhiri (guest), you will be given a taste of the infamous haka dance and become part of the unforgettable cultural show hosted by traditional Marae. You will take a ferry to Russel which was the first capital of New Zealand and in the evening unwind back in Paihia enjoying movies, board games and the hot tub with your new friends
Friday allows you to experience a comprehensive tour of the Cape Reinga region in the most northern tip of the North Island. This famous cape is where the Pacific Ocean meets the Tasman Sea in a swirl of spectacular currents. You'll be given the opportunity to test out sand boarding and dune surfing on the famous 90 mile beach and in the evening dance the night away in one of the best pubs in Paihia
On Saturday you will have the morning in Paihia to get your last touristy bits and bobs done, and then you will transfer to Auckland in the late afternoon
(please note that the schedule may vary and is dependent on certain conditions such as the weather).
You will stay in comfortable dorm style accommodation in Auckland city YHA. This hostel has a fully equipped kitchen, BBQ area, sun deck and TV lounge room. There is luggage storage, internet access and laundry facilities included
When heading up north you will transit to accommodation in Paihia. The Paihia Bay Adventure hostel offers excellent facilities including a swimming pool, outdoor spa pool, tennis courts and free WiFi.
In total 6 nights are included and there are 6 continental breakfasts and 3 dinners consisting of Pizzas, BBQs and Burgers!
What do I need to know regarding Covid-19?
We have been working closely with our partner organisations to ensure that you travel with the utmost confidence and peace of mind. Follow the links below to learn more about how to do this:
Airport: Auckland (AKL)
Arrival day: Sunday. A shuttle bus transfer is included as part of your package.
Departure day: Sunday. We suggest you book at least a couple of days accommodation following this until you have secured a job and make more permanent arrangements.

Our Auckland manager is Simone. Simone and the team will be on-hand to help and support you through the entire 12 month duration or however long you may need it.
Access to your own personal 'My Oyster' account – our online portal where you can find out much more about the program and manage your booking
Dedicated contact time with an experienced destination manager to discuss the project, answer any of your questions and for us to find out more about you
Help and advice from our UK office before arrival and whilst you are away
In-country support
Pre-departure information covering medical, safety and project advice
Gold level, 24/7 Pharos crisis management and incident support cover
Financial protection: ATOL (if we book your flights); IPP (if we don't book your flights)
Thorough orientation on arrival
Accommodation (see the 'accommodation' section above for details)
Advice on visa requirements
Oyster plants a tree in Africa with TreeAid to help reduce the impact of global carbon emissions
Pre-paid transfers from the Airport to the YHA Auckland via shuttle bus
6 Continental breakfasts
3 Dinners
A fully-guided week of tourist activities
All transfers included during the week
Auckland sightseeing tour
Maori cultural experience and Haka dance entertainment
Dune surfing and sand boarding on the famous 90 mile beach
Trip to Russel, the very first capital of New Zealand
Guided walk to Harura Falls
Comprehensive job and travel presentations
Industry specific employment seminars
12 month job assistance and unlimited access to consultations and an exclusive job database
Access to the use of offices with our partners in Australia – free WiFi if travelling and job finding services for those who also apply for an Australian working holiday during the 12 month membership
Unlimited WiFi access at job finding offices during weekdays
Opening a bank account
Tax file number registration
A New Zealand SIM card for mobile phones
12 month international hostel membership with the YHA
Internet access at the YHA
Mail holding and forwarding
Luggage storage for up to 4 weeks
Access to discounted travel products
Flights – as an ATOL bonded company, Oyster can book flights for you
You need a valid passport that meets the requirements of the country you will be travelling to
Insurance (covering your time with Oyster and any planned independent travel)
Any costs associated with changing your return flight date if you need to
Independent travel costs
Home country travel costs
Spending money for additional trips, food and entertainment
You must be eligible for Working Holiday visa (age range between 18-30 and of eligible nationality. See here for visa eligibility criteria
Money to pay for accommodation following the induction course
This programme is perfect for those who are looking to challenge themselves and looking for paid jobs abroad, but may need a little support to get the ball rolling. If you are aged between 18-30 then you could potentially work and travel New Zealand.! A visa  will allow you to live and work in New Zealand for at least one year and enjoy all the amazing opportunities these islands have to offer. If you are from the UK then you can be eligible for up to a 23 months stay.
On the whole, both the North and South Islands enjoy mainly moderate climates throughout the year. The far north has sub-tropical weather during summer months and the inland alpine areas of the South Island can be as cold as -10c in winter. Given that you are never that far from the coast, most of the country experiences mild temperatures, moderate rainfall and an abundance of sunshine. Summer is December to February and the coldest months are from June to August.
Available dates for 2020:
16th February
22nd March
21st June
23rd August
20th September
18th October
22nd November
Arrival is a Sunday
Auckland is one of the most affordable cities in the world and although city life can be expensive, you will tend to earn more per hour on the minimum wage than anywhere in Europe. As New Zealand is made up of islands, some things need to be imported and therefore will cost more. We recommend you save about £2000 to be safe. You will be earning, however it is always good to have emergency funds and be able to pay for accommodation following your induction week. Visa requirements state that you must have $4200 (New Zealand Dollars) available in funds to support living costs.
The New Zealand Working Holiday Visa scheme gives people between the ages of 18 and 30 the opportunity to travel to New Zealand and work during this time to fund their travels. A 23 month visa is guaranteed for British citizens providing there are no legal issues during the first 12 months.
In order to be eligible, you must hold a passport valid for at least three months after your arrival, be of the correct age, have no dependent children, hold a return ticket or funds to purchase one, meet health and character requirements and have not been approved a visa or permit in the past.
You must be from one of the following countries who have agreements with the New Zealand government:
Argentina, Austria, Belgium, Brazil, Canada, Chile, China, Czech Republic, Denmark, Estonia, Finland,France, Germany , Hong Kong Special Administrative Region ,Hungary, Ireland, Israel, Italy, Japan, Korea, Latvia, Malaysia, Malta, Mexico, Netherlands, Norway, Peru, Poland, Singapore (work exchange programme), Slovakia, Slovenia, Spain, Sweden, Taiwan, Thailand, Turkey, United Kingdom, United States of America, Uruguay and Vietnam.
Visas are approximately £125 and typically take 5 working days to process.
You can absolutely apply with a friend and complete the induction week together. We cannot however guarantee that you will find a job together. If you do travel with a friend you can organise to live in the same apartment. Many people apply solo and meet like-minded friends on the programme so don't worry, you won't be the only one!
Group sizes vary but expect to be with around 25 other travellers.
There are limited spaces for each week so it is best to book as far in advance as you can commit to. We generally say a minimum of booking 2 months in advance but we will always check for last minute availability. September and October can be very popular and again in January so if you are thinking about these dates then prepare to book about 4-6months in advance.
New Zealand is one of the most unspoilt countries on earth with one third of the land mass designated as national park. Tourism is its number one industry and there is so much to do from bungee jumping to hiking in the mountains or simply enjoying life in lively Auckland.
This programme offers the opportunity not only to travel, but to live and work as a Kiwi. This is a chance to experience the real New Zealand by earning money and then enjoying it! It is a great way to enhance your CV with interesting work experience for when you return home. An excellent chance to either take a career break from 'real life' or help develop your independence before 'real life' begins!
New Zealand is a splendid place to start for those who haven't done much travelling as it is a safe, English-speaking country. Our support team will always be on hand to help you if you get stuck so you will never feel alone. Job presentations cover topics such as facts and figures relating to the job market, how to build an effective CV, tips on finding great jobs and how to conduct yourself during an interview.
Make life long friends from around the world and create memories that will stay with you forever.
Your first week will be fun-packed and full of Kiwi adventure. Enjoy the cosmopolitan city of Auckland and explore the sub-tropical regions of New Zealand's North Island.
Day 1:
Arrive in Auckland and transit to the YHA.
Day 2:
Meet other participants and enjoy a day of job and travel presentations.
Set up a tax file number and relax in the evening with a welcome pizza night.
Day 3:
Auckland sight seeing tour including the Auckland Harbour Bridge, The Domain and a trip to the Mt Eden volcano.
Open a bank account and enjoy a BBQ and pub crawl with the team.
Day 4:
Visit the Bay of Island and hike to Harura Falls.
Stay in Paihia and relax in the evening with burgers.
Day 5:
Visit the historical site of Waitangi to learn about indigenous culture and customs. Take a ferry to Russel – the first capital of New Zealand.
Day 6:
Enjoy a comprehensive tour of the Cape Reinga and try out sand boarding and dune surfing on the famous 90 mile beach.
In the evening dance the night away in one of the best pubs in Paihia.
Day 7:
On Saturday you will have the morning in Paihia to get your last touristy bits and bobs done and then you will transfer to Auckland in the late afternoon.
(please note this schedule can vary depending on weather conditions and availability)
Most participants will have a job organised within the first 2-3 weeks of their arrival in Auckland. You can chose to stay on at the YHA hostel or move straight out to a new apartment with your new friends following the induction week.
You do not have to commit to working in Auckland and are free to explore further afield and live and work somewhere else on the North or South Island. Whatever your decision, be rest-assured that you will have the full support of our in-country team.
It is impossible for our team to 100% guarantee you work as a large part of the process involves you to be pro-active, flexible and committed, however with dedicated support, training, consultations and help with your CV, you will definitely be in the perfect position. The team will help you with your interview techniques and work out which sort of job suits you best using access to an exclusive job finding database. Most people find work within 2-3 weeks of arriving in the country.
To some extent you are able to work anywhere in New Zealand. This of course is dependent of the type of work and locations that are available at the time you take part. Jobs generally fall in the sectors of retail and hospitality, agriculture and factory or warehouse work.
You can stay in the same job for up to 6 months – this is a limitation of your visa. Some contracts will be as short as just a few months.
You will have access to the job finding database and will have full job finding support for up to 12 months. British citizens can work with one employer for the entire stay.
Workers who have been involved in three months of work in either the horticulture or viticulture industries may apply for a Working Holidaymaker Extension Visa. If granted, this visa will allow for an additional three months' stay at the end of a working holiday.
Please visit your doctor or travel nurse to find out. New Zealand is a western country and it is unlikely that you will need anything in addition to your routine vaccinations that should be up to date.
New Zealand is fairly small so you are never far from a hospital. Auckland City Hospital and the Bay of Islands Hospital are the two closest to where you will be located during your orientation week.
New Zealand alongside Denmark is considered the least corrupt country in the world. It is an extremely safe place with low crime rates. As when travelling in any country, it pays to keep your wits about you. Be sure to make use of safes to lock away your valuables and keep an eye on your luggage and personal belongings at all times.
There is unlimited access at the offices during work hours. The YHA offers internet access for guests and you will find this is the case in most hostels across the country.
New Zealand is 12 hours ahead of  GMT (GMT/UTC + 12). Please note New Zealand practices daylight savings so it is +13 during some months of the year.
In New Zealand the power sockets are of type I. The standard voltage is 230 V and the standard frequency is 50 Hz.
Auckland has so much to offer that it is impossible to list it all here.
Enjoy a coastal walk past the volcano cone of Mt Eden and One Tree hill. Visit the Auckland museum and Art Gallery, both of which are free to enter.
A pub crawl is always a great way to meet new people and why not enjoy a free backpacker tour giving you advice on the top sites, eateries and parties in the local area.  Watch a free movie in the park, walk to Silo park or take a ferry trip to visit the picturesque town of Devonport.
Some of New Zealand's highlights as a whole include the glaciers and mountain walks of Milford Sound, Tongariro National Park, Bay of Islands, Lake Wanaka,
The Hobbiton Movie set and Waiheke Island. You are never far from the coast so there is always the option of a fantastic beach somewhere on your travels.
Other adventures like this