Our turtle conservation volunteering project in Costa Rica is the perfect opportunity to step off the beaten track and spend some time living with remote local communities on the golden shores of the 'Rich Coast'. Read on to discover some of the highlights of this project, shared with us directly by our previous volunteers.
Releasing the hatchlings:
'It was so great going in September and releasing nest upon nest of hatchlings into the sea! Such a unique experience.' (Alistair Badenoch)
'Getting to see so many baby turtles released into the Pacific was such an amazing experience and to actually be a part of it made it all the more special.' (Kathryn Simkins)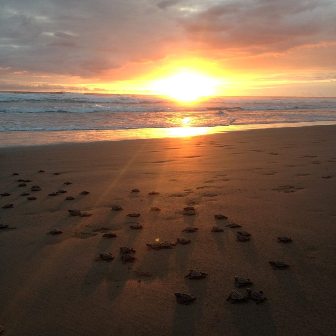 Night time beach patrols:
'We'd keep an eye out for turtle tracks on the beach, and once we saw some, the excitement would build as you knew you that there would be a nest to collect eggs from, or that the turtle would still be there. The sky was pretty amazing at night too, and it was incredible to watch the storms out at sea, and the huge array of stars. As long as the sky was clear, you'd see at least one shooting star without fail.' (Mica Thompson)
Making great friends with people from around the world:
'A project like this is a great way to make new friends, likely from other countries, who all share a similar interest to you.' (Mica Thompson)
'I loved being myself and mucking in with the rest of the group either doing jobs round the house or patrolling the beach – it was so relaxed and fun.' (Helen Jones)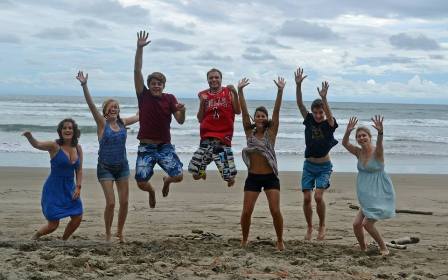 If you're feeling inspired and fancy booking to head out to volunteer with turtles in Costa Rica yourself, here are some top tips from returned volunteers to help you prepare for the project:
'Be prepared for a different lifestyle that is very far away from home. But make friends and just enjoy it – it'll be over before you know it!' (Faye Simpson).
'Don't expect the luxuries of home – you will quickly understand that you can enjoy yourself without much at all. Go into the holiday with an open mind, be prepared to muck in, learn heaps, have fun and you won't be disappointed.' (Kerri Wrench and family)
'Be prepared to relax and chill out during the day. There are occasionally trips to do and try to get a surf lesson if you can, but there was a lot of time to read books, play card games and swim.' (Jenny Holmes)
'Ask about what kinds of trips you can go on at the start of your trip, and make it known which ones you would like to do so that the coordinators can organise them in time.' (Arianne Taylor)
'Be prepared to have unusual sleeping patterns due to night time beach patrols, and do not expect to see a turtle every night.' (Hollie Hughes)
'Try to learn a bit of Spanish so you can chat to the local people on night patrols'. (Emily Tipper)
'Bring waterproof shoes or boots for walking the night patrols so you don't have to keep drying your shoes. Leggings or some kind of long trousers make it harder for the sand fleas to get you!' (Kathryn Simkins)
'Take a really good waterproof and a good pair of shoes. A camera is also pretty much essential!' (Holly Robinson).
Hopefully these comments from our past volunteers have given you a taste of life on this exciting volunteering opportunity. Have a look at our Costa Rica page for more details on this project, or browse the animal welfare page of our website to explore some of the other volunteering opportunities that we offer.