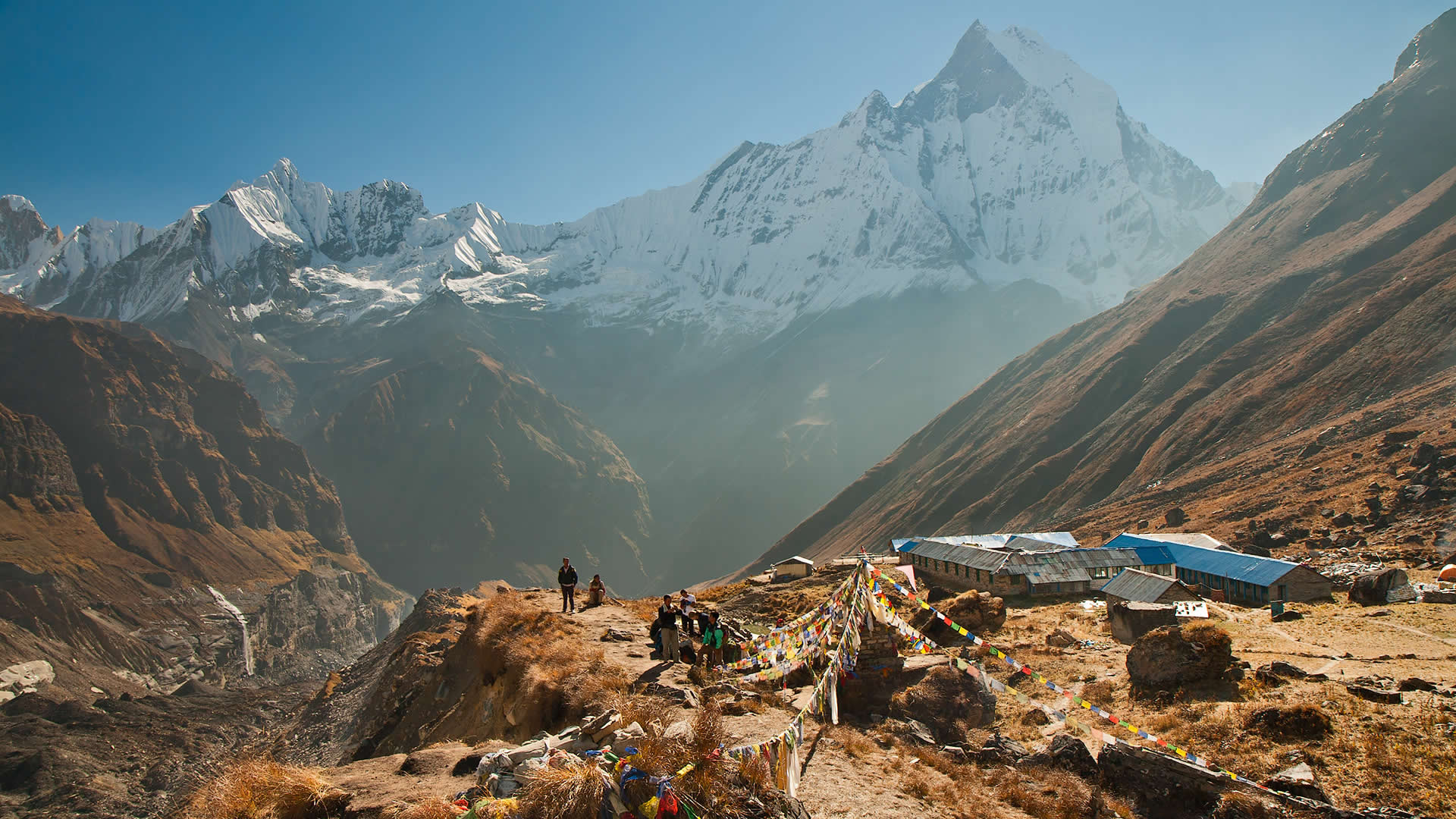 The Annapurna Base Camp trek is one of the most intensely scenic treks in Nepal, taking you to a high plateau surrounded by a ring of immense mountains, known as the Annapurna Sanctuary. The area is sacred to local people and, when you are surrounded by these silent, soaring peaks, you will understand why.
If you love trekking, mountains or great scenery, trekking to Annapurna Base Camp has to be on your bucket list.
Duration: 16 days
Trekking days: 10
Max Elevation: 4130m/13,549ft
Grade of trek: Moderate
Dates: Flexible throughout the trekking season (Sept-May). Guaranteed start dates on 1st Friday of each month.
Arrival day: Friday
Return day: Saturday
Eligibility: Good level of physical fitness is required. This is an intense trek at high altitude.
Age: 18+
Watching the landscape change dramatically as you trek up to Annapurna Base Camp
Exploring the bustling streets and beautiful monuments of the historic cities of Kathmandu and Pokhara
Feeling the exhilaration and accomplishment of reaching Annapurna Base Camp
Completing part of one of the best long-distance treks in the world – the Annapurna Circuit
Annapurna Base Camp, Ghandruk, Nepal
This 16 day trip in Nepal includes 10 days trekking and reaches altitudes of over 4,000m. It's graded as 'moderate', making it suitable for reasonably fit walkers.
After your initial two night stay in historic Kathmandu,  you'll be driven to the lakeside town of Pokhara for the night and then to Pedhi for the start of your trek. You will make the gradual ascent to Machupare Base Camp, then to Annapurna Base Camp where you'll have a full day to rest and enjoy the calm of the Sanctuary, before descending via Bamboo and Jhinu Danda to the end of your trek. You'll have the satisfaction of having completed part of the renowned Annapurna Circuit – widely considered to be the best long distance trek in the world.
Check out our full itinerary for a breakdown of the route and more details.
You should do this because you get to see amazing places, meet really nice people and have so much fun!" – Oenone, Annapurna Base Camp trekker
Whilst in Kathmandu (4 nights) and Pokhara (2 nights), you will stay in comfortable, yet simple, hotels on a bed and breakfast basis
Along the trekking route, you will stay in comfortable and good quality lodges, expect to share a bathroom with other trekkers (9 nights)
In our experience, trekkers enjoy the flexibility of being able to choose their meals. Therefore, we exclude most meals from the cost of the trek so that you can eat according to your budget and preferred taste. A budget of £13 per day should be ample.
What do I need to know regarding Covid-19?
We have been working closely with our partners in Nepal and keeping an eye on the current travel restrictions to ensure we have the most up to date information and give you peace of mind. Please see the links below for more information.
Program updates:
We expect there to be small changes to the program in order to accommodate restrictions in place at the time of travel. These may include:
social distancing
accommodation amendments
private transfers instead of groups
proof of a negative Covid-19 test upon arrival (taken within 72 hours before travel)
wearing masks and other protective clothing
extra health and safety measures
Depending on when you are due to travel, some of these may become obsolete. We advise to be prepared for a quick turnaround of travel arrangements and having back up options should changes need to be made.
Airport: Kathmandu Airport (KTM)
Arrival day: Friday (other arrival days are possible).
Transfers: You will be met at the airport and transferred to your hotel accommodation for orientation
Departure day: Saturday – you will be taken back to Kathmandu Airport.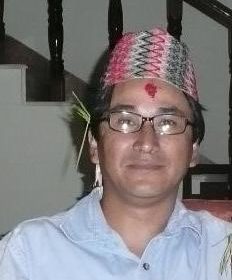 Basant has been our representative since the beginning and has over a decade of experience in dealing with our trekkers. He is based in Kathmandu and runs all of the orientation sessions before handing you over to one of the highly experienced guides who will be leading your trek.
Access to your own personal 'My Oyster' account – our online portal where you can find out much more about the program and manage your booking
Dedicated contact time with an experienced destination manager to discuss the project, answer any of your questions and for us to find out more about you
Help and advice from our UK office before arrival and whilst you are away
In-country support
Pre-departure information covering medical, safety and project advice
Gold level, 24/7 Pharos crisis management and incident support cover
Financial protection: ATOL (if we book your flights); IPP (if we don't book your flights)
Thorough orientation on arrival
Accommodation (see the 'accommodation' section above for details)
Advice on visa requirements
Oyster plants a tree in Africa with TreeAid to help reduce the impact of global carbon emissions
Airport transfers and all necessary transport during your trip
1 half-day guided sightseeing of the world heritage sites in Kathmandu, including transport and entrance fees
Trek with well-respected trekking organisation with experienced guides and full insurance
Porters during the trek (weight max. 15 kg per client)
National park fees
Oyster Trekking kit bag for each group member
Flights – as an ATOL bonded company, Oyster can book flights for you
You need a valid passport that meets the requirements of the country you will be travelling to
Insurance (covering your time with Oyster and any planned independent travel)
Any costs associated with changing your return flight date if you need to
Independent travel costs
Home country travel costs
Spending money for additional trips, food and entertainment
All meals during trek (budget approx. £13 per day); Lunches and dinners in Kathmandu and Pokhara
Personal expenses (laundry, bar bills etc)
Nepal Visa fee (approx US$40 for up to 30 days)
Gratuities for staff
You will get the chance to explore Kathmandu before starting a 10 day trek through lush forests and arid highlands up to the Sanctuary and on to Jinhu Danda. The Annapurna circuit trek includes a full day at Annapurna Base Camp so you can rest and take in some of the most impressive mountain scenery on earth. But it's not just the scenery that makes Annapurna trekking special. It's fascinating to visit remote villages, as well as Pokhara, a popular lakeside town.
Day 1: Arrival in Kathmandu: (1300m)
You will be met at the airport and taken to your hotel. Our representative will get you settled in and give you a basic introduction to the local area. O/N Hotel
Day 2: Briefing and Sightseeing
After breakfast, you will have a full briefing to prepare you for the trek, including kit, conditions, health and safety.  In the afternoon, you will be taken for a guided tour of this fascinating medieval city. O/N Hotel
Day 3: Drive to Pokhara (827m)
You'll be driven the 7 hours to Pokhara, a popular lakeside town, with plenty to see and do. You will have the afternoon to explore. O/N Hotel
Day 4: Drive to Phedi then trek to Deorali: (2095m)  Lunch at Pothana
The trek starts at nearby Phedi.  The trek is short, but steep, so you will be encouraged to take it slowly and enjoy the scenery. After an hour's ascent through beautiful forests, you reach Dhampus, a lovely village with rich farmland and attractive houses.  The path gradually rises to Pothana (1970m), where you stop for lunch.  You then continue through oak and rhododendron forests into the Modi Khola valley, stopping for the night at Bhichok Deorali.  Here there are fantastic views, including the snowy peaks of Annapurna South and Hiunchuli marking the entrance to the Sanctuary.  O/N Lodge in Deorali
Day 5: Trek to Ghandruk: (1940m)  Lunch at Tolka
In the morning, you descend again on forest trails to reach the pretty village of Landruk (1630m).  After lunch, continue your descent to cross the Modi Khola river, and then slowly climb the other side to the attractive village of Ghandruk.  Here you can relax or explore its maze of little streets. O/N Lodge in Ghandruk
Day 6: Trek to Chomrong (3210m) Lunch at Timrung Khola
A short trek day today before climbing into the Sanctuary. From Ghandruk, you cross the Khyumnu Khola river and then follow the ridge above the Modi Khola.  You will eventually reach the comfortable lodges of Chomrong, the last Gurung village on the route. It's a long morning, but worth getting there in time for lunch, giving you the afternoon to relax and take in the scenery. O/N Lodge in Chomrong
Day 7: Trek to Doban: (2510m); Lunch at Shinu Danda
Walk down through old Chomrong village before climbing gently through hamlets and some final stretches of farmland. Eventually, you'll reach a high ridge with impressive views all the way back to Ghandruk.  You then enter the great oak and rhododendron forests beyond to start our route up to the Sanctuary itself. It's a beautiful route, with colourful rhododendrons, wild orchids and groups of chattering monkeys.  Eventually, you'll arrive at the lodge in Doban, right alongside the dramatic peaks of the 'holy mountain' Machapuchare.  O/N Lodge in Doban
Day 8: Trek to Machapuchare Base Camp (3700m); Lunch at Deorali
Set off up the valley's narrowing gorge towards the entry to the Sanctuary.  The path winds its way up along the river, through a rocky landscape with fragrant shrubs and occasional caves.  Break for lunch at Deorali (3230m), with the beautiful peak of Gangapurna straight in front of you. As you round the ridge of Hiunchuli, you suddenly enter the Sanctuary, which has been hidden up to this point.  Stunning peaks surround you. Above you on a ledge is Machapuchare Base Camp (3705m) where you'll stop for the night. At this stage, you have only reached one corner of the Sanctuary.  Tomorrow will reveal its full extent. O/N Lodge in Machapuchare Base Camp
Day 9: Trek to Annapurna Base Camp (4130m); Lunch there
Climb for a few hours up gradual slopes to the lodge at Annapurna Base Camp. Though this trek stays relatively low, it can still take time to acclimatize and you will be encouraged to take it slowly.  The ridge line of peaks is almost uninterrupted, including Hiunchuli, Annapurna South, Machapuchare and others.  After lunch, you can choose to climb the gentle northern slopes of Hiunchuli to reach even better views. O/N Lodge at ABC
Day 10: Rest day at Annapurna Base Camp
You'll have another full day to take in the immense views at the Sanctuary. If you didn't go up to the Hiunchuli viewpoint the previous day, you can do it this morning. Afterwards, you can explore right up the valley toward the magnificent south face of Annapurna. Or you can just relax and enjoy being here. O/N Lodge at ABC
Day 11: Trek to Bamboo (2340m); Lunch at Deorali
If you're feeling hardy, there will be a pre-dawn excursion up the hillside to catch the magical sunrise.  After breakfast, begin the descent to Machapuchare Base Camp and continue down to Deorali for lunch.  We then carry on to Bamboo for the night. O/N Lodge in Bamboo
Day 12: Trek to Jhinu Danda (1780m); Lunch at Chomrong
Continue the descent, arriving back at Chomrong for lunch. You'll then take a different route from the one you climbed up on, arriving shortly at a Brahmin (high caste Hindu) village called Chinu. There is not far to go this afternoon so you could choose to visit a wonderful hot spring just north of the village for a relaxing soak. Back on the trail, continue down to Jhinu Danda for the night stop. This will be your last night with your trekking crew (except your Guide).  The crew join you for a farewell ceremony with Nepali song and dance. O/N Lodge in Jhinu Danda
Day 13: Trek to Birethanti then drive to Pokhara: (820m); Lunch at Syauli Bazaar
Follow the trail alongside the river to Birethanti, where you stop for lunch.  In the afternoon, you'll cross the river to drive the short distance back to Pokhara for comfort, hot showers and cold drinks at your hotel. O/N Hotel in Pokhara
Day 14: Bus to Kathmandu
Take the comfortable five hour bus journey back to Kathmandu, passing through a number of spectacular villages and seeing people rafting on the rivers. You will have time in the afternoon for more sightseeing, shopping or fun in the relaxed bars of Thamel. There is an option to take a short internal flight from Pokhara to Kathmandu. This is a supplement of US$100 per person. O/N Hotel in Kathmandu
Day 15: Day at leisure
You have the whole day to yourself to relax at hotel or explore Kathmandu, shopping etc. O/N at Hotel in Kathmandu
Day 16: Holiday extension or transfer to airport for final departure
You will be transferred to the airport for your final departure flight, unless you are extending your holiday.
As with all of Oyster's trips, you can be confident of safe, well-organised travel and a great personal service from Jon, the Destination Manager for Nepal on this Annapurna Sanctuary trek. He will be happy to chat through your needs and find the right Nepal trek for you.
Our prices are extremely competitive, due to the fact that we have direct and longstanding links with our trekking partners and are able to keep prices down without compromising on quality.
Nepal has two main seasons. The dry season is between October and May. The wet season is between June and September and a number of trekking routes can be closed at this time. It can get very hot in Nepal, even during the winter months it can get to 20oC during the day, but very cold at night.
Oyster is not able to advise you on which insurance policy you should get. What we can say is that you should ensure that you have a comprehensive policy that covers you for trekking at altitudes up to 4,130m. You should also make sure that your policy covers you for emergency helicopter evacuation.
We act as 'Introducer' for a policy with Global Travel Insurance.
We would recommend allowing £13 per day for food. Including social life costs, you will probably spend about £20 per day in total.
You can withdraw Nepali rupees in Kathmandu from one of the many ATMs in the city. You will need cash for the trek to pay for your food each day.
The Nepal Visa fee is approx US$40 for up to 30 days. This will be granted on arrival in Nepal
You can travel solo on our treks although groups of friends are very welcome. The more people in your group, the cheaper it will be per person.
You should visit your doctor or travel nurse to find out what vaccinations you will need. Your routine vaccinations will need to be up to date, Hepatitis A and Typhoid are likely and Hepatitis B, Yellow fever, malaria and Rabies are a possibility. You should follow your doctor's advice.
There is a health clinic run by western doctors located in Kathmandu. They deal with most health concerns of our participants. If you have any medical issues whilst on a trek, you will be offered First Aid from our trained guides. There are medical clinics along the trekking route and, for anything serious, your travel insurance should cover you for helicopter evacuation to Kathmandu.
Trekking is an adventure sport and carries risks with it. We have taken every precaution to make sure that you will be suitable for the trek and that you will be briefed thoroughly on the risks and how to manage them. Our guides are experts and able to deal with any safety issues. Nepal is generally regarded as safe. Don't believe all you hear from tourists and do listen to the advice of Oyster and Basant. Above all use your common sense i.e. if you see a crowd forming don't go and see what it is all about – leave the area.
During the Kathmandu portions, you will be in the heart of the tourist district. Whilst on the treks themselves, Kathmandu will be at least a 4-6 hour drive from the trek start point.
You will stay in simple but comfortable hotels in Kathmandu and Pokhara, as well as the best available lodges en route.
Dal Bhat – this is a lentil based curry (not very spicy) served with rice. You will learn to love this as most people have this for breakfast and dinner each day. In Kathmandu, you can buy pretty much any food that you like. There are pizza places, bakeries, Chinese, Thai and Indian restaurants… the list goes on! Nepal is one of only a few countries in the world that does not have a McDonalds!
WiFi is available in Kathmandu before and after your trek by visiting one of the many internet cafes. Whilst on the trek, you should not expect to get access to the internet
Mobile reception is good in the Kathmandu Valley. Don't expect to get mobile reception when trekking. Our guides carry emergency satellite phones which are only used in case of emergency.
You will be in UTC +5.45.
An international adapter is recommended in Nepal. A mixture of 3 round pin (small or large) and 2 round pin sockets exist.
Many trekkers use this as an opportunity to explore the World Heritage Sites in Kathmandu and to buy gifts to take home. If you extend your trip and have more free time, there are lots of things that you can do. From rafting, to safari to heading to Pokhara, we can advise and help you to book these.
Generally, you will have at least one or two days in Kathmandu.
Supervision will be fairly intensive during the first few days, when you will receive a thorough induction and trek briefing. During the trek itself, you will be supervised by a guide and porters whilst walking.
Staff at Oyster's head office and in-country will be responsible for your safety and welfare while you are on the trek. This will start from the moment you are picked up from the airport until the time you are dropped back there. Before and after these times, you will be outside Oyster's responsibility and should make sure that you act safely and avoid risk. This is also true if you choose to go sight-seeing during your time off. We will give you plenty of guidance and advice about this.
Other adventures like this