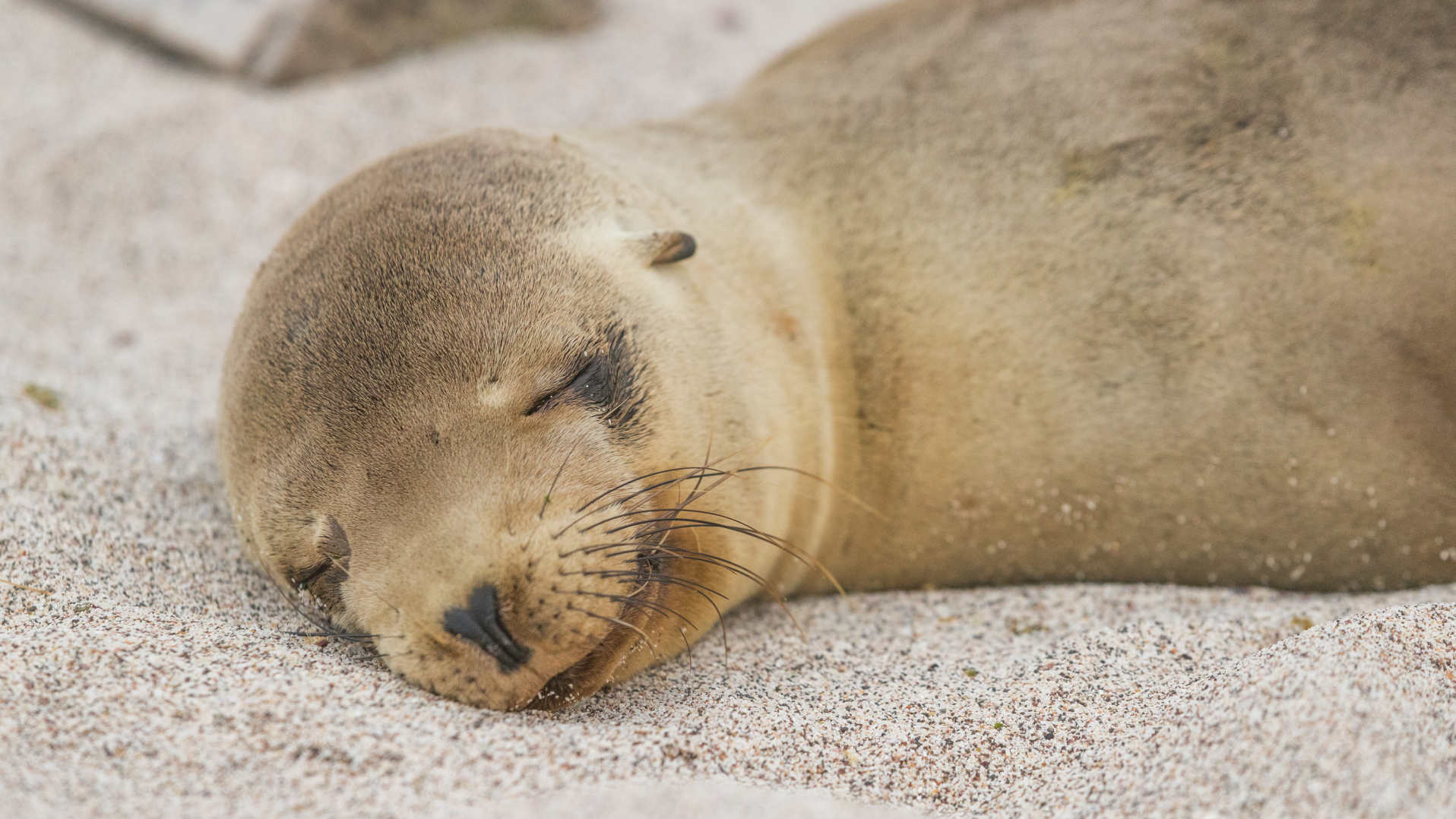 Help to promote conservation and biodiversity in the Galapagos, the jewel in the crown of the stunning equatorial country of Ecuador. Get back to nature volunteering to improve the habitats for native creatures, from incredible bird life to giant tortoises. If that isn't enough of a draw, enjoy your free time swimming in the crystal clear waters, diving with amazing marine life and spending a day at the beach with a crowd of sea lions.
Duration: 1 – 4 weeks
Dates: Throughout the year except over Christmas and New Year
Arrival day: Sunday
Return day: Saturday
Eligibility: General level of fitness required.
Age: 18+
Join a conservation project dedicated to protecting the Galapagos' renowned natural environment
Enjoy working surrounded by stunning scenery and unique wildlife species
See the giant tortoise in your free time – one of the most ancient creatures in the world
Live in one of the most spectacular and unusual locations that you will ever experience
Try snorkelling in the crystal clear waters, and join the sea lions on the beach in your free time
San Cristóbal, Galápagos, Ecuador
The Galapagos is known as one of the most enchantingly beautiful places on this planet. With incredible biodiversity, craggy beauty and protected landscapes, it has gone down in legend as the world's premier wildlife destination. The animals that call this place home have become renowned for their fearlessness, leading to encounters that cannot be experienced anywhere else in the world.
Despite this amazing biodiversity, the wildlife population has been in danger since the arrival of humans in the 1500s. The presence of people has meant that the seas have been severely over-fished, the land has been over-farmed, and imported non-native animals and plants have completely taken over many native species. Because of this, almost 60% of native vegetation is considered to be under threat.
Volunteers join an important conservation project based on San Cristobal island. The conservation project is a combined project between locals, the National Park authority and local government, with the aim of preserving and promoting biodiversity on the island. The main aim is to restore and maintain the balance of this fragile ecosystem between nature and humanity, and volunteers are actively involved in that work.
You will be rising early each day to cheat the heat and really get into the islanders' way of life. Your project will usually last from 8.00 – 12.00 each day, however this can change depending on the tasks at hand.
Tasks are varied and depend on the need, however some examples of things that you might be doing include:
Chopping down invasive vegetation such as blackberry, guava and elder
Nurturing, growing and replanting seedlings to restore native and endemic species
Clearing areas of weeds so that the seedlings do not become suffocated by other plants
Beach clean ups and litter picks, reducing the amount of single use plastic entering the waterways
Assisting on an organic farm to learn about sustainable farming
Painting, construction and maintenance work in the community
Identifying and logging native flora and fauna
Collecting data on water levels
Education programmes in local schools, with the aim to teach children the importance of conservation
Helping to improve community facilities such as schools and libraries
In addition to the tasks at the project, there may be other things for you to get involved with. If you want to contribute anything further, just share your ideas with the volunteer coordinator. People involved in the project may be too shy to tell you what to do, therefore your volunteer period will be more worthwhile if you show initiative and ask how you can help, or come up with your own ideas. Those involved in the project are always open to new ways of doing things.
Located in the main town of Puerto Baquerizo Moreno just minutes from the centre and the beach.
Self catered accommodation in a small guesthouse with other volunteers.
Small dormitory bedrooms which you will share with 2 – 3 other volunteers.
Private room upgrades are possible in a nearby hotel.
You will be sharing shower and bathroom facilities.
Food is not included in the price and you need to be cooking and preparing your own meals. This is generally done on a communal basis, with a couple of people preparing lunch and a couple of others doing dinner. This is a great way to teach others about your local cuisine and to enjoy other cuisines too.
Food that is easy to come by includes fresh fruit and vegetables, bread, rice, pasta, cheese and milk.
Optional extra: Spanish lessons
Learn Spanish remotely before you travel with our wonderful Oyster representative in Ecuador, Monika. Monika is a qualified teacher of Spanish and for many years she has been helping volunteers to improve their Spanish abilities. She is happy to teach any level of Spanish ability, from complete beginner to someone who has a good grasp of the language.
Price guide and details:
Whatever your ability, Monika will tailor a teaching programme around you
Lessons are mainly based around what would be useful for life as a volunteer in a Spanish-speaking country, although can be amended to your preferences
Lessons are conducted online and you must have access to a laptop and internet connection
Lessons are 2 hours each and take place twice per week
Lesson scheduling is flexible around your availability. Monika is available between 11am UK time and 2am UK time each day.
8 hours of teaching (2 weeks of lessons): £150
16 hours of teaching (4 weeks of lessons): £275
24 hours of teaching (6 weeks of lessons): £400
32 hours of teaching (8 weeks of lessons): £525
If you are interested in learning Spanish with Monika, please let us know on your booking form.
Photography and conservation Galapagos trip: 6th - 19th November 2022
Oyster is proud to be working with the award-winning British wildlife and conservation photographer Scott Latham. From 6th – 19th November 2022, Scott will be leading a wildlife photography and conservation trip to the Galapagos. In addition to the conservation volunteering, there will also be dedicated photography days where you can improve your skills, get unrivaled access to wildlife and take some high quality photos under Scott's tuition. Find out more.
To book onto this trip, simply complete the booking form and specify that you are keen to join the photography trip. Spaces are limited, so book early to avoid disappointment. The cost for this trip is £3595.
What do I need to know regarding Covid-19?
We have been working closely with our partner organisations to ensure that you travel with the utmost confidence and peace of mind. Follow the links below to learn more about how to do this:
Airport: San Cristobal (SCY)
Arrival day: Sunday.
Departure day: Saturday.
Access to your own personal 'My Oyster' account – our online portal where you can find out much more about the program and manage your booking
Dedicated contact time with an experienced destination manager to discuss the project, answer any of your questions and for us to find out more about you
Help and advice from our UK office before arrival and whilst you are away
In-country support
Pre-departure information covering medical, safety and project advice
Financial protection: ATOL (if we book your flights); IPP (if we don't book your flights)
Thorough orientation on arrival
Accommodation (see the 'accommodation' section above for details)
Advice on visa requirements
Oyster plants a tree in Africa with TreeAid to help reduce the impact of global carbon emissions
Airport collection on the Galapagos and transfer to the accommodation
Project transfers
Donation to the project
Oyster Worldwide volunteer t-shirt
Oyster luggage tag
On your return:
Welcome home pack
Certificate of Recognition (on request)
References (on request)
Flights – as an ATOL bonded company, Oyster can book flights for you
You need a valid passport that meets the requirements of the country you will be travelling to
Insurance (covering your time with Oyster and any planned independent travel)
Any costs associated with changing your return flight date if you need to
Independent travel costs
Home country travel costs
Spending money for additional trips, food and entertainment
If you will be flying through the USA you need to comply with US regulations- make sure you have an ESTA (Electronic System for Travel Authorization) at least 72 hours before you leave
Return transport to the airport / port for onward travel (approx 10USD)
Food (allow about £50 per week)
Entry fee to the Galapagos Islands (100USD)
Migration Control Card for the Galapagos Islands (20USD)
Oyster is working hard to reopen this project. This will involve some changes to the running of the project including:
Transfer amendments – to be confirmed
Accommodation amendments – to be confirmed
All volunteers must bring masks, gloves and hand sanitiser
All volunteers must be able to provide proof of a negative Covid-19 test (taken within 72 hours before departure)
Prepare for a thorough orientation on arrival regarding health and safety measures at your project and in your country destination
Social distancing of 1.5m must be observed during project work
Volunteers must wear masks during the airport transfers
There will be a daily check for temperature and symptoms
Protocol is, and will continue to be, followed with the aim to minimise risk to staff and volunteers
Strictest hygiene controls are in place for equipment and all public areas.
Returning home
In order to fly home, your government may require you present a negative PCR test taken a maximum of 72 hours before your flight. This may not apply to you, however please make sure that you aware of the situation between the country you are returning from and returning home to. Oyster Worldwide will support you with this process but it is your responsibility.
Below are details of getting a PCR test from this project site:
There are no Covid testing facilities in the Galapagos islands, so you will have to return to Quito before taking your test.
You would need to fly out on a Saturday. Testing facilities are not open on Sundays, so you would have your test on the Monday.
Our Oyster Ecuador rep, Monika, can arrange for you to stay at her house and take a private test, which takes 24 hours to come back. You can stay at Monika's home for £15 including bed and board. You would therefore have to fly home on the Wednesday at the earliest.
The costs associated with getting the PCR test are at your own expense. At the time of writing, the test costs 80USD.
The day starts early, usually at about 8am with the beginning of the project. You start with heading out to the day's project site.
When you get there you will be most likely clearing vegetation, planting saplings, maintaining the area or taking part in other local projects.
There are some days where you visit the National Park Authority's plant nurseries, and others where you help out at the giant tortoise rehabilitation centre.
Generally the working day finishes at about 12.00. After this you are free to prepare your lunch, go into town, go to the beach, go exploring, or simply chill out with a book or the other volunteers.
The Galapagos is one of the most dreamed-of locations for many travellers who love the great outdoors, wildlife and nature. To be able to contribute to the survival of this astonishing environment is not only important, it is also lots of fun.
No trip to the Galapagos would be complete without exploring, and as such one of the great highlights is exploring the island – and even going as far afield as some of the others in the area.
The work on this project is mostly physical, and can be quite challenging in the hot and humid weather. It is important that you have a good level of fitness.
Volunteers need to be committed and hard working
Volunteers need to be patient, flexible and able to use their own initiative. The pace of life in Ecuador is much slower than you might be used to, so you must be tolerant and respectful.
The project aims to restore the natural balance of the island of San Cristobal, and empower people to want to maintain it. This overall aim can be achieved through focusing on a series of smaller and more quantifiable goals:
Control of invasive species through reforestation with endemic and native plants of the island.
Establish a research center in which gained ecological information can be stored, studied and is accessible to the local community.
Support local organic production, based on conservation.
Raise awareness among volunteers about environmental challenges.
Reinforce conservation practices for the San Cristobal Island residents, focused on teaching children and adolescents through interactive programs about the importance of sustainable habits.
Oyster assesses projects carefully to ensure that they offer high standards of animal welfare and environmental practice. We also check that volunteers understand key points of good practice before working with animals. To find out more, see our animal welfare policy.
Whilst late-availability is possible, we would advise booking as soon as you can to guarantee your ideal dates. Our projects are very popular and spaces can fill up several months in advance, especially for the months of June to September.
The Galapagos has a two-season climate:
January – June: warm / wet season
July – December: cool / dry season
The islands are relatively dry all year but during the warm-wet season there are short and heavy bursts of rain with temperatures around 30 degrees. In the cool-dry season the air temperature can drop to 22 degrees and the skies are more overcast. These seasons can merge into each other however, so do prepare for all eventualities.
Wildlife can be seen throughout the year. The sea temperature is colder during the cool season, so swimming can be chilly!
Life in Ecuador is relatively inexpensive, however the Galapagos islands are more expensive as most things that you will enjoy there are imported from the mainland. Your accommodation is included, however you will need to be catering for yourself for food. You should budget about £50 per week for food.
In terms of eating and drinking out, a large beer might cost about £4, a cocktail £5 and a meal about £10 – £15 if you are eating in a tourist restaurant. You can buy local meals for about £4 and buy drinks in a shop for about £1.
If you plan to do any larger trips, you should budget separately for this. Examples of this include snorkelling trips (about £100), diving trips (about £150), island boat tours (about £150) and Highlands Tours (about £50).
You need to make sure your passport is valid for a minimum of 6 months from your date of entry into Ecuador. You will receive a tourist stamp on arrival allowing you to stay for up to 60 days for free.
To enter the Galapagos, you need to pay 20USD for a Migration Control Card for the Galapagos Islands. This is purchased in mainland Ecuador, either in Quito or Guayaquil depending on where you are flying from. The airline staff will show you how to get this.
On arrival in San Cristobal, you will need to pay 100USD entry fee to the National Park Authority.
Most of our volunteers are independent travellers and you will become part of a group of people from around the world here. It is fine to travel with friends or as part of a small group too however- more the merrier!
This project is varied and engaging, and is perfect for those who want to help make a genuine contribution to conserving this beautiful area. Wherever you work, you will look up and your breath will be taken away by the beauty of what you see, from the glittering sea to the lush greenery. This is a unique opportunity for those on a holiday with a difference or taking a gap year, ready to get off the beaten track and immerse themselves in the Galapagos way of life. You will certainly find that some knowledge of Spanish is a bonus here so that you can become as engaged as possible in the project and your surroundings.
The Galapagos is one of our most important and impressive environments on the planet, and as such requires as much protection as possible. You can make a great contribution here, as every weed that you clear or every tree that you plant opens up the possibility for native vegetation to flourish, and with that for the island's biodiversity to improve dramatically.
This is a once in a lifetime opportunity and a great way to leave a positive mark on this glorious archipelago.
The simple answer to this question is, yes absolutely!
It is important to bear in mind however that this may not be like what you imagine holidays to Galapagos Islands may be like . Remember that you are volunteering, and this means that you will be put to work! This sort of holiday is a world away from sun loungers and cocktails, with our volunteers often heading home tired but immensely satisfied. If you think that you will need a bit of relaxing time on your trip too, do make sure to factor this in when your time on the project is complete.
You should visit your doctor or travel nurse to find out what vaccinations you will need. Your routine vaccinations will need to be up to date; hepatitis A and Typhoid are likely. You should follow your doctor's advice.
Please check below for where the closest hospital to the project is- your doctor may ask to know this so that they can provide information on rabies.
There are hospital facilities in the local town of Puerto Baquerizo Monero, located about 20 minutes from the project sites themselves, and just a few minutes from the accommodation.
The project is located in a very secure and safe area. The local town of Puerto Baquerizo Monero is small and friendly, and is very used to having international travellers. The same safety rules apply here as anywhere – keep an eye on your belongings and take care when walking at night time.
Your accommodation is just a few minutes walk from the centre of town.
There are various corner shops and supermarkets stocking all that you could need in the way of food and drink. There is also a large municipal market where you can buy fresh meat and fish, as well as fruits and vegetables. Make sure to come early in the day to buy meat and fish, otherwise it will be sat in the hot temperatures all day until you come to buy it. There are several ATM machines, but do bear in mind that the only ATMs on the island are available in this town. There is an astronomical charge on card transactions in shops and when booking tours – 21% – so you need to make sure you have enough cash with you when leaving the town. There is a hospital and police station here. There are lots of souvenir shops too.
There is wifi available at the accommodation, but it is very slow. You can generally access wifi in the bars and restaurants in the local town of Puerto Baquerizo Moreno. Alternatively there are internet cafes here which you can use.
The phone signal whilst on the project can be very patchy, but in the town it is very good.
The Galapagos is 6 hours behind GMT and 1 hour behind mainland Ecuador (GMT – 6)
Plug sockets are two flat prongs (US and Canada adapter).
There are some fabulous beaches around the area – Playa Mann, just out of the main town, is voted as one of the top sunset spots in the world (probably because of the huge colony of sea lions that gather to watch as well).
Further out of town is the Playa de Loberia and Playa Corola, leading on to more beaches. There is some great snorkelling to be done just off the coastal paths too so make sure to pack a snorkel.
You can also hire a taxi driver to take you to some of the Highlands highlights – a saltwater lake, the tortoise breeding centre and the beach.
The main town comes to life at night time, and there are usually tourists, friends and families strolling along the malecon (harbour wall). There are lots of cafes, bars and restaurants offering happy hour and drinks promotions.
Your project runs from Monday – Friday, with the weekends free for exploring the island or even further afield. You will also have your afternoons and evenings to relax or go exploring, although you can also get more involved in community life with teaching English locally for example.
Supervision will be fairly intensive during the first few days, when you will receive a thorough induction and work-related training. Once you are comfortable with things, you might not always have a supervisor working alongside you, but there will always be staff and other volunteers around to help, and you will always be accompanied for any high risk activities.
Staff at Oyster's head office and in-country will be responsible for your safety and welfare while you are at the project. This will start from the moment you are picked up from the airport until the time you are dropped back there. Before and after these times, you will be outside Oyster's responsibility and should make sure that you act safely and avoid risk. This is also true if you choose to leave the project during your time off. We will give you plenty of guidance and advice about this.
Oyster has personally hand-picked some of the best volunteering projects out there. With so much amazing choice, it can be hard to make a decision. Our Animal Welfare Destination Manager, Anne, has written a guide to help you to choose the best animal volunteering project for you.
Join an award-winning photographer on a conservation and wildlife photography adventure from 6th – 19th November 2022. This trip costs £3595.
This is a photography holiday with a difference, as it incorporates photography and conservation. We believe that photographers should make a positive impact on their environment whilst taking some breathtaking shots and improving their skills.
During the trip you will spend time on the volunteer project completing tasks such as:
Chopping down invasive vegetation and removing weeds
Nurturing, growing and replanting seedlings to restore native and endemic species
Beach clean ups and litter picks
Painting, construction and maintenance work in the community
Monitoring and data collection on local flora and fauna
Education programmes in local schools, with the aim to teach children the importance of conservation
In addition to learning about the ecosystem and helping to conserve it, you will also have first-hand encounters with the the wildlife that the islands are known for. This involves photography trips to see sea lions, sea birds, iguanas and the giant tortoise. You will be accompanied throughout the trip by the award-winning photographer Scott Latham, who will guide you on taking some amazing photos.
On this trip you will be:
Living in a B&B on a twin sharing basis
Enjoying two course evening meals (drinks excluded) at local restaurants
Taking part in photography-specific trips: a trip to the Highlands, to local beaches, to islands and other nature-spotting locations
Supported throughout by wildlife photographer Scott Latham
Supported by the expert team on the ground in the Galapagos
This trip costs £3595. To book your place, complete the booking form and specify that you would like to join the conservation photography trip.
Other adventures like this