Farm work in Australia
Experience life as a jackeroo or jillaroo on a ranch in the vast and beautiful Australian Outback. Learn to ride dirt bikes and horses, muster and work with cattle, pick up fencing skills, use chainsaws and operate tractors on our fantastic introductory farm training week. Oh and did we mention you are guaranteed a paid job at the end of the programme? What more could you ask for?!
This is the best way to experience true Aussie outdoor lifestyle and meet real rural locals. It is also a really great opportunity to save some money and fund further travels around this amazing country!
The Basics:
Oyster's Outback Programme including 4 days in Noosa, a full 5 day agricultural training programme with food and accommodation included and up to a year of jobs costs £1393.
Departures:
All year round except over the 6 weeks in December/ early January when it is the wet season. Arrival day in Brisbane is on a Thursday.
Highlights
A guaranteed first job in regional Australia and assistance with subsequent jobs thereafter.
Receive safety training on many aspects of farm work necessary for working in rural Australian.
Enjoy time at the incredible beach town of Noosa – a fantastic base for visiting Fraser Island, Australia Zoo and the Sunshine Coast.
Learn new skills and experience horse riding, dirt-biking, tractor driving and much more.
Get to know the real Australia by living and working with a genuine Aussie family – the life that few travellers get to experience.
Earn good money to fund further travel around the country- or even further afield.
Paid work in Australia for tough Poms
Finding farm work jobs abroad can be tough but Oyster's paid work programme opens the door to farming and outdoor jobs all over Outback Australia. Starting with a fantastic 5-day farm training course that will equip you with the skills needed to work on farms, ranches, cattle stations and riding stables. You will get to grips with driving tractors, riding horses, using chainsaws, riding dirt bikes, and constructing fences.
The training farm is certainly a highlight of the programme and an experience that you will remember for years to come. It combines learning new skills with lots of fun. With almost 2000 employers across Australia on the job-finding database, your first job is guaranteed. You will receive plenty of support and advice during your training week to help ensure you choose a job that will suit what you are looking for. Help is also provided if you decide to look for a subsequent job later on.
Aussies expect hard work and a positive attitude, you will be set up with an employer initially for up to 6 months depending on your skills and motivations. Click here for more details on who this programme would suit. You will be paid around A$350 (up to £230!) per week, plus free tucker and swag (OK, free bed and board).
The added bonus of this work programme is that you can earn enough to finance another few months' travel – and you will be doing more than just fruit picking in Australia!
What will I be doing in the Outback?
Aussie farms are remote and the jobs that need doing are varied. You could be rounding up sheep and cattle, doing essential maintenance around the farm, harvesting crops, looking after horses, being a station cook or an au pair for a family.
You'll need to be ready to get stuck in and to work outdoors in all weather – no whingeing Poms, please! It's tough, physical work, but in the evening you can sit outside under the stars sharing beers and stories with your work mates. And you'll sleep like a log! You MUST have a driving licence before you travel to Australia and be able to drive a manual car confidently. Find out why
It's not all hard work. At the beginning of the programme you will spend 4 nights in Noosa. This is a great opportunity to get to know your companions and enjoy the legendary Aussie sun, sea and sand before heading to the training farm. Once you have finished your job you can do some travelling- or get back to the beach. After exploring what Australia's amazing diversity has to offer, our partners will support you in finding subsequent jobs for up to 12 months.
Accommodation and Food
You will stay on a farm either with the farmer's family or in workers' accommodation. Different farms offer different accommodation, in some places you might be sharing a room and in others you might have your own room with aircon and the use of a pool, it is important to be flexible. When you are offered a job you will be given details of the accommodation so there will be no surprises. Your food and accommodation are included with your job free of charge – in return you are expected to look after your accommodation and be a friendly and helpful house guest.
Getting there
The farm work programme runs every week of the year, with the exception of over the Christmas and New Year period. Participants arrive in Brisbane (BNE) every Thursday morning, between 6am and 9am to start the programme. On arrival at the airport, participants are greeted and taken to a desk where they will pick up their tickets for their transfer to Noosa.
What is provided
An excellent and well-regarded farm training course (5 nights) with food, accommodation, work hat, t-shirt, water bottle and internet access all included.
Access to your personal 'My Oyster' account – our online portal where you can find out much more about the programme and manage your booking.
A guaranteed job, with help finding subsequent work for the duration of your visa (12 months).
Being met at Brisbane airport on arrival.
A restful holiday in Noosa when you arrive (4 nights hostel accommodation).
Excellent preparation from Oyster, including one-to-one interview and informal briefing.
Advice on obtaining a working visa.
(Optional) Help finding a competitive and suitable return flight to Brisbane (cost around £900 from London).
Help setting up an Australian bank account before departure.
Medicare and Tax File Number included and arranged for you.
Full financial protection through our ATOL bond if Oyster book your flights.
Help and advice from our UK office.
Support and advice in-country if you need it with a 24/7 free emergency phone number.
Food and accommodation at your workplace.
Travel to Noosa and the training farm.
International phone card worth $10.
Free access to InterHealth's Travel Health Advice Service.
On your return:
What do I need
A passport valid for 6 months beyond the end of your programme.
You must be eligible for an Australian working holiday visa (UK and 18 other nationalities- see here for details).
Cost of a working holiday visa- approx £240.
Hold a full drivers license- knowing how to drive manual is important. Find out why.
Hold either a Visa or Mastercard credit card or have $900 Australian dollars in cash when you arrive.
Insurance – we can introduce you to a policy.
Flight to Brisbane (we can book for you).
Cost of changing your flight if you need to.
Your travel costs to the airport.
Cost of travel from training farm to job (budget for up to A$500).
Independent travel and accommodation costs when not working.
Some money for food during your first 4 nights on the beach.
Appropriate clothing (we will advise and these can be purchased in Australia).
Living costs (hostel and food costs) while not working i.e. when travelling over several days to a job or if you are in between jobs.
Availability for this project
The availability calendar below is a guide only. We do advise early booking to guarantee your preferred dates.
Available
Limited availability
Very limited availability
Unavailable
Why
should I do this?
Getting paid work in Australia is one of the "musts" on a gap year. Not only does it allow you to stay for a long time in one of the most diverse countries in the world, it also means that you get to earn some money.
Wages are high in Australia, however so is the cost of living. Farm work in Australia not only gets you a great wage, it also covers your accommodation and food costs. You can save up whilst working on farm, ready to explore the beauty of the East Coast, Australia in general or even head further afield over to South East Asia.
Our training programme is a great experience and a lot of fun – it has even been quoted by one of our past participants as "the best bit about Australia!" Getting a guaranteed job suitable to your skills at the end of it not only means that you can start earning straight away, it also means that that you will be doing far more than just fruit picking in Australia!
Our representative

Joanna
Oyster specialises in providing friendly support and advice to those we send away. We will help you get all the preparations in place so you can look forward to your trip with confidence. Once there, the support continues through our partners at the training farm, who will provide your training, job-finding service and ongoing advice. Australia is an easy place to adjust to, but there may still be times when you want a bit of advice or help. With large time differences and participants placed all over the Outback, Joanna and her team are well placed to be your first point of call. Both they, and us in the UK, are contactable 24/7 should you need it. It's a big country, but you won't be on your own.
Project Story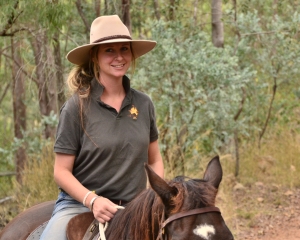 "I worked for this project for five and a half years as the Programme Manager and part time Horse Riding Trainer before relocating back to the UK to join the Oyster team. This programme is still very close to my heart so if you would like detailed information or advice then I am more than happy to answer any questions! " says Georgie, Travel Adviser specialising in Australia and New Zealand.
Find out more
We always enjoy talking about our projects and have first hand experience of them all. We'd love to answer your questions so feel free to call Harriet on +44 (0) 1892 771 974 for a chat. Alternatively email harriet@oysterworldwide.com