Volunteer with turtles in Costa Rica
Volunteer in wild coastal areas of Costa Rica with a local charity, protecting adult and baby turtles from extinction. Live life on the beach, enjoying the beauty of the country, the turtles and the friendly communities. Get involved in the local community, from teaching children to conserving the beaches to get a real glimpse of life in rural Costa Rica.
The Basics:
1 week costs £759 (949 USD); each additional week costs £240 (300 USD) per week, excluding flights.
You can volunteer here between 1st July and 15th December each year for 1 – 12 weeks. Whilst late-availability is possible, we would advise booking as soon as possible to guarantee your ideal dates.
Departures:
Turtle nesting season is the beginning of July until mid December. Volunteers can arrive in Costa Rica on a Monday the transfer to the project sites on a Tuesday.
Please contact Anne on +44 (0) 1892 771975 or anne@oysterworldwide.com if you have any questions about availability.
Highlights
Get hands-on conservation experience and make a valuable contribution to important research that will help to protect Pacific turtles from extinction.
Witness nesting turtles emerging from the sea at night under a glittering Milky Way.
Experience local life in a remote village community, and immerse yourself in the laid back 'Tico' lifestyle – a great way to learn some Spanish!
Spend your down-time swinging in a hammock or relaxing on the beautiful beaches only minutes from your door.
Sample delicious and authentic Costa Rican cuisine.
Get involved in local community initiatives, try teaching at a local school, and join in community celebrations.
Live in a remote village community on golden sand beaches, helping to protect nesting and baby turtles. Really get to the heart of conservation whilst living in a beach paradise and enjoying the laid back "Tico" lifestyle.
Costa Rica is home to stretches of lush turtle nesting beaches all along its unspoilt coastline. It is hard in such a tropical paradise to imagine the extinction of the turtles however the sea turtle population here is rapidly plummeting. Due to natural predation from animals and severe human interference such as turtle egg poaching, industrial fishing and selling turtle shell products, all turtle species from the Pacific Coast are, to some degree, in danger of becoming extinct.
Working alongside a growing NGO, the local community and other volunteers, you will be protecting nesting turtles and their eggs, and ensuring that more adult and baby turtles can make it safely to the sea. The hard work of volunteers over the past few years has resulted in thousands more turtles making their way out to sea- with more of them surviving to promote future development. This is a vital project, set in one of our most stunning backdrops on the Pacific Ocean.
What will I be doing?
By night you patrol the beaches, watching for nesting turtles coming up out of the sea. This is an incredible sight – one which many volunteers will never forget. Research and measurements on the turtles are recorded, and the eggs transported to a hatchery, where they can hatch in safety. This all takes place under the Milky Way, seen in incredible clarity due to the lack of light pollution.
By day and by night you check the hatchery for hatching turtles and help with background research. The research is linked to a worldwide study, and helps with global campaigns to end industrial fishing close to land. It's not all work though, with plenty of time to enjoy the beautiful beaches, taste the delicious Costa Rican cuisine and relax in the hammocks between the palm trees.
There are three project sites in which you can volunteer, each with its own charm and beauty. You can choose to volunteer at as few or as many sites as you please.
The community project: A small beach in the Guanacaste region of Costa Rica, it boasts high numbers of turtles throughout the season. There is an excellent community spirit here. As well as volunteering with the turtles you can help out in the local school, with beach clean ups and community celebrations. Find out more…
The paradise beach project: A buzzing little community of both Costa Ricans and American expats, this project site has a stunning white sand beach and plenty to keep you busy, with excellent surfing and other outdoor activites, and lots to explore. Find out more…
The tropical beach project: Volunteers here are spoiled with a beach front property in a close-knit community of about 100 residents. The beach is stunning, lined with coconut trees and facing a small fishing port over the estuary. This is a beautiful base, with great access to the beach, strong community ties and a real opportunity to work with locals and improve your Spanish. Find out more…
Whilst it is remote, the local community offers a great range of past times to enjoy. Volunteers can learn to surf, go horse riding along the beach, explore the mountains, rainforests and waterfalls. The beaches are unspoilt, making the perfect place for relaxation and exploration as well as protecting the turtles. The sea makes natural lagoons for swimming and for those wanting to improve their Spanish, you are encouraged to help out in the local schools. With the amazing wildlife on your doorstep, this project feels a long way from the hustle and bustle of life in busy San Jose.
Accommodation and Food
You will be living in simple Costa Rican houses or cabins, sharing with other volunteers. Bathrooms are en suite with refreshingly cool showers. The accommodation is on site, usually in the centre of the community and right on the beach, so you are always surrounded by plenty of things to do and people to meet.
Your meals will be prepared by the local community, who will offer a variety of traditional Costa Rican foods as well as more western influenced foods. Food is varied, fresh and delicious – and all diets can be catered for.
When should I book?
Whilst late-availability is possible, we would advise booking as soon as you can to guarantee your ideal dates. Our projects are very popular and spaces can fill up several months in advance, especially for the months of June to September.
Getting there
Volunteers arrive into San José (SJO) on a Monday. You will be met by a member of the team and taken to a guest house in the capital for the night to rest and get over your flight. It is an early start the next day for your transfer down to the project – expect to see a lot of jungle!
What is provided
Phone or face-to-face planning and briefing
Access to your personal 'My Oyster' account – our online portal where you can find out much more about the programme and manage your booking.
Pre-departure advice covering medical, safety and project advice
Help and advice from our UK office 24/7 whilst in Costa Rica
Advice on obtaining a visa
Full orientation and induction to project before you begin
Meet and greet at San José airport and transfer to guest house for your first night
First night hotel accommodation in San Jose (does not include meals)
Transfer to the project site from San Jose on arranged public transport
Shared accommodation with en-suite facilities at the beach project
Food (three meals a day)
Return transfer with public transport to San Jose
Final night hotel accommodation in San Jose
Return transfer to the airport
Contribution to Oyster's adopted turtle
Free access to InterHealth's Travel Health Advice Service
Oyster Worldwide volunteer

t-shirt

Oyster luggage tag
On your return:
Welcome home pack
Certificate of Recognition (on request)
References (on request)
What do I need
A full passport valid for the duration of your stay plus 1 day
If you will be flying through the USA you need to comply with US regulations- make sure you have an ESTA (Electronic System for Travel Authorization) at least 72 hours before you leave
Insurance covering your project time and any planned independent travel – we can introduce you to a policy
Return flights to San Jose. We can help organise these
Cost of changing your return flight date if you need to
Independent travel costs
Any additional costs such as trips, snacks, entertainment (allow maybe £25 per week depending on lifestyle)
Departure tax from Costa Rica is $28. This is not included in your flight. Make sure you have enough money left over, as you are not allowed to take Costa Rican currency either into or out of the country
No visa is necessary for under 90 days from UK and most western European countries
No compulsory inoculations are necessary although do check with your doctor to make sure polio, typhoid and Hep A&B jabs are up to date
Availability for this project
The availability calendar below is a guide only. We do advise early booking to guarantee your preferred dates.
Available
Limited availability
Very limited availability
Unavailable
Why
should I do this?
The sad fact of the matter is that the turtle populations around the world are plummeting. This project gets you stuck in to the heart of the matter to protect these vulnerable creatures. To protect the adult and baby turtles is not just an important thing to do, it is also a step in the right direction to preserving this species for generations to come.
The setting of these projects comes in a close second to why you should do this. Several of our volunteers over the years have chosen to travel Costa Rica either before or after the project- and each one has said that the project beaches were the most stunning that they have seen in the entire country. Patrolling the beach under the Milky Way, relaxing in a hammock beneath the palms, releasing baby turtles out to an azure sea… the location just makes this project unforgettable.
Our representative

You will be well looked after by our team on the ground in Costa Rica. Working with both expats and locals means that you will be well supported both culturally and linguistically! Our coordinators are passionate people who fell in love with Costa Rica and the turtles and moved out here to dedicate their lives to the cause. Friendly, passionate and enthusiastic, they will help you to settle in to your new way of life.
Project Story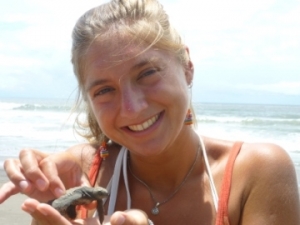 "The 5 weeks that I spent in Costa Rica in 2010 were unforgettable. Seeing my first nesting turtle was a dream come true- and then to release hundreds of baby turtles back to sea was beyond my wildest dreams! I have been delighted with our volunteer contribution ever since and have seen the project grow from strength to strength over these years" Says Anne, Destination Manager
Find out more
We always enjoy talking about our projects and have first hand experience of them all. We'd love to answer your questions so feel free to call Anne on +44 (0) 1892 771975 for a chat. Alternatively email anne@oysterworldwide.com