Volunteer with Bears in Romania
Help protect and conserve the world's most beloved animal in Eastern Europe's largest bear sanctuary. These abused bears have been given a new start in life and you can play a vital part in their recovery.
The Basics:
1 week costs £995 (1244 USD); extra weeks cost £175 (219 USD) per week, excluding flights.
You can volunteer here throughout the year for 1 – 12 weeks.
Save £100 (125 USD) when departing September – May. Whilst late-availability is possible, we would advise booking as soon as possible to guarantee your ideal dates.
Departures:
Volunteers are needed all year round, although the programme does not run over the Christmas and New Year period. Arrival day is a Friday. The sanctuary can only cater for a maximum of 3 volunteers at a time, so early booking is encouraged. Sign up for 1-12 weeks. We encourage at least 2 weeks and preferably 4!
Highlights
Work in Eastern Europe's largest bear sanctuary as you help these lovable animals to rehabilitate and re-enter life in the wild.
Become part of an important protection programme as you work alongside full-time staff to promote the bears' welfare.
Enjoy getting up close to the bears and spending time with them in a beautiful natural location.
Live in a stunning mountain location in the lively medieval city of Brasov.
Explore the surrounding mountains, Dracula's castle, hilltop fortresses and other Romanian cities on your weekends.
Meet like-minded people and make great, even lifelong, friends.
Help bring bears back to the wilderness where they belong
Work closely with one of the world's most loved animals at this inspiring bear sanctuary in Eastern Europe. Get to know the bears and their stories individually whilst helping them to rehabilitate and live in the wild as they were born to do.
Bears have had a tough time of it in Romania. For years they have been hunted as trophies, forced to dance in the streets for strangers, made to cycle around circuses and beg outside hotels. Kept in cramped conditions and regularly abused by their owners, these bears are now being rescued and brought to Eastern Europe's largest bear sanctuary, just outside Brasov.
The sanctuary was opened in 2006, and Oyster volunteers have been part of these rescued bears' recoveries ever since. The sanctuary is now home to over 72 bears, providing them with a green and peaceful haven in which to live, in a setting as close to the wild as possible.
Working closely with the full time staff at the sanctuary, volunteers become part of this ongoing rescue story to bring more bears to safety. Each day you will be out and about, helping to prepare food, assisting with feeding and monitoring the bears, assisting with sanctuary tours and conservation. No day is the same – but the one thing that you can be sure of is the bears.
What will I be doing?
The sanctuary is located in the foothills of the Carpathian Mountains, just outside the medieval city of Brasov. These mountain ranges are one of Europe's last really wild places, providing a home to both brown bears and wolves. The sanctuary enjoys stunning views out over the mountains, its wooded hills providing the perfect haven for these rescued bears.
Your day at the sanctuary starts with a wander through the woodlands past the large and wild enclosures that have become these bears' homes. This is the perfect opportunity to see the bears playing, climbing trees, swimming and even having a good back scratch against the trees. Arriving at the main sanctuary building you are given your tasks, as and when they arise depending on the bears and their needs when you are there. You should expect to be outdoors and getting pretty stuck in to the sanctuary life!
Typical tasks at the sanctuary include:
Food preparation – this will be your main task as bears need to eat up to 10kg per day to stay healthy – that's a lot of food! Prepare to get mucky!
Watching the bear feeding process – a real highlight is to see the bears coming out of the undergrowth to get the best bits!
Bear watching – it is important to keep an eye on how the newest bears are coping, and how quickly they are adapting to their new surroundings. You also have the time to simply enjoy watching the bears in their natural habitat from a treetop viewing platform – this is amazing, especially at feeding time!
Sanctuary tours – there are various educational groups that visit the sanctuary, and volunteers can help to educate them about animal welfare
Sanctuary conservation work – sometimes there can be some basic maintenance work required, such as raking leaves, gathering hay for quarantine, clearing undergrowth etc
The great thing about this project is that it really gets you close to the bears in a natural environment, in a way that is positive for the bears. Getting involved in the running of the sanctuary really opens your eyes to the wider implications of animal welfare, and the importance of making sure that people understand its significance.
Accommodation and Food
You will be based in Brasov, living in a comfortable, central apartment that Oyster rents for you and your fellow volunteers. You should expect to share a room with at least one other volunteer. The apartment is set at the foot of the towering Mount Tampa and is just a few minutes walk to the centre of the town and all amenities.
The apartment provides a comfortable home for you during your stay in Brasov. There is wifi available for use, as well as televisions and books at your disposal. The fully equipped kitchen means that you can cook with fellow volunteers, or treat yourself to dinner out in the evening.
We believe that living in relative comfort is important and should help you unwind when you are working hard in the fresh air all day.
When should I book?
Whilst late-availability is possible, we would advise booking as soon as you can to guarantee your ideal dates. Our projects are very popular and spaces can fill up several months in advance, especially for the months of June to September.
Getting there
You will fly to Bucharest airport (OTP). You will be collected from your flight and driven through the beautiful scenery to Brasov, approximately 2-3 hours drive from Bucharest. Once there, Razvan will help you to settle you into your apartment, before giving you a thorough orientation.
Alternatively, you could choose to arrive at Brasov by train. This is a long, but thoroughly worthwhile journey, taking you through some fantastic landscapes.
Your return transport to the airport is also included and arranged for you.
What is provided
Before booking: Dedicated period of time on the phone or in person to discuss the project, answer any questions that you might have and find out more about you
Access to your personal 'My Oyster' account – our online portal where you can find out much more about the programme and manage your booking.
Pre-departure briefing
Placement information covering work issues and placement advice
Help and advice from our UK office before and after departure
Airport welcome and pick up
Return transfer to the airport at the end of your stay
Comfortable central accommodation with all bills included
Free wifi at the accommodation
Assistance and support from our representative whilst on your placement including regular social 'meet ups'
Daily return transport to the sanctuary
Thorough orientation and basic Romanian language guide
Donation to project and contribution to Oyster's adopted bear, Max
Excludes food (approx. £20 – £30 per week)
A book about the sanctuary, its history and of course the bears
Two weekend day trips are arranged by Razvan (transport costs covered only). Please note that those staying for one week only will go on one trip only (to be decided upon arrival):
Trip 1: Dracula's Castle and Rasnov Hill Fortress followed by dinner in the mountains
Trip 2: Sinaia town and Peles Castle
Free access to InterHealth's Travel Health Advice Service
EU VAT at 17.5% on UK cost elements
Oyster Worldwide volunteer t-shirt 
Oyster luggage tag
On your return:
Welcome home pack
Certificate of Recognition (on request)
References (on request)
What do I need
A passport valid for the duration of your stay
Insurance (we can recommend a specific policy)
Flights to Bucharest. We can help you organise these
Cost of changing your return flight date if you need to
All home country travel costs
Independent travel costs whilst in Romania and on the organised trips
Provide your own lunch, water and hot drink (in a flask) at the sanctuary
Cost of food and going out (£25-£50 per week dependent on lifestyle)
Availability for this project
The availability calendar below is a guide only. We do advise early booking to guarantee your preferred dates.
Available
Limited availability
Very limited availability
Unavailable
Watch the video :
Why
should I do this?
There is almost too much to say about this project in this short space.  It is a life-changing experience, both for the bears and for volunteers. Working up at the bear sanctuary in the peaceful, green woodland with over 70 bears around is a great leveller. Learning about their tragic pasts and the amazing journeys they have taken to get where they are today is not only moving, but really brings home the important work that you are doing.
In addition to the volunteering, Romania is a beautiful country with mountains, castles and friendly people.  It is a must for animal and wildlife lovers.
Our representative

A perfect English speaker and probably the most dynamic person you will ever meet, Razvan has run our Romania programmes since 2003. A veteran rep – he has dealt with over 200 volunteers so far – he always goes way beyond his Oyster job description, organising wonderful trips (to Dracula's castle and the Black Sea among others) for participants. He is personally involved in the fundraising and awareness building of the bear sanctuary, even getting dressed up as a bear on one occasion!
It doesn't matter if you're a short or long-term volunteer, you still get full support from Razvan, who aims to ensure that you have a happy and productive time in Romania.
Project Story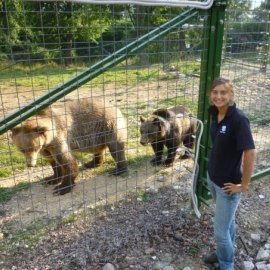 "I last visited the project in 2014 and loved to see how the bear sanctuary has developed over the past year. Over the years many Oyster participants have made a genuine contribution to the development of its aims. I spent three months volunteering on this project in 2009 and remain passionate to this day."
Says Anne, Destination Manager
Find out more
We always enjoy talking about our projects and have first hand experience of them all. We'd love to answer your questions so feel free to call Anne on +44 (0) 1892 771975 for a chat. Alternatively email anne@oysterworldwide.com