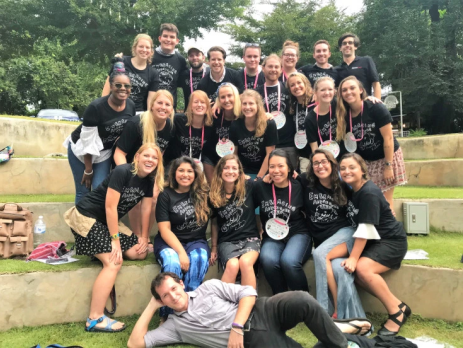 Erica went to Thailand with Oyster, firstly volunteering at our wildlife sanctuary and then taking part in our TESOL teaching course. Having now finished her training and received her TESOL qualification, Erica is going to start teaching at a school in south-east Thailand. Read on to find out more about her TESOL experience.
Settling In
"Thai culture, history and language is intricate and complex and in no way could we learn it all in a couple of weeks. Though we have just scratched the surface, I feel I have gotten a much better at understanding Thai people. Especially the differences between our customs and culture, which will be very helpful in teaching Thai students.
In this week I've learned just how complicated Thai language is and I wonder how on earth I am ever going to pick this up and teach students. But I am determined! We aren't learning how to write in Thai as that is too complicated. Instead we're focusing on how to speak and listen to the language.
The language is based on tones. The same word can mean many different things based on the tone you say it in. For example, the word banana can easily be mispronounced slightly to mean something quite rude. This resulted in a good laugh in the classroom but also made me realize that there will probably be many occasions where I think I am saying one thing, but I'm saying something else potentially horribly offensive….we'll just have to see how that goes! Another example – the word "kao" can mean the news, him, rice, or a stinky fish smell!? This all based on the tone you use.
Practising the Language
I have been practising whenever I am out and about in town and I do see improvement every day, which is so satisfying! Another awesome thing about trying to speak Thai with locals is that they really appreciate it. Think if you were a server in the US and someone came up to you, in your country. They ordered their food quickly in Thai and just expected you to understand. You'd be stunned and wouldn't know what to say!
Being considerate and putting effort in really goes a long way. I've really gotten to love bringing a smile to a local Thai person's face when I use it. It's the best, even if they're laughing at me.
Pim, our language teacher was yet another adorable and kind Thai person who our entire class just loved. We were her first English class after graduating from university! She liked to laugh at us and say "this is really hard for you".
Finishing the Course and Going on Placement
Our TESOL course is over and there is so much I have to say! The group of teachers who have been my peers the past month have been so much fun. I've seriously loved getting to know them and exploring Thailand together, but now it's time for us to head off to our placements and do what we came here to do!
This is exciting and nerve wracking and will be tough work but hopefully we're all ready for it. I'm confident that everyone in my group will be a fantastic teacher and I learned a lot from working with them this past month! It's so hard to say goodbye to all of these great friends I made!
Newly TESOL certified teachers from my group have been placed all over Thailand. From Trang down south to Chiang Rai up north and everywhere in between. My placement experience started off a little nerve wracking as I was placed in a small, rural industrial town which I was less excited about. I decided to reject it and hope I was able to find a better placement and luckily I did! I will be teaching at a primary school (11-12 year olds) in Chanthaburi city in the province of Chanthaburi. This is in South East Thailand, bordering Cambodia and the ocean. Yay for the ocean!
From what I've researched, it is a mid-sized city with fewer tourists than other coastal cities. It has a lot of great characteristics making it a sort of hidden gem though. I hope this will provide a really authentic cultural experience for me and allow me to explore an area many tourists don't make it to.
Plus there are national parks, long stretches of coast line and my school isn't far from the beach! Though the beaches aren't gorgeous white sand like the islands, I'll take it. I'll wait to speculate any more until I experience it for myself, but I am excited/anxious/nervous all in one!
TESOL Summary
To summarise my TESOL experience; I feel like I am as prepared as one can be without having actual teaching experience, apart from a couple days of English camp. English camp was valuable to us teachers to prepare us for what an actual Thai school is like. This includes (unexpected changes in the day, no AC, high energy children and/or children afraid to speak up). It was exhausting, extremely hot and uncomfortably sweaty. A Thai student actually pointed out my pit stains which was saying something because the shirt I was wearing was black…
I have high hopes for the next steps of teaching in Thailand and expectations of hard work, frustration and hopefully some successful lesson plans and happy, engaged students! I will miss everyone in my TESOL group and being surrounded by good friends constantly, but I am excited for some independence and more of this crazy adventure! For future participants, I highly recommend going to Thailand to get your TESOL and meeting some awesome people in the process. I couldn't be happier!"
Thank you Erica for your inspirational words on the TESOL course! If you want to follow in Erica's footsteps and teach out in Thailand too, then check out our Thai TESOL webpage or contact Sarah on +44 1892 771973.