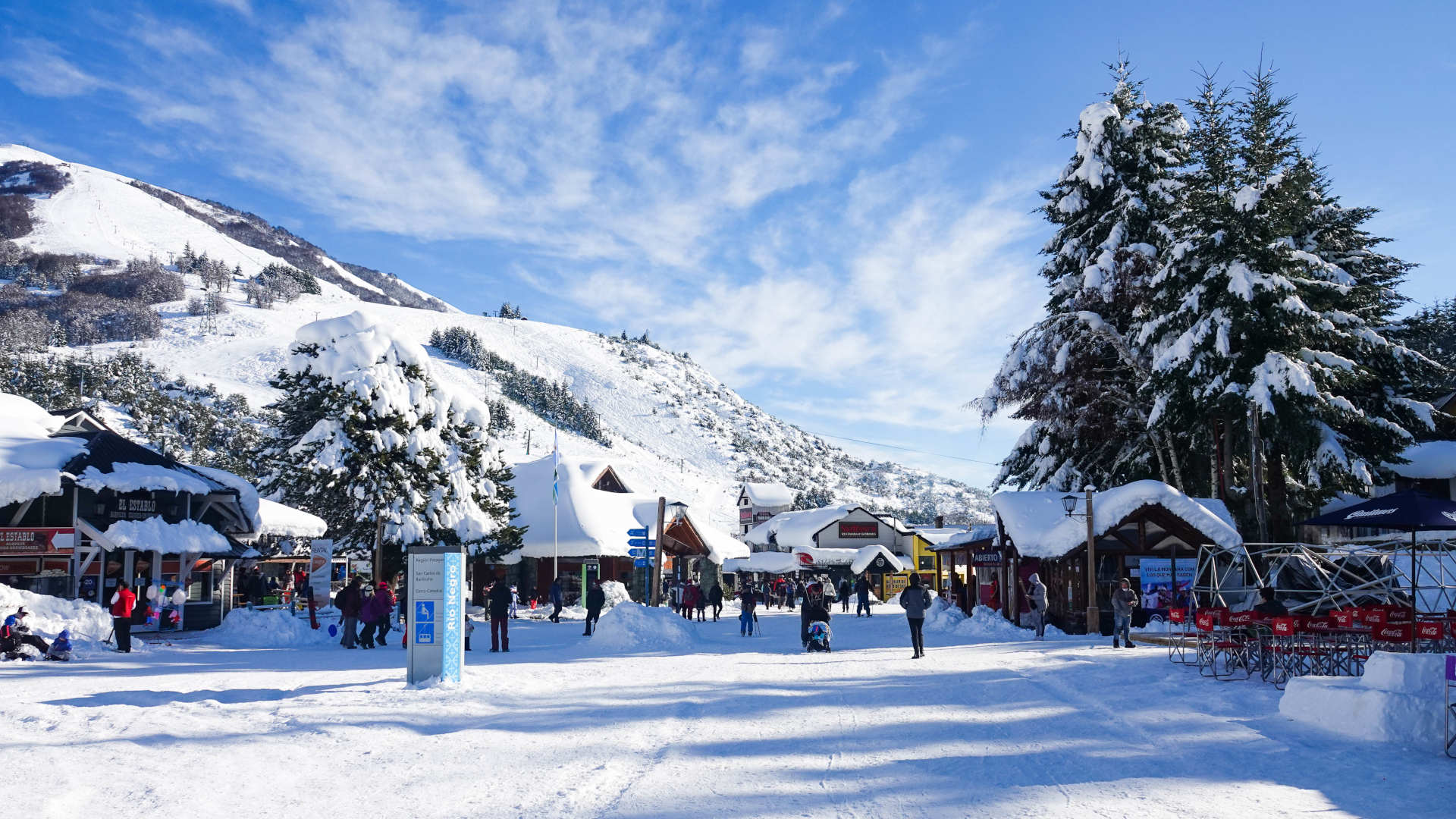 Missing the northern hemisphere winter? Join our 6 week ski instructor course in Argentina, enjoy snow in August and become a qualified ski instructor.
Duration: 6 weeks
Dates: 1st August – 12th September 2020
Arrival day: Saturday
Return day: Saturday
Eligibility: Minimum of 4 week ski experience and a good level of fitness is required
Age: 18+
Spend your summer skiing or snowboarding in the southern hemisphere
Gain an internationally recognised Anwarter ski instructor qualification
Spend your summer season skiing Cerro Catedral – one of the largest ski areas in South America
Live in a 5* luxury spa resort with heated pool and hot tub
Guaranteed job offer in Austria or Japan on successful completion of the course
Spend 6 weeks living in Bariloche and skiing Cerro Catedral, receiving world class training and an internationally recognised Anwarter ski instructor qualification, with exam fees included.
With the views of the Patagonian Lakes and Andes Mountains, where better to spend your summer skiing than Argentina, one of the best southern hemisphere skiing destinations in the world. Cerro Catedral has a total of 34 ski lifts taking skiers up to enjoy 120km of on-piste terrain. The area enjoys an average snowfall of 300cm per season and the summit sits at 2100m, with the Naheul Huapi as its dominant backdrop.
This 6 week course is more than just a ski instructor course, it's a once in a lifetime experience that you will remember forever. Our Bariloche ski course is tailored to ensure you make the most of your experience, whether that is during the training or in the town on your time off.
You will live in the historic town of Bariloche (population of 110, 000). Bariloche is located on the shores of the stunning glacial lake of Nahuel Huapi and close to the foothills of the Andes.
Bariloche is known as one of the best ski towns in Argentina (with some of the best après ski in the world!). It is located close to the airport and our private transport will have you on the slopes every day in no time. The cost of living in South America is far cheaper than you'll be used to at home so you can enjoy some of the best Argentinian steak for a fraction of the price.
The Austrian Anwarter qualifications are highly recognised around the world, putting you at an advantage over other applicants when it comes to finding a ski job during your first season. You could also use that first season of paid work to become a snowboarding instructor, that way you can be dual qualified and call yourself a skiing and snowboarding instructor.
Do I need to speak Spanish?
No! This course is taught by our expert instructors in English, as are the exams, so there is no requirement to learn another language.
If you are keen to work in Austria during the northern hemisphere winter season, you will need to be able to speak German and pass a test. For no additional cost, you can opt to include basic German language training as part of the course. This is taught during a combination of ski training and fun online lessons to get you through the exams.
Working as a ski instructor after the course
On successful completion of the ski instructor course in Argentina you are eligible for a full season contract for the northern winter ski season in either Austria or Japan. This is organised by our partners and does not form an official inclusion of the Oyster programme. Please note, you will need be to eligible for an Austrian or Japanese work visa, and to be able to speak German if you want to take up a job in Austria.
Stay in a fantastic 5* luxury spa resort for the duration of the course
Enjoy fabulous lakeside views from your room or bungalow
Expect to share a room with one other person on the course
You'll have access to a games room, heated indoor pool and hot tub
Located just a few minutes' walk from the bustling centre
Full buffet breakfast is included 7 days a week
Evening meals provided 5 days a week
Sample the numerous local restaurants in town on days when meals are not included
This course is perfect for people who might be short on time and unable to take a full gap year or career break. It fits nicely into the summer holidays for people who need to be home to start university in late September.
It is also a great opportunity for people who want to spend the full winter season working in a ski resort as a ski instructor. On this course you will gain your qualifications in by September and then be able to take advantage of the job guarantee and head to Austria or Japan for the northern hemisphere winter.
Airport: San Carlos de Bariloche (airport code BRC)
Arrival day: Saturday. Cost of the taxi to your accommodation, approx $15, is reimbursed on arrival (25 minute drive)
Departure day: Saturday. Take a taxi back to the airport for your onward flight
Access to your own personal 'My Oyster' account – our online portal where you can find out much more about the program and manage your booking
Dedicated contact time with an experienced destination manager to discuss the project, answer any of your questions and for us to find out more about you
Help and advice from our UK office before arrival and whilst you are away
In-country support
Pre-departure information covering medical, safety and project advice
Financial protection: ATOL (if we book your flights); IPP (if we don't book your flights)
Thorough orientation on arrival
Accommodation (see the 'accommodation' section above for details)
Advice on visa requirements
Oyster plants a tree in Africa with TreeAid to help reduce the impact of global carbon emissions
Ski lift pass
Airport transfers (pay for a taxi and claim back the cost – $15 each way)
Instructor training
Anwarter ski instructor association exam entry
Avalanche awareness course (in the form of a lecture)
HD video movement analysis
Indoor sports science gym session
Guaranteed job offer in Austria or Japan on successful completion of the course, assuming you are eligible for the work visa
Mid layer jacket and buff
Flights – as an ATOL bonded company, Oyster can book flights for you
You need a valid passport that meets the requirements of the country you will be travelling to
Insurance (covering your time with Oyster and any planned independent travel)
Any costs associated with changing your return flight date if you need to
Independent travel costs
Home country travel costs
Spending money for additional trips, food and entertainment
Optional membership of the association of snowsport instructors (approx 50 euro)
Even though this course takes place in Argentina, you will actually be gaining the internationally-recognised Austrian Anwarter qualification.
The Anwarter qualification is the entry level instructor qualification in the Austrian system. However, it's not quite as simple as that. When you compare the Anwarter to other international ski instructor qualifications, the Anwarter is the equivalent of a Level 2 in any other system. This can be a contentious statement but it's easily backed up when you compare the duties that an Anwarter ski instructor can undertake vs a Level 1 CSIA or BASI ski instructor.
As a qualified Anwarter instructor you are able to lead your own group up onto a mountain and teach unsupervised, the same as any other Level 2 qualified instructor.
Bariloche is a large and modern ski resort and is certainly the 'place to be' for skiing in South America.
If you enjoy chocolate, you are in luck, Bariloche is the chocolate capital of Argentina with many chocolatiers. The town also boasts lots of great restaurants and cafes where you can enjoy the Patagonian cuisine.
The town is popular with international visitors and is a particular favourite of Brazilian school leavers. The town has some brilliant clubs that attract some of the biggest names in clubbing – just make sure you turn up on time the next morning!
Before you join this ski instructor course, you need to have a minimum of 4 weeks ski experience under your belt. You should be comfortable skiing red runs and skiing parallel at a reasonable speed. By the end of the course, you'll be able to call yourself an experienced instructor.
Yes! We have a number of places available for snowboarders in Argentina. So, whether you are looking for skiing or snowboarder instructor improvement courses, we can help.
You'll be pleased to know that the weather is due to be cold and snowy during the winter. The weather in the town can be as mild as 8C and then much colder as you head up the mountain. Temperatures vary greatly at altitude so it's always best to pack several clothing layers.
This course has a pass rate of over 96%. If you are turning up on time, dedicated to the course each day, not hungover and looking to improve, you should have no issues with passing the exam.
If you are not feeling ready for an examination, try it anyway and see it as a learning experience, you've already paid for it.
Retakes can be arranged if you fail an assessment. Retakes can usually be arranged with just a few days' notice.
Breakfast is supplied 7 days a week. This is a buffet style with a mixture of continental and hot breakfast items.
There is free WiFi at your hotel.
Mobile/cell reception is good in this area. You can buy an Argentinian SIM card when you arrive as roaming charges are expensive.
A beer in town costs around 100 Argentine Peso, approx. £1.30
Breakfast is provided 7 days a week and dinner 5 days a week, leaving you with some meals that you'll need to pay for. Eating out in Argentina is extremely good value and gives you the opportunity to enjoy delicious food. Expect to pay around £7-10 for a meal out (plus drinks).
Whilst famous for its meat, Argentina is suitable for vegetarians.
Argentina is great for those on a budget, perfect if you want to experience the famous Argentinian steak without breaking the bank.
If, after the instructor course in Argentina, you are interested in working in Japan you need to be eligible for the Japanese Working Holiday Visa. Citizens of Australia, Austria, Canada, Denmark, France, Germany, Hong Kong, Republic of Korea, New Zealand, Norway, Poland, Portugal, Slovakia, Taiwan and the UK, who are between the ages of 18 and 30 inclusive, and citizens of Ireland, who are between the ages of 18 and 25 inclusive, are eligible to apply for the Japan Working Holiday Visa.
Snowsport instructors, who are citizens of an EU Member State, can work in Austria without any special visa or permit. For people outside the EU, you will need an Austrian working holiday visa. You can see the requirements for your country on the Austrian government website.
To work in Austria as a snowsport instructor, you also need to have taken the German language exam as part of the Anwarter. This is a free addition to the course in Argentina.
Argentina is 3 hours behind GMT (GMT-3).
You will need a 'Type I' and 'Type C' (Euro) plug adapter for Argentina. Both plug types are common in the country so we suggest taking an international adapter that allows you to use both.
Training is 5 days a week leaving the weekends free for you to explore and enjoy the area. You can, of course, ski and snowboard during your free time if you wanted to.
Bariloche is a hive of activity when it comes to adventure, day trips and sightseeing. Examples for your free time include:
Perito Moreno glacier tour
Whale watching
Horse back trekking
Club nights
Lakeside BBQ nights
Heli skiing
Cat skiing
Snow biking
Tubing
Fat biking
Snow shoeing
Dog sledding
Snow mobile safari
Night skiing
Whilst you'll be living independently, you will be supervised during each training session by an experienced instructor.
Staff at Oyster's head office and in-country will be responsible for your safety and welfare while you are on the course. This will start from the moment you are picked up from the airport until the time you finish the course. Before and after these times, you will be outside Oyster's responsibility and should make sure that you act safely and avoid risk. If you take up the job offer for the following season, you will be formally outside of Oyster's care.
Other adventures like this