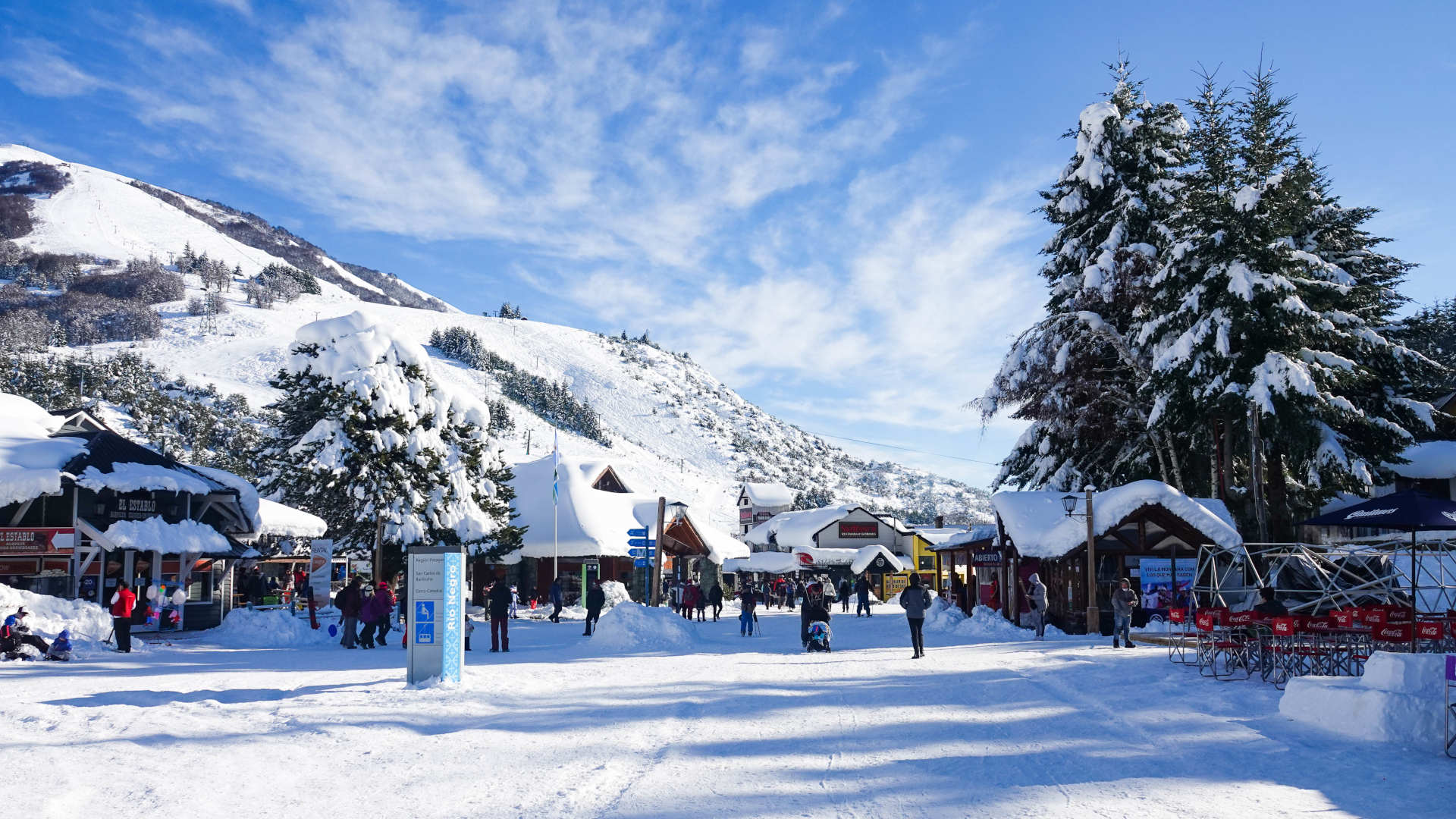 Looking for some summer snow? Join our 6 week ski instructor course in Argentina, enjoy some fresh powder in August and become a qualified snowboard or ski instructor.
Duration: 4- or 6- weeks
Dates: Taking bookings for 2021 and 2022 summer courses
Arrival day: Saturday
Return day: Saturday
Eligibility: Minimum of 4 week ski experience and a good level of fitness is required
Age: 18+
Spend your summer skiing or snowboarding in the southern hemisphere
Gain an internationally recognised Anwarter ski instructor qualification
Spend your summer season skiing Cerro Catedral – one of the largest ski areas in South America
Live in a 5* luxury spa resort with heated pool and hot tub
Guaranteed job offer in Austria or Japan on successful completion of the course
With the views of the Patagonian Lakes and Andean Mountains, where better to spend your summer than snowboarding or skiing in Argentina, one of the leading summer skiing southern hemisphere destinations in the world. On the shores of a stunning glacial lake and close to the foothills of the Andes, Bariloche (1132m elevation) is known as one of the liveliest ski towns in South America , with some of the best après in the world.
With the season starting in late June and running until October, August is the perfect time to enjoy some fresh powder, with an average of 300cm per season. As well as just a 25-minute drive from your accommodation to the resort of Cerro Catedral, our private transport will have you on the slopes in no time.
Cerro Catedral Ski Resort
Cerro Catedral is a large resort including:
39 lifts (2 gondolas, 17 chair lifts, 20 surface lifts)
120km of on-piste skiing including 4 green runs, 26 blue, 22 red and 8 black as well as 15km of x-country (check out the piste map here)
A summit of 2100m
A terrain park for both skiers and snowboarders
Snowboard/Ski instructor course Argentina
This 4 or 6-week summer ski instructor course gaining the Austrian Anwarter qualification (equivalent of Level 1 and 2 CSIA or BASI) is globally recognised, as well as putting you at an advantage, being fully qualified before the European season has even begun. With added extras such as an avalanche awareness course, sports science gym session, video movement analysis and even a mid layer jacket and buff included, becoming a qualified ski or snowboard instructor has never been so appealing.
Working as a ski instructor after the course
On successful completion of the ski instructor course in Argentina you are eligible for a full season contract for the northern winter ski season in either Austria or Japan. This is organised by our partners and does not form an official inclusion of the Oyster programme. Please note, you will need be to eligible for an Austrian or Japanese work visa, and to be able to speak German if you want to take up a job in Austria.
Stay in a fantastic 5* luxury spa resort for the duration of the course
Enjoy fabulous lakeside views from your room or bungalow
Expect to share a room with one other person on the course
You'll have access to a games room, heated indoor pool and hot tub
Located just a few minutes' walk from the bustling centre
Hotel WiFi included
Full buffet breakfast is included 7 days a week
Evening meals provided 5 days a week
Sample the numerous local restaurants in town on days when meals are not included
Vegetarian food available
What do I need to know regarding Covid-19?
We have been working closely with our partners in Canada and keeping an eye on the current travel restrictions to ensure we have the most up to date information and give you peace of mind. Please see the links below for more information.
Program updates:
We expect there to be small changes to the program in order to accommodate restrictions in place at the time of travel. These may include:
social distancing
accommodation amendments
private transfers instead of groups
proof of a negative Covid-19 test upon arrival (taken within 72 hours before travel)
wearing masks and other protective clothing
extra health and safety measures
Depending on when you are due to travel, some of these may become obsolete. We advise to be prepared for a quick turnaround of travel arrangements and having back up options should changes need to be made.
This course is perfect for people who might be short on time and unable to take a full gap year or career break. It fits nicely into the summer holidays for people who need to be home to start university in late September.
It is also a great opportunity for people who want to spend the full winter season working in a ski resort as a ski instructor. On this course you will gain your qualifications in by September and then be able to take advantage of the job guarantee and head to Austria or Japan for the northern hemisphere winter.
Airport: San Carlos de Bariloche (airport code BRC)
Arrival day: Saturday. Cost of the taxi to your accommodation, approx $15, is reimbursed on arrival (25 minute drive)
Departure day: Saturday. Take a taxi back to the airport for your onward flight
Access to your own personal 'My Oyster' account – our online portal where you can find out much more about the program and manage your booking
Dedicated contact time with an experienced destination manager to discuss the project, answer any of your questions and for us to find out more about you
Help and advice from our UK office before arrival and whilst you are away
In-country support
Pre-departure information covering medical, safety and project advice
Gold level, 24/7 Pharos crisis management and incident support cover
Financial protection: ATOL (if we book your flights); IPP (if we don't book your flights)
Thorough orientation on arrival
Accommodation (see the 'accommodation' section above for details)
Advice on visa requirements
Oyster plants a tree in Africa with TreeAid to help reduce the impact of global carbon emissions
Ski lift pass
Airport transfers (pay for a taxi and claim back the cost – $15 each way)
Instructor training
Anwarter ski instructor association exam entry
Avalanche awareness course (in the form of a lecture)
HD video movement analysis
Indoor sports science gym session
Guaranteed job offer in Austria or Japan on successful completion of the course, assuming you are eligible for the work visa
Mid layer jacket and buff
Flights – as an ATOL bonded company, Oyster can book flights for you
You need a valid passport that meets the requirements of the country you will be travelling to
Insurance (covering your time with Oyster and any planned independent travel)
Any costs associated with changing your return flight date if you need to
Independent travel costs
Home country travel costs
Spending money for additional trips, food and entertainment
Optional membership of the association of snowsport instructors (approx 50 euro)
Even though this course takes place in Argentina, you will actually be gaining the internationally-recognised Austrian Anwarter qualification.
The Anwarter qualification is the entry level instructor qualification in the Austrian system. However, it's not quite as simple as that. When you compare the Anwarter to other international ski instructor qualifications, the Anwarter is the equivalent of a Level 2 in any other system. This can be a contentious statement but it's easily backed up when you compare the duties that an Anwarter ski instructor can undertake vs a Level 1 CSIA or BASI ski instructor.
As a qualified Anwarter instructor you are able to lead your own group up onto a mountain and teach unsupervised, the same as any other Level 2 qualified instructor.
Before you join this ski instructor course, you need to have a minimum of 4 weeks ski experience under your belt. You should be comfortable skiing red runs and skiing parallel at a reasonable speed. By the end of the course, you'll be able to call yourself an experienced instructor.
With an average of 300cm of snowfall throughout the season, bluebird days are common in Cerro Catedral. Temperatures can vary greatly, with the town Bariloche, at an average of 8°C but as altitudes increase, temperatures decrease so always ideal to pack several layers of clothing.
This course has a pass rate of over 96% with the majority of people hitting the slopes once qualified.
Retakes can be arranged if you fail an assessment and can usually be arranged with just a few days' notice, but this is a rare occasion. If you are dedicated to the course each day, turning up on time, not hungover and looking to improve, you should have no issues with passing the exam.
Mobile/cell reception is good in this area. You can buy an Argentinian SIM card when you arrive as roaming charges can be expensive for international users.
Argentina is great for those on a budget, perfect if you want to experience the famous Argentinian steak without breaking the bank.
If, after the instructor course in Argentina, you are interested in working in Japan you need to be eligible for the Japanese Working Holiday Visa. Citizens of Australia, Austria, Canada, Denmark, France, Germany, Hong Kong, Republic of Korea, New Zealand, Norway, Poland, Portugal, Slovakia, Taiwan and the UK, who are between the ages of 18 and 30 inclusive, and citizens of Ireland, who are between the ages of 18 and 25 inclusive, are eligible to apply for the Japan Working Holiday Visa.
Snowsport instructors, who are citizens of an EU Member State, can work in Austria without any special visa or permit. For people outside the EU, you will need an Austrian working holiday visa. You can see the requirements for your country on the Austrian government website.
To work in Austria as a snowsport instructor, you also need to have taken the German language exam as part of the Anwarter. This is a free addition to the course in Argentina.
Argentina is 3 hours behind GMT (GMT-3).
You will need a 'Type I' and 'Type C' (Euro) plug adapter for Argentina. Both plug types are common in the country so we suggest taking an international adapter that allows you to use both.
Although training will be 5 days a week, you'll have plenty of time to use your lift pass to continue skiing or snowboarding in your spare time as well as to explore the local area.
Bariloche is a hive of activity when it comes to adventure, day trips and sightseeing. Examples for your free time include:
Perito Moreno glacier tour
Whale watching
Horse back trekking
Club nights
Lakeside BBQ nights
Heli skiing
Cat skiing
Snow biking
Tubing
Fat biking
Snow shoeing
Dog sledding
Snow mobile safari
Night skiing
Whilst you'll be living independently, you will be supervised during each training session by an experienced instructor.
Staff at Oyster's head office and in-country will be responsible for your safety and welfare while you are on the course. This will start from the moment you are picked up from the airport until the time you finish the course. Before and after these times, you will be outside Oyster's responsibility and should make sure that you act safely and avoid risk. If you take up the job offer for the following season, you will be formally outside of Oyster's care.
Other adventures like this