Family volunteering is increasingly popular with more and more intrepid families taking the plunge and heading off on an adventure of their own. But what do the children think of it.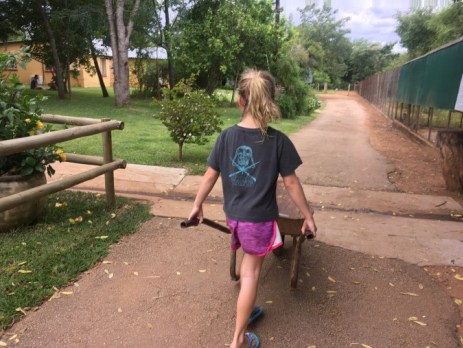 A wonderful mother and daughter head out to spend a couple of weeks of family volunteering with the monkeys earlier this year. Cricket is writing a blog of her experience travelling the world with her mother and we are sharing a little snippet of her experience with the monkeys here.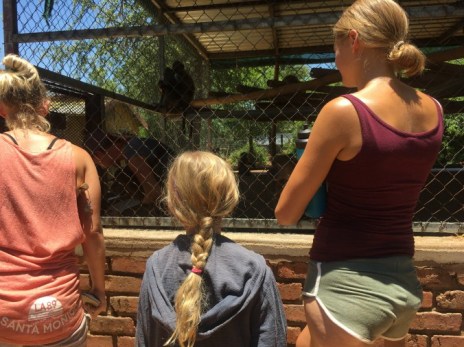 "Caring for monkeys  is hard work but fun. Work starts at 7:00 in the morning but sometimes starts at 6:00 am too! That is 7 days a week. What do we do? We  clean the cages (that takes ages because some of the cages are HUGE and there are lots of cages), feed all the animals, prepare all the food (and that is HARD because it is 100's of monkeys plus chickens, duikers, donkeys and geese), laundry, monitor, harvest grass and food, bath baby monkeys, babysit the sick baby monkeys, clean everything and all areas (keeps deseases away!), and more!! The fun part is meeting all of the people that volunteer here. I am the youngest one and most everyone else is college age. Also fine is hanging out at all the meals with everyone. They treat me just like another person. Everyone is so fun and they act like I'm just one of the volunteers. Today I even got to ride in the back of the pick up truck. That was so awesome. We have barbecues (barbacues are called braai in South Africa) and we always sit down at every meal like a big family. Mommy and I haven't had many home-cooked meals so these two weeks have been awesome. I almost forgot to tell you about taking the baboons to the river! It's the little baboons because once a baboon gets older you can't play with them at all. But while they are a little we get to take them to the pool and it's so fun because they stay with us as a big group. Baboons love to be in groups. The best part is going into the cage with the baby monkeys. They crawl all over you and then I love it when you sit in their cage with them. Right now is baby monkey season. Isn't that cool? What's not cool is that there are a lot of baby monkeys who don't have their mommy. That's the sad part. So it takes a lot of volunteers to keep the baby monkeys healthy and happy. Some of the baby monkeys come here sick and that takes extra extra hard work.  Sometimes  a sick baby monkey gets carried around in a pouch. They really need their mommy monkey, but a human can make them feel safe and loved while they get better. "
If you would be interested in family volunteering with your family then check out volunteering with monkeys as a family.