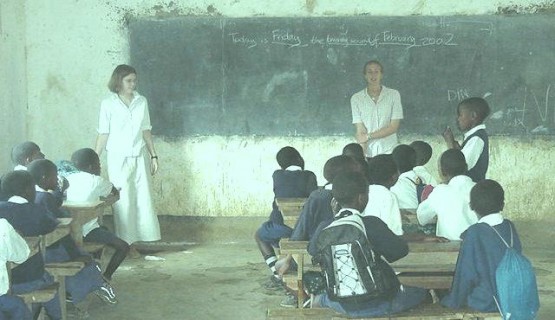 Bethan Crisp is really enjoying her time in Tanzania- so much so that she is staying on a while longer!
I just can't get enough of Tanzania 🙂 After a beautiful sun filled Christmas and New Year break in Zanzibar, I returned to the primary school ready to get back to work. Upon starting a fresh term, I was also put with a fresh class and a new member of staff to guide me through and to be there to help if I needed it. At first, I was quite skeptical about a new class and it felt quite daunting as I had really clicked with the class of pupils I had taught from September to December – now I feel silly about worrying about such things! I still got house visits from pupils from my previous 6B class but my new pupils were just as wonderful and it was nice being able to get to know a new lively, excitable, outgoing bunch of children! They made me laugh and smile and at times they could be very loud and not the easiest people to teach with their constant chatter and eagerness, but hey, weren't we all like that at some point?!
After an amazing 6 months of teaching and exploring Arusha, Oyster have given me the flexibility, independence and confidence to delve even further into what Africa has to offer me.
I'm set to move house to somewhere I found myself, which happens to be next door to a new orphanage that I got in touch with through other Oyster volunteers currently here. Teaching has been wonderful but I feel like a change and getting into something new to help add to my African and life experience. Thanks to Oyster's support, I am ready to keep going and try out new things! I am sad to leave the school and house that I have enjoyed being in for the last 6 months, but I'm also really looking forward to my new plans for the coming months.
With successful climbs up to the summits of Mount Meru and Mount Kilimanjaro, which were, of course, a challenge to say the least, I would not hesitate to recommend the climbs to anyone and everyone and discovering even more of natural Africa. They were by far the most amazing challenges I have ever pushed myself to do!
There is so much on offer in and around Tanzania which makes further traveling an affordable and do-able thing. I plan to travel to Malawe and Zambia in June, and, although on a budget, (as every other volunteer you'll meet!) I will no doubt have even more life changing adventures to add to the list.
I already dread leaving here but at least I will be leaving knowing that I have made the most of my time here and have been able to do such great things. I will never ever forget my fantastic Tanzanian time….hang on, I have another 3 months left! I'd better go and enjoy it! 🙂
Bethan.