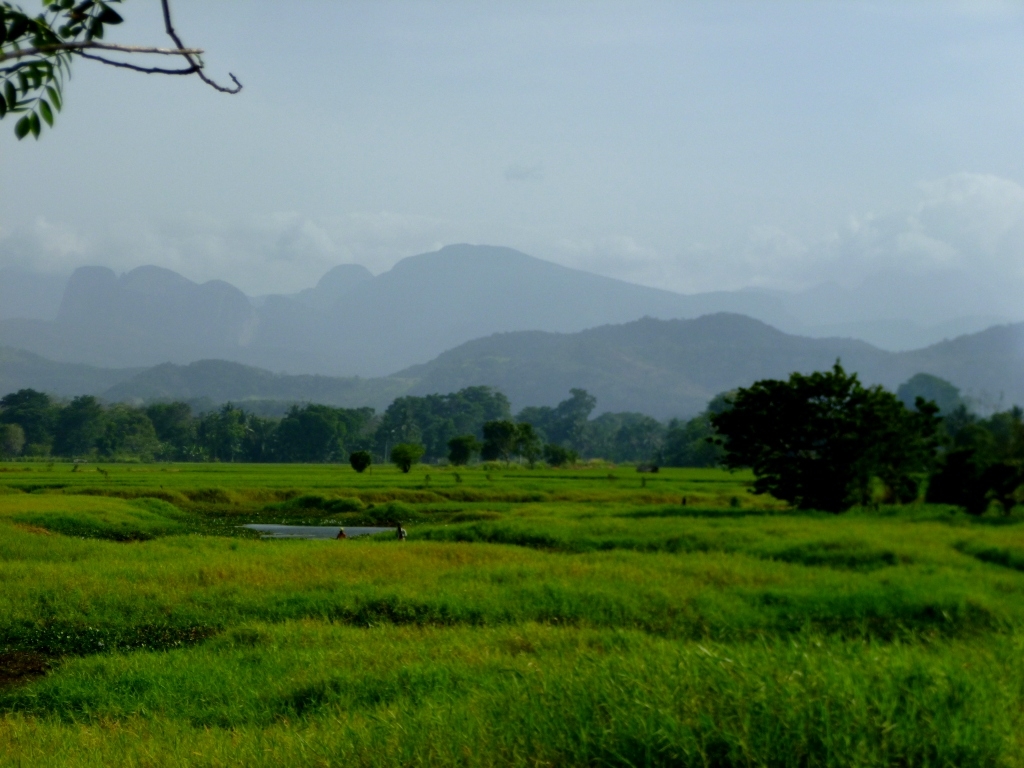 With a clatter and a flurry of activity, the train was off! Locals who had been idling beside the train suddenly hopped on with incredible agility and made their way to their seats. Water, fruit and snack sellers nimbly leaped off the train so that they themselves wouldn't be heading to its ultimate destination with us: Kandy.
Slowly but surely we started to move out of Colombo's main train station, a hive of activity, and out into the vast expanses of rice fields, banana plantations and rainforests. The journey was stunning and was my first look Sri Lanka's interior after having spent some time in the buzzing seaside capital of the country. We climbed slowly but surely until suddenly we emerged on what felt like the roof of the world- we could see a vast green valley far below us, and across the valley soaring mountains touched the sky. It was breathtakingly beautiful and an auspicious start to my adventure volunteering with elephants in this beautiful land.
Upon arrival in Kandy we were whisked off to some breakfast before boarding a bus for our final leg of the journey to the Wasgamuwa National Park. We were treated to towering mountains, incredible views and beautiful sunshine as we made the traverse over to what was to be my home over the next few days. And when we got to that home, we were certainly not disappointed!
The project field house was overlooking a beautiful lake and was perched on the side of a green hillside. Down in the lake you could see people washing their clothes, fishing and frolicking in the waters. On the horizon you could see the Knuckles, a knobbly mountain range which was an impressive backdrop to a lush landscape. But where were the elephants?
Always in a rush to get stuck into things, I was keen to receive my briefing on what would be happening over the next few days. I was in Sri Lanka to volunteer on an elephant conservation project, aiming to help protect elephants living in this stunning wilderness. The main outline of the project was to work with local farmers and inhabitants to help them to live alongside their large and hungry neighbours! This involved research on the elephants movements, tracking the elephants, monitoring their eating habits, watching them in their natural habitat and helping farmers to create natural deterrents so that elephants wouldn't munch their way through their crops. I was so excited by this adventure – elephants are some of my favourite animals, and seeing them living still in their natural habitat is tragically such a rarity.
Sadly I had to be patient to wait until my first elephant sighting the following day… but I consoled myself with the incredible rice and curry that we were served for dinner. After an excellent feed watched the fireflies dancing in the trees around the house and marvelled at the Milky Way which stretched right over our heads.
Tired and contented, I hit my bed early with thoughts of elephants and the next few days adventures' roaming through my head…
To be continued!
To find out quickly about the trip that I was getting involved in, check out our elephant conservation webpage.