Jane and Richard have kindly shared details of their volunteer experience in Romania. They spent one week volunteering in June 2016 and had a wonderful volunteer experience.
We had an absolutely fantastic week working at the bear sanctuary.  Even after just one week we had begun to feel very much a part of things and were sorry to leave. We knew we would miss the bears and the whole wonderful place.
I was not expectin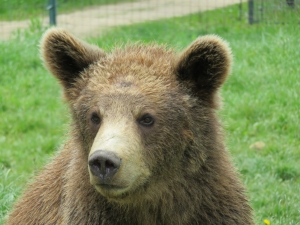 g it to be in quite such a beautiful setting. We really got a sense of just what a magical place it is. We were able to watch the bears doing their thing accompanied by nothing but the sound of crickets and birdsong. It is in the most beautiful location and must seem like heaven to the bears that are lucky enough to end up there.  It certainly seemed like heaven to us.
It was also great to have a reason for visiting this part of the world, somewhere that would not have occurred to me had it not been for the bear sanctuary.  It is definitely somewhere we would love to return to.
We are not your average 'gap year students' we are a married couple who just fancied doing something slightly different for a holiday.  If you're not looking for glamour and appreciate doing something worthwhile in a beautiful place, I could not recommend this opportunity highly enough.
I know everyone raves on about Razvan.  We can see why, what an amazing man!
We had such a great time.  Thank you.
Jane and Richard