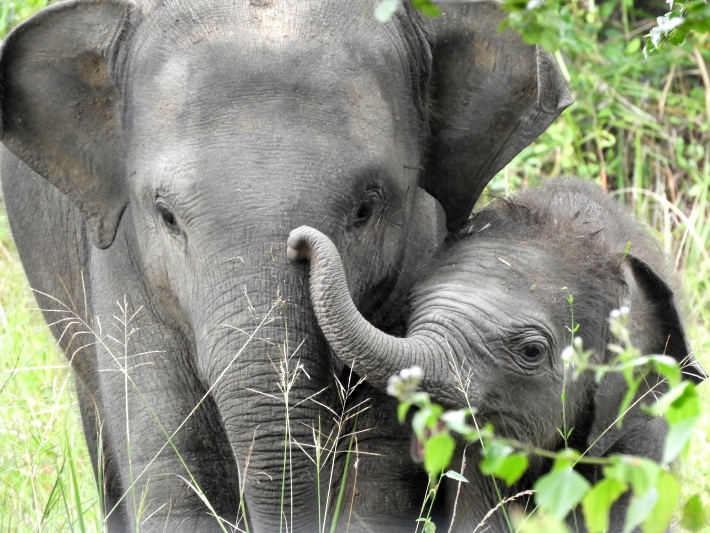 On 29th January 2018, Barbara Boylan headed out on her second trip with Oyster Worldwide. She is sending us delightful updates from her Sri Lanka adventure and has asked that we can share them with you too. We hope that you enjoy these updates as much as we are!
Wednesday 31st January 2018
I have spent 2 nights so far (largely sleepless due to humidity) at the elephant project in Sri Lanka. Thus far, have been on an elephant poo hunt (5 lots found) and analysed their contents. We then visited a tank (reservoir) site and were lucky enough to spot a family group of about 15 elephants for about 2 hours as they ate, trumped and heffalumped through the fringes of the forest.
This morning, we started a bird survey looking at 8 spot sites and recording the birds that landed within a 25m radius of us. Most educational and lots of birds I'd never ever seen or even heard of! I was the first to discover the rare 'lonely bean' plant (really a "long bean" but due to deafness, and some native pronunciation, now known as the 'lonely bean'!) so all in all settling in well and enjoying my adventures!
1st February 2018
So today we started analysing the previously collected lumps of elephant poo (bulls to the professional scientists). We had to break the poo down so it could be strained through three successively tighter sieves – this involved soaking it and swirling it around for a good 10 minutes, then pouring it through the top sieve. If not enough debris got on to the second sieve, we repeated the washing and mashing (think of it as getting rid of the lumps in a particularly lumpy smoothie).
Once enough had gathered on all three sieves, we squeezed out the excess water and placed each sieve's contents on to a neatly cut out reverse bit of plastic bagging ensuring that each sample was labelled and corresponded with the data collection sheet. Then came the lovely task of pulling apart each sample to examine it minutely! The contents of the poo were carefully recorded and the samples laid out to dry waiting to be placed in sample bags. Job done! And thank god for rubber gloves!!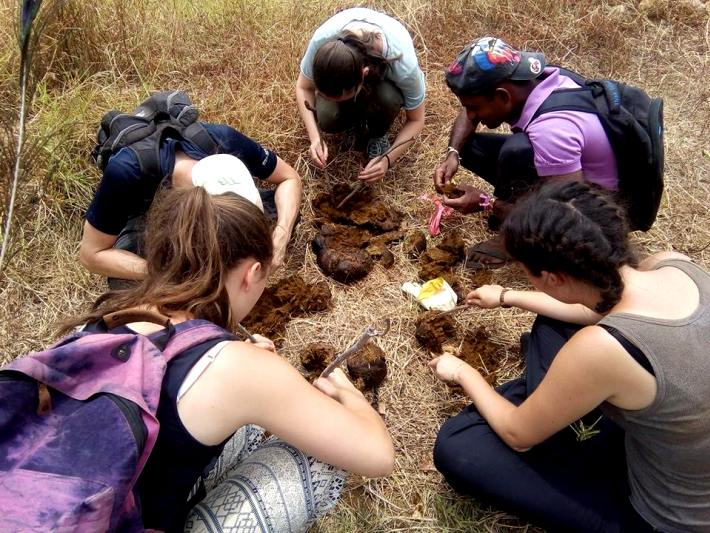 2nd February 2018
This morning I did my first session teaching English in the local school to 8 year olds with a fellow volunteer, also a retired teacher. The school is a low building surrounding a central area – bare earth with kids playing on bicycles and play equipment plus about 5 dogs strolling around! Quite different from the UK! No outer fencing, no adult patrolling, just children playing as they wanted. The children were extremely well behaved and keen. Before we started they were having their lunch and then cleaned the classroom floor – without being told to do so!!!!!!!!!
We didn't know what they already knew so started with number counting from 1-10. We were pleasantly surprised to find most of them could rattle through to 20 but it soon became apparent that this was a parroting understanding so we focussed on them recognising the symbol and written out number words with some guidance on letter formation. We included a couple of number songs counting forward and backward with actions that went down very well! Hopefully we'll be back with the same group next week to build on what we did this morning!
What a varied week! And I haven't even begun to write about everyday life at the field centre or the tremendous success of the food!
5th February 2018
I took the weekend off to travel to Anuradhapura, the ancient capital of Sri Lanka. It was quite a convoluted journey to travel a relatively short distance- 2 tuktuks and 2 buses and approx 5 and a bit hours! I was handed, like a parcel, from one bus conductor to another with various men being consulted on the best way to reach my destination. Deeply suspicious of tuktuk drivers trying to up the price of a fairly straight forward short journey, I was pleasantly surprised at their kindness in looking after me and in ensuring I arrived safely. Mind, every journey here is a heart stopping, nerve wrangling, death defying leap of faith; a toot toot on the horn tells the driver in front , 'I'm here! And I'm coming through!'. Another blast signifies, 'I'm over taking you! Get over!' And you hurtle straight towards on coming traffic doing exactly the same. Like a game of 'Blink' each driver hangs on in until the last possible moment and then ducks back in to the main stream whilst you recover from excessive trembling and calm your beating heart. The sudden dive right across 2 lanes of traffic is also trepidatious but hey! I'm still alive!
On Saturday, I took my life in my hands again, and accepted an ancient bicycle – it had brakes! And the tyres were pumped! What more can be asked of it? – to cycle round the ancient remains and temples of Anuradhapura. It was incredibly hot (32degrees) and I'd forgotten both my hat and water but being a plucky pensioner that didn't stop me setting off in the mid day sun to see the sights jauntily humming, 'Mad dogs and English men….'.
Needless to say, it was all amazingly colourful and different especially the Buddhist temples with their offerings – flowers, pomegranate seeds, chocolate biscuits – and worshippers dressed in pure white, prostrating themselves and chanting. So different from a Church of England service where everyone mumbles their way through the hymns! The stones beneath my bare feet were too hot for comfort, so like Dudley Moore on the hot sands in the film 'Ten', I hopped and skipped my way round the dagobas heading swiftly back to the relative comfort of my bicycle saddle. I cruised past the Royal Palace, stopped at the twin ponds – oh for a dip in their murky green depths! – found myself lost. I was joined by a young whipper snapper on a scooter who sidled up beside me – after establishing that I knew what I was doing and where I was going (HA!) and therefore not likely to pay him anything, he said, 'Oh you make me so happy! You are so old! But you cycle! I am so happy to see such an old person cycling!' Informing him some what snappishly that 62 is the new 40, I sped onwards and eventually made it back to the bicycle hire spot.
So, a weekend away from the project – we'll worth the journey , the shift out of my comfort zone and the headache resulting from mild sun stroke! You live and learn!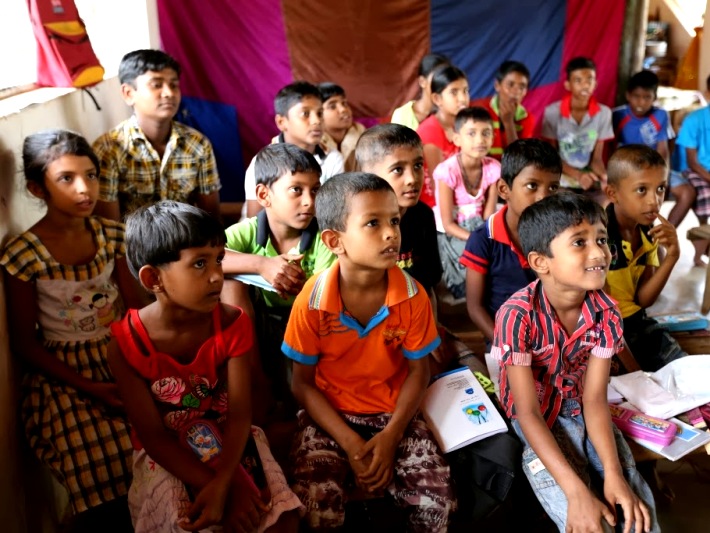 Thank you so much Barbara for these humorous updates from your Sri Lanka adventure – we look forward to hearing many more! To find out more about Barbara's volunteering project, have a look at our elephant conservation web page.