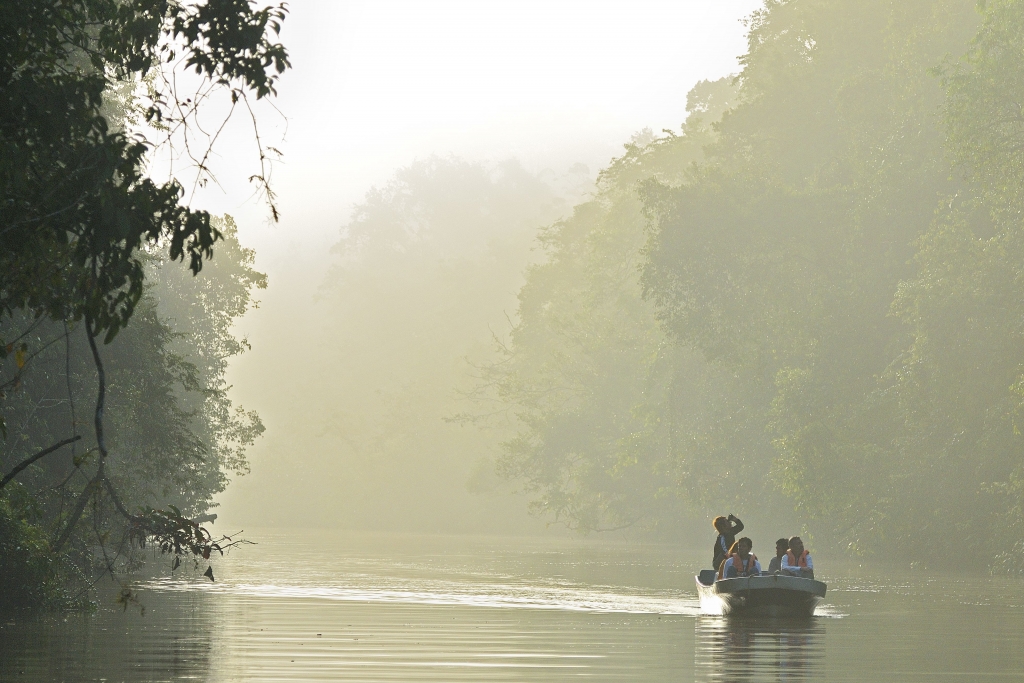 When I was asked to visit Malaysia for work in April, I jumped at the chance – nothing and nobody could stop me doing this! Oyster Worldwide was setting up new projects in animal welfare and conservation fields, and I was going to visit them and get stuck in as a volunteer myself.
This was my first time to Malaysia, and as such I was very excited. Travel is one of my favourite things, and to combine it with something else that I am very passionate about – the natural world and animals- was a dream come true for me.
Getting off the plane in Kuala Lumpur I was hit by that amazing wave of heat and humidity that instantly makes you think of holidays. Heading into the centre of the city only served to reinforce that feeling as I saw the hustle and bustle of city life around me. Kuala Lumpur is like no other city I have ever been to. It is one of the fastest developing cities in the world, and yet it seems so self conscious about it. The towering skyscrapers and plush shopping malls (far fancier than ANYTHING you would get back at home) show off its wealthy boom, but when you peel back a few layers you see its colonial heart, Chinese influences and fascinating culture. My first glimpse of Malaysia was enough to get me hooked.
My travels in Malaysia would take me to three different projects:
The first two projects were located in the same place about 2 hours from Kuala Lumpur. Heading out from the buzz of the city into Malaysia's green interior was fascinating. I was soon surrounded by orangutans, sun bears, macaques, tigers and elephants in the greenest zoo that I have ever seen in my life. This zoo is fast working to become a leader in Asia in education, conservation and animal welfare. Volunteers assist with enrichment, feeding, food preparation and maintenance to ensure that these animals live in the best possible conditions. Volunteers on the orangutan project work uniquely with the primates, whereas those on the zoo internship work with all animals there. This was such an inspiring location, as it is highly unique in Asia. Many facilities caring for animals have questionable animal welfare standards, and to see a zoo actively wanting to improve with the help of volunteers was a pleasure to see.
The actual moment that I lost my heart to Malaysia was flying to Borneo, an island just off the Malaysian coast which is owned by Malaysia, Indonesia and Brunei. Never before had I seen such sprawling jungle and such greenery. Working with sun bears to rehabilitate them back to this wilderness was a privilege only surpassed by witnessing a mother orangutan caring for her baby in the wild. The volunteer projects here are all about rehabilitation and conservation, and this is something that is so important. I was inspired by the work of the government to protect swathes of rainforest and jungle for orangutans, bears and pygmy elephants to live in with freedom. Our volunteers help to replant areas of rainforest that have been logged, regenerating it to protect the future of some of the most endangered animals in Asia. They also help to monitor the wildlife and work to release sun bears back to the wild. I found this whole experience not only beautiful but extremely inspiring.
Ask me why you should go to Malaysia and I would tell you in just three succinct points:
The contrast between the life of the city and the countryside is amazing – and really getting off the beaten track in Borneo is a once in a lifetime experience
The wildlife – this is one of the most biodiverse areas in the world and to work to protect the animals within it is just incredible
The food- described in one word: incredible.
To find out more about this incredible destination, see our Malaysia and Borneo webpage.