"Volunteering in the rainforest sanctuary, I got back so much more than I gave. It was a privilege"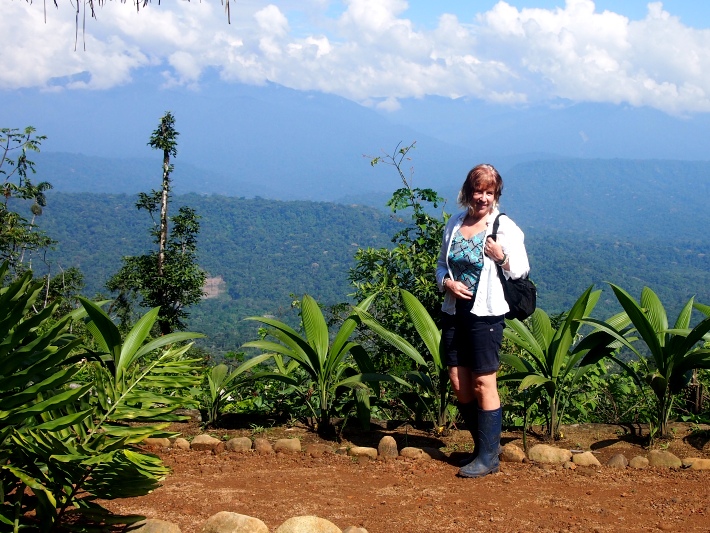 Diana has recently returned from volunteering in the rainforest, helping at a wildlife sanctuary that is home to hundreds of Amazonian creatures. Here she tells us of the wonders (and the challenges!) of volunteering in the rainforest, caring for animals in need:
I was greeted by Seb the coordinator and shown to my room in a cabin. He introduced me to the rest of the team and we shared a meal together. The next morning he took me on a tour of the sanctuary. It is a beautiful place. The project is extremely well organised which meant that I was learning a lot. Each day I was assigned to work with a different species alongside two of the more experienced volunteers. I was told the whole circuit was 15,000 steps so it was a good workout!
We were served a delicious cooked meal twice a day in the kitchen. We had 2 hours off at lunchtime and access to a swimming pool which was a real bonus. Washing is done in the town and come back neatly folded and dry… which is close to bliss.
Going into town is easy. There is a friendly taxi driver who will pick you up and in my case in one trip took me to have my phone mended, deliver the washing, buy a bikini and go to the supermarket while he waited patiently, all for 3 dollars. His only English is 'Easy Peesey'…. which it is!
Every day was a new territory. I was astonished by the butterfly enclosure, counting the eggs and protecting the larva, bringing about the next generation of butterflies who may not have survived, felt very special. It is not as easy to catch butterflies as you might think. Nikki and I spent half an hour running about in the trees. We had not caught a single one. It is very hard to do without hysterical laughter which probably did not help.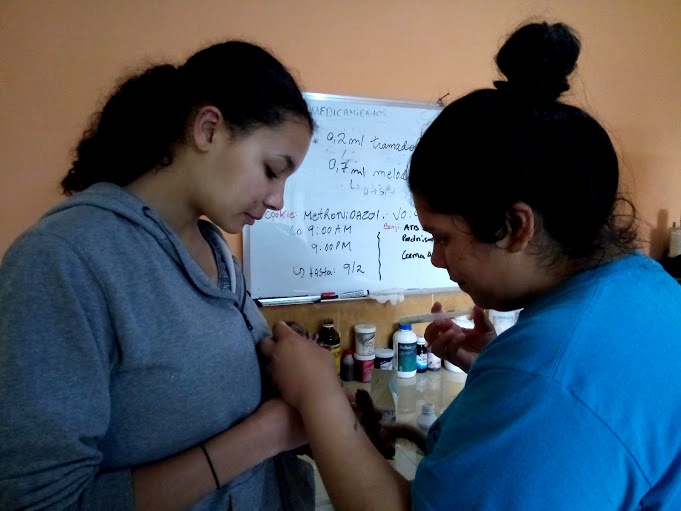 To reach the monkey island involved balancing on a tiny bridge across the water carrying buckets of food. Happily, the caiman was basking  in his own part of the river. Other jobs included building a new home for the eagles, caring for a range of mammals I have never seen in my life and getting up really close to the beautiful ocelots. This stuff does not happen every day.
I wondered why these big healthy chattering parrots who live freely on the site, though fed and cared for, were not taken into the jungle to fend for themselves. I was told that this would seriously affect the ecosystem. Birds mimic other birds and soon they would all be chattering away. I had never thought of that.
One morning I worked in the clinic. The animals spend their first 4 weeks in quarantine to check they are not carrying any diseases and some are treated. It was my job to take Darwin the baby kinkajou for a walk to get him back to strength. He bounded along after me like a puppy chasing butterflies.
Seeing these vulnerable creatures being cared for with such dedication was a reflection of the work this centre carries out day in day out. One thing I learned: I was there to serve these animals. The relationships that emerge are nothing like the experience of visiting such a place as a passive observer. Sometimes I was tired and wet, but it wasn't all about me. I got back so much more than I gave.
On the second day, I was offered the opportunity to go out to the project release site. The project releases over 150 animals into the wild each year. I travelled there with 5 of the girls, first driving into the jungle and then walking with our supplies. The location was utterly breathtaking. No one spoke for a very long time. This was a once in a lifetime experience.
There are all kinds of things to take away from such a project The weather is unpredictable. This is a rainforest and it does absolutely hurl it down at times. Above all, you do need to come with a spirit of adventure and be able to laugh at yourself. Animals are quite good at getting their own way, often at your own expense and some of your dignity.
To find out more about Diana's volunteering in the rainforest project, check out our wildlife sanctuary project.