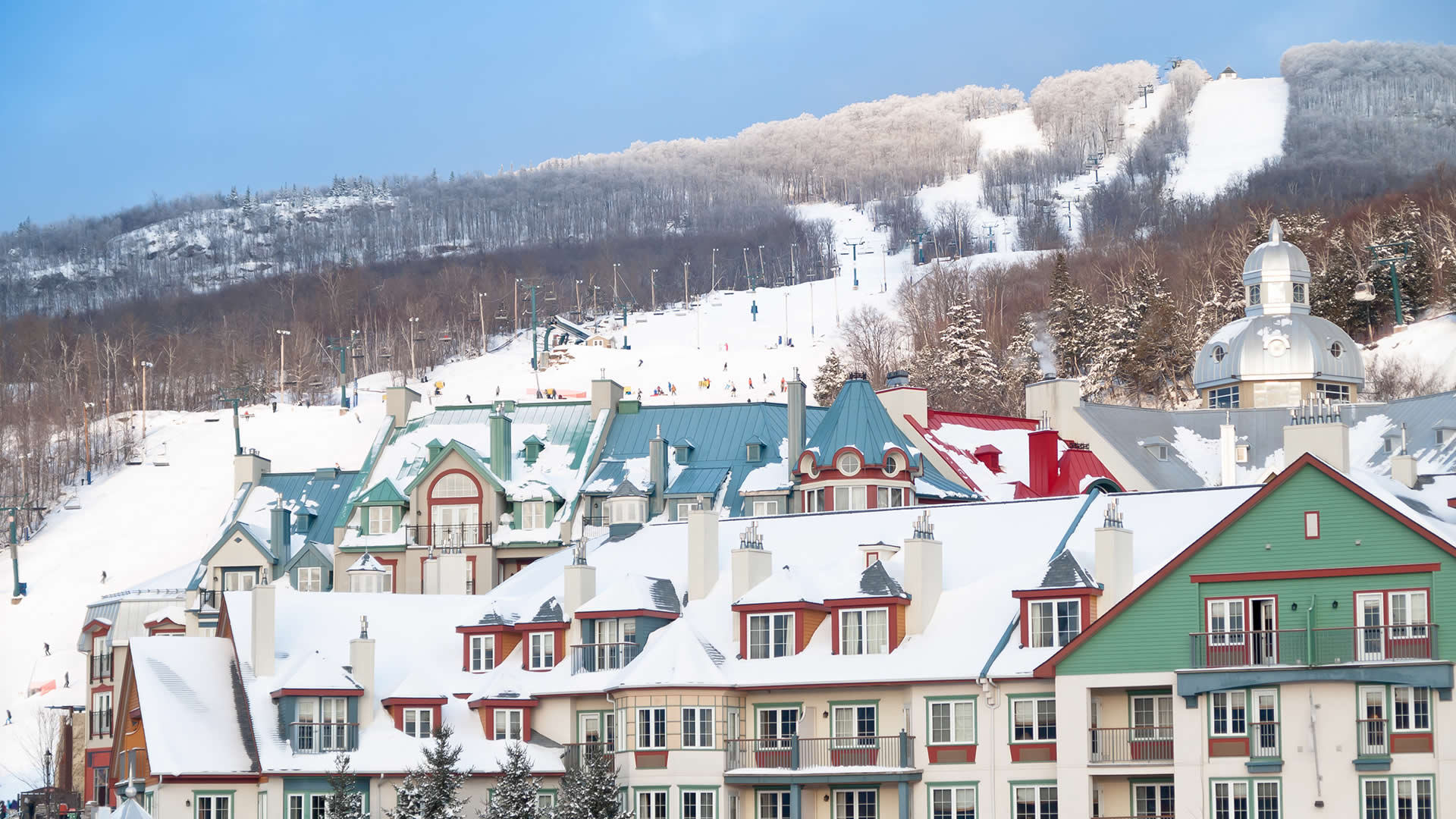 Spend a season living and working in French-speaking Quebec. Not only will you boost your CV with the work experience, you will also learn, or improve, your level of spoken French.
Our jobs are in bars, delis and restaurants within the resort of Mont Tremblant. The exact role will depend on your level of French and hospitality work experience, but French speakers can expect to work front of house with customers.
Duration: 23 weeks
Dates: Early December to late April each year. Now taking bookings for 2023/4 season.
Arrival day: Thursday
Return day: Thursday
Eligibility: Good level of fitness, French language and relevant work experience required
Age: 18+
Learning or improving your level of French whilst immersed in Canadian life
Gaining great work experience for your CV
Making the most of your days off, spent outside on the ski slopes
Exploring the area – Ottawa, Montreal and even New York are easily accessible
Enjoying the support from Margo, our experienced rep in Tremblant
151 Chemin du Curé Deslauriers, Mont-Tremblant, QC J8E 1C9, Canada
Oyster have been sending people to work a season in a wide range of hospitality roles in the scenic year-round resort of Mont Tremblant since 2006.
You should expect to earn around C$15 (approx £9) per hour before tips, averaging 30-40 hours a week across the ski season. You'll be paid fortnightly.
With our job guarantee, we will find you a winter season job before you leave home. The job will be entry-level within the hospitality work sector. The exact role will depend on your current work experience and your level of French.
The season runs late November through to late April. Many of our participants choose to extend their stay in Canada and work through the summer season as well.
Entry-level jobs tend to involve working 'back of house' and not dealing too much with customers as you learn how the business works. This is also great for those who want to become more confident with their level of French!
If you have a good understanding of French, let us know as we may be able to find you a role where you interact with customers straight away.
Positions include:
dishwashing
basic food prep
deli-counter assistant
bar work in restaurants
restaurant host
waitering
Please note: We ask for a £180 payment when booking this programme. If, in the event you are unsuccessful in the interview, or we cannot find a job for you before you leave home, the money that you pay Oyster is fully refundable.
Hours vary with season, snow conditions and guest numbers. Normally, you get two days off to ski per week. During peak times, such as Christmas, you may be working 6 or even 7 days per week. You should always expect to work during the busy times of the season, as this is when you are needed most. In the quieter times, you may only work 2-3 days work per week. Each pay cheque will be different so there will be times you may need to live on a budget.
The official language of Québec is French.  We don't stipulate a qualification in French, but you will need to have a basic grasp and be very willing to learn. The more French you speak the more likely it is that you will get a more front of house role – this will help your French greatly.  English is well understood but it is polite to start any conversation in French.  Quebecois  French is descended from 17th Century Parisienne French and is thought of as original French.
Live in the quaint town of St Jovite – a bus ride from the main resort
You'll live in an apartment with the other Oyster participants.
Expect to share a room
Kitchen and laundry facilities are provided
Rent, including WiFi, is approx $600 per month
You'll be self-catered in your accommodation and have access to a kitchen
There is a supermarket in St Jovite where you can buy all you need
Plenty of options to eat out in both St Jovite and Tremblant
Airport: Montreal (YUL)
Arrival day: Usually a Thursday – this will be confirmed before you book your flights.
Transfer details: Assuming you arrive with the rest of the group, we will pick you up at the airport and transfer you to your accommodation.
Departure day: Usually a Thursday. You will need to organise your own transport back to the airport.

Margo joined Oyster as our Tremblant representative in the summer of 2011 and, having been an employer herself, is very experienced in supporting our participants.
Margo is originally from Montreal, Quebec, and having lived in many regions of Canada calls Tremblant her home. Margo and Luigi really enjoy the area and all it has to offer: golf, skiing, lakes and festivals, as well as its proximity to Montreal, Ottawa and the U.S. Margo is looking forward to welcoming you to Tremblant!
Margo will be in close contact with you over the first couple of days. As time goes on, she will take more of a back seat and be there as a helpful friend should you need any help or advice.
Once a month, Margo hosts a meet up with the Oyster group where we provide a few drinks and snacks and the chance for you to talk through any issues you might have. Margo likes to mix these up a bit and for recent groups have taken them out on day trips to Ottawa or Montreal so that people can learn more about the culture and history of this part of Canada. Margo is a local expert on where to go and what to see in the area.
Our representatives are there to be a helpful friend to you and steer you through difficulties of any kind. Margo will keep us updated on your health and welfare throughout.
Access to your own personal 'My Oyster' account – our online portal where you can find out much more about the program and manage your booking
Dedicated contact time with an experienced destination manager to discuss the project, answer any of your questions and for us to find out more about you
Help and advice from our UK office before arrival and whilst you are away
In-country support
Pre-departure information covering medical, safety and project advice
Gold level, 24/7 Pharos crisis management and incident support cover
Financial protection: ATOL (if we book your flights); IPP (if we don't book your flights)
Thorough orientation on arrival
Accommodation (see the 'accommodation' section above for details)
Advice on visa requirements
Oyster plants a tree in Africa with TreeAid to help reduce the impact of global carbon emissions
UK briefing covering employment issues and work advice
A suitable job, liaising with employers and obtaining job offer letters etc. Please be aware some employers like to conduct their own interview on the phone
Optional flight with fixed return date. Total cost including flight £2195 (if you want a more flexible ticket this can be organised)
Transport to your accommodation from the airport
Advice and support from our representative throughout the season, including regular social 'meet ups'
Wages (approx. $300 per week, before tips)
On your return:
Welcome home pack
Certificate of Recognition (on request)
References (on request)
Flights – as an ATOL bonded company, Oyster can book flights for you
You need a valid passport that meets the requirements of the country you will be travelling to
Insurance (covering your time with Oyster and any planned independent travel)
Any costs associated with changing your return flight date if you need to
Independent travel costs
Home country travel costs
Spending money for additional trips, food and entertainment
Be eligible for the Canadian IEC Working Holiday Program (sign up for our free application guide)
Accommodation and food costs, approximately C$25 (£15) per day
Cost of journey back to the airport at the end of the winter season
Optional – 6 month off peak ski pass – approx £300
Police check for immigration purposes (approx. £55)
Cost of IEC Working Holiday Work Permit and biometrics fee – C$338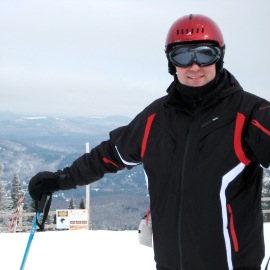 "Whenever I visit Tremblant, I'm really pleased to receive such positive feedback from the employers we work with. We're proud of the fact that employers choose to work with us we'll continue sending well selected and prepared participants every year."  Says Jon.
The winter in Tremblant ski resort is very cold, with temperatures at -20C not uncommon, this is fantastic news for a ski resort as it means plenty of lovely snow.
It can take up to 6 weeks before your first pay cheque arrives, so you will need to arrive in Canada with enough money to feed and entertain yourself. We would suggest having a minimum of £1000 available, plus extra if you are buying skis/boots. Once you start earning money, you should be able to live on the money you earn day to day. You might want savings in place to cover any extra trips or outings that you want to do.
Our Tremblant ski resort programme not only gives you the experience of living in a new country and gaining work experience for your CV, you can also learn a new language!
Since 2006, this winter season jobs programme has been popular among students either planning to study French at university, or who have just graduated with a languages degree. The Canadian dialect is different to European French you may have learned so this gives an added dimension to the language which is particularly useful and interesting to people with a passion for language.
If you are not currently a French speaker, don't be put off joining our Mont Tremblant ski season programme.
You will be able to set up a Canadian bank account with the help of our local representative, which you will be able to get a card for. Credit cards are advised for emergencies, as well as enough cash to see you through the first few days. There are ATM's in the village so you won't need to have lots of cash with you.
Past participants have been eligible to get a residents ski pass for the season for which the cost is approximately $450.
You will need to apply for a Canadian IEC Working Holiday permit before you go. To be able to qualify for the working holiday visa, you must be between the ages of 18 and 30, and hold a passport from one of the eligible countries stated by the Canadian Embassy: Australia, Belgium, Chile, Costa Rica, Croatia, Czech Republic, Denmark, Estonia, France, Germany, Greece, Hong Kong, Ireland, Italy, Japan, Korea Rep, Latvia, Lithuania, Mexico, Netherlands, New Zealand, Norway, Poland, Slovakia, Slovenia, Spain, Sweden, Taiwan, Ukraine, United Kingdom. This costs C$250 approximately (£125).
You will also need a Police Check for immigration purposes and this costs approximately £45.
We will help with this once you have booked a place on the programme.
You will need to make sure your passport is valid for a minimum of 6 months after your return date (any less can be possible but is likely to cause delays at immigration).
Most people book with Oyster on their own and travel with the rest of the group. The group meets at a UK briefing course before you go to Canada. You will be able to travel with a friend if you wish, please state this on your booking form.
Please visit your doctor or travel nurse to find out. It is unlikely that you will need anything in addition to your routine vaccinations, which should be up to date.
For any information related to Covid-19, please see the Fit for Travel website or the UK government's travel advice page for Canada.
There are doctors, health clinics and pharmacies in Tremblant, the main hospital is 15 miles away
Health and safety at work standards are very high in Canada. You should always follow advice given to you by your employers. Tremblant is a very safe village but it is always advised to keep valuables secure and stick together when you first arrive.
You will be living in a small town outside Tremblant called St Jovite. Tremblant is a 30 minute bus ride from St Jovite. A monthly pass on the bus between Tremblant and St Jovite costs $30.
The duplex (apartment) in St Jovite has 3 bedrooms, a lounge and a large kitchen. It is the best accommodation that we send anybody to anywhere in the world. We took the decision that people would be happier living in accommodation that is privately owned as opposed to staff accommodation. The rent is comparable to staff accommodation in the Rockies and Whistler and is very good for what you get. Each month you will pay C$500.
Maple Syrup!
Tremblant and Quebec are well known for their production of Maple Syrup. For a few weeks in the spring, people in Tremblant celebrate the Syrup harvest by putting Maple Syrup on pretty much everything they eat! The other local delicacy in Quebec is Poutine. Poutine consists of chips, gravy and cheese curd on top. You can buy this anywhere in Canada but the Quebec way is the original and best! You will be self catering in your accommodation and close enough to a supermarket to buy any food that you need. There are plenty of restaurants, to suit all budgets, offering cuisine from around the world in Tremblant and St Jovite. A sandwich will cost you around C$8 and a meal out would cost around C$15 plus tips.
Included in your monthly rent is the cost of WiFi in your apartment so using the internet at home is your best option. Most bars/restaurants offer free WiFi in the village.
You should take an 'unlocked' mobile phone with you to Canada (or you can buy a cheap Canadian one) and purchase a local 'pay as you go' SIM card. This is useful for contacting the representative and the rest of the group as local calls are very cheap. You can buy international phone cards to call the UK for $10+tax from any supermarket/phone shop this will give you hundreds of minutes to use any way you like, including calling the UK.
Tremblant is in the Eastern Canadian time zone which is 5 hours behind GMT (GMT -5).
Canada, like the US, operates on 110V, 60 cycle electric power. You should bring an adapter with you that has a two (flat) pronged plug.
You'll get an average of 2 days off work each week.
In the winter the main social activities are winter sports – skiing and snowboarding are really popular. You can also go tubing, ice skating, snow shoeing, dog sledding, play ice hockey etc. Further afield, Montreal and Ottawa are both a 2 hour bus ride away with plenty of shopping available and also plenty of ice hockey games where you can be a spectator.
Generally speaking, the winter season begins at the end of November, the resorts will get busier through December and be at their peak over Christmas and New Year. You may well be working 6 or even 7 days a week at this time. The resorts then fluctuate between being busy and average for the next couple of months – your hours will also fluctuate during this time and you may not quite be getting 5 days work a week. During Easter and any holiday times, the resorts attract more tourists so you would get more hours of work.
Although we are keen to send as many participants as possible this winter, the pandemic has of course brought some uncertainty as to how travel will unfold over the next couple of months.
Here at Oyster, we prioritise managing expectations alongside providing life changing experiences. We're very hopeful that we will be about to place all applicants, however, we have taken the decision to accept no further bookings for the Whistler hospitality programme at this stage.
We are committed to providing Oyster participants with an amazing experience, wherever that may be. For this reason, we are asking participants to consider other programmes should we not be able to deliver on your first choice. Please see the list of alternative ski season options below:
Alternatively, we could offer you any other fantastic Oyster project and your deposit will be transferred. Popular options that skiers have taken in the past include:
We look forward to providing you with an exciting gap year experience so please get in contact if you have any questions with regard to these programmes.
You will get to know our representative well in the first few days as they help you settle into life in Canada. You will go through an induction that involves a tour of the resort, assistance with setting up Social Insurance Numbers, bank accounts and mobile phones. You will also be introduced to your employer.
Once you start work, the representative takes more of a back seat role but is there as a helpful friend should you need assistance. Once a month, they will run a meet up with you and the rest of the group. Day to day, you will be under the supervision of your manager and supervisor at work.
Staff at Oyster's head office and in-country will be responsible for your safety and welfare while you are on our programme. This will start from the moment you are picked up from the airport until the end date of the programme, when you will make your own way back to the airport. If you are arranging your own flights and arriving earlier or later than the rest of the group, you will be responsible for yourself until meeting up with the rest of the group. Before and after the Oyster programme, you will be outside Oyster's responsibility and should make sure that you act safely and avoid risk. This is also true if you choose to get involved in activities during your time off. We will give you plenty of guidance and advice about this.
Other adventures like this