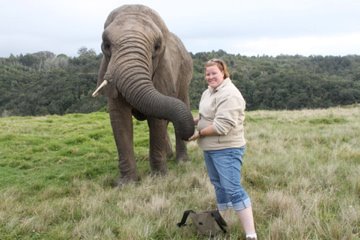 Many thanks to Mandy Holling, who shares some of her experience as a volunteer with elephants in South Africa.
"When I was looking at all of the places I could go and volunteer, elephants and Africa stood out for me.  Looking at all the photos of others having a great time lead me to go on my own adventure.
It was an adventure of a lifetime.  Working for two weeks with elephants in South Africa was one of the most amazing, inspiring, and unforgettable experiences of my life.
You may ask "why was it so unforgettable". That is because of three things: the people, the elephants and the free time fun.
At 7:45 at night we would go down to give the elephants a bedtime snack.  This is quite hard work as you have to drag some big pieces of branches to each elephant and I learned very quickly you had to make very wide turns so as not to get too close to their trunks.   The best part was we got to give a special treat to each elephant and that was by far the best experience.
I did not have a favorite but the one elephant that drew my attention was the Matriarch Sally. She was a very large and in charge, always ready to defend and take care of her herd.
One morning at 5 am I was assigned to do morning Boma observations which involves going to the sitting room that overlooks the Boma and watching the elephants until 6.30 when they head out into the fields. Every five minutes you must write down what each elephant is doing. For example are they standing or lying down, eating branches or interacting with another elephant.  I sat up there when the lights were out and it was so quiet. I was looking for one of the elephants but could not find her in her stall.  I knew she was there but in the dark it was tough with the flashlight to find her location. It was not until another elephant stood up that I realized that the two were lying cuddled up together.  It was by far one of the cutest things I had seen and it warmed my heart. These elephants were of no relations to each other but due to circumstances beyond their control, they were thrown together into a herd.  The love that they had for one another was amazing to see.  It did not matter where they came from, they only know that they are family now.
When people ask me what the best part of my time there was, it was the simple things.  Sitting in the field watching people and elephants interact, watching a school child see an elephant for the first time, or just watching them play and eat – those are the images that I will never forget. Those are the images that when I am having a bad day, I can smile and know that life is just so simple, even an elephant can do it."
To find out more about this project, check out our volunteer with elephants in South Africa website or contact Anne on [email protected]