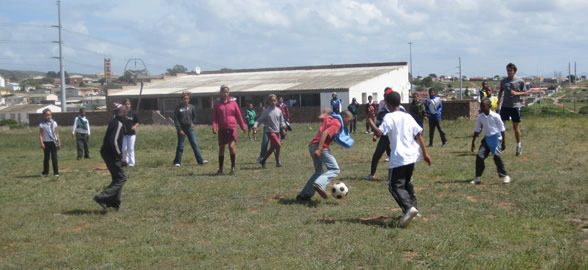 Following last night's Sports Personality of the Year Award 2010 I am feeling inspired. There were some truly amazing sports men and women in the runnings for the award, and jockey McCoy, humbled by winning, was certainly worthy of this year's trophy.
Looking to other sporting greats, such as the obvious David Beckham, it is clear to see how much sport can really do for people.Taking up a sport and being given the opportunity to learn a new sport can really make a difference to individuals. It can even change the course of a lifetime.
If you too are feeling inspired by seeing the great sports achievers on television last night, why not consider making a difference of your own? We have an excellent sports coaching programme running in South Africa, where you can teach your favourite sports to impoverished children in townships in Port Elizabeth.
You will make such a difference to these children's lives, as learning a sport is not just about being able to play well; it is an amazing benefit for the kids to have an aim and motivation, to play with their friends learning teamwork and the importance of keeping healthy. You will be combining your passion for sports and teaching with something very important- you will be giving the children the opportunity to enjoy something, to learn something, to develop themselves. This is a fantastic project for both yourself and the children, developing awareness, independence, confidence and learning about life in this fascinating country. You will see the children develop over your time there- who knows, maybe you'll even be coaching the next double century basher Alistair Cook!
You will be living and working in South Africa, in "the friendly city" of Port Elizabeth. Port Elizabeth is home to St George's Park cricket ground, the oldest cricket ground in South Africa- the venue for the first Test match played outside of Australia or England, between South Africa and England on the 12th and 13 March 1889 . The Warriors, a top Cricket Team in South Africa, is based in Port Elizabeth.
There is so much to offer in and around Port Elizabeth to satisfy your interests. It stretches for 16km along Algoa Bay, which is home to scuba diving, game fishing charters, surfing, windsurfing and kiteboarding- it is for this reason that it is also known as the watersports capital of South Africa. There are many cruises offered from the harbour from sunset cruises to view dolphins to whale watching tours.
Further afield there are a number of game viewing opportunities, including the famous Addo Elephant Park, 72 km to the north near the Zuurberg mountain range and National Park.
Other activities include surfing at Jefferey's Bay, a nature outing at Storm's River, a weekend bushcamp along fish river including a horseback safari, the world's highest bungee jump at Bloukrans Bridge or a trip to Sunday's River with waterskiing, fishing and dune boarding.
Check out our website for more information or email Anne at [email protected]