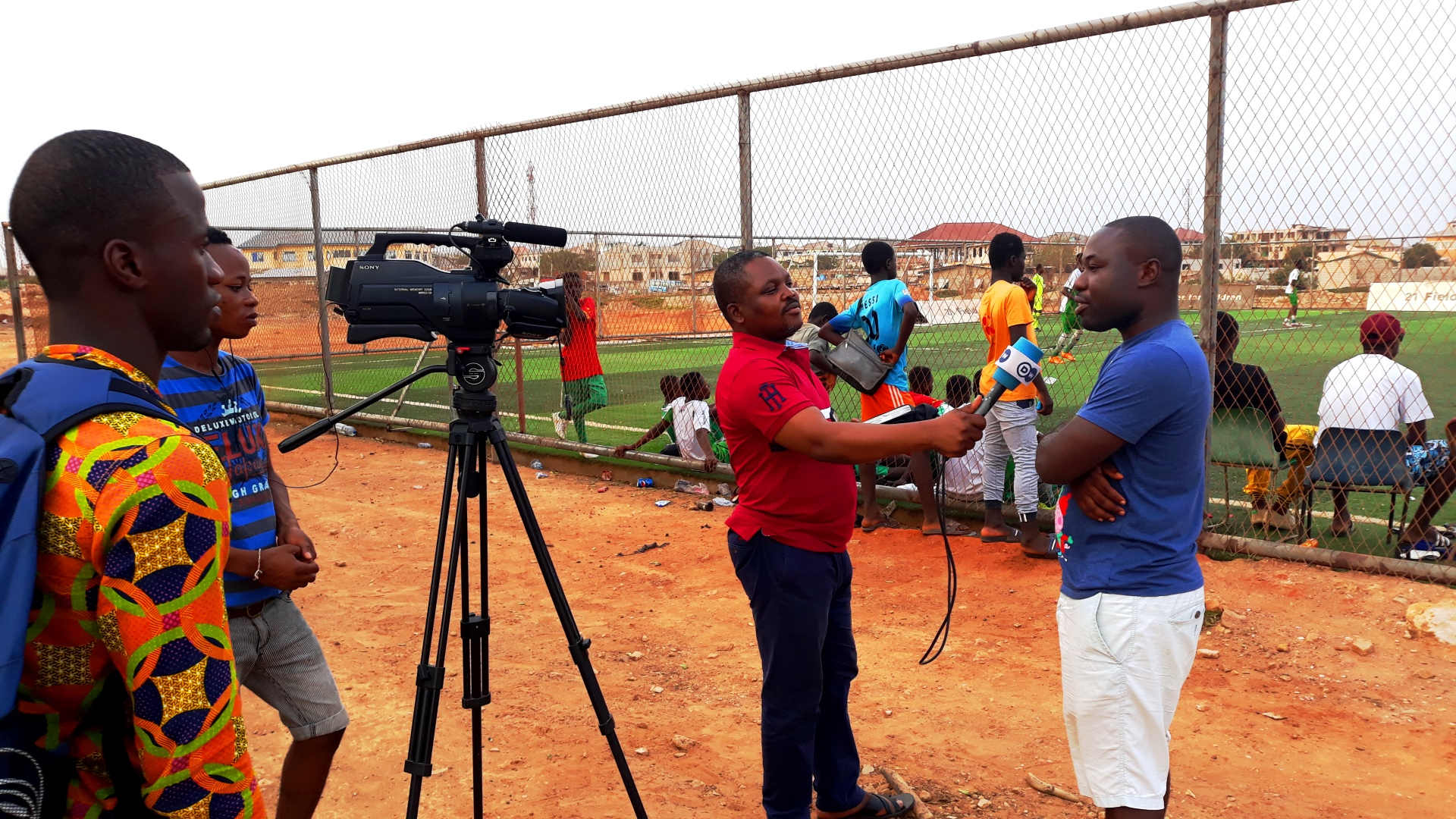 Ghana is a fantastic country situated in Western Africa. Take part in a journalism internship in Accra and gain a unique insight into the industry and the country, while helping to support under-funded newspapers, TV networks or radio stations.
Duration: 4 – 16 weeks
Dates: Throughout the year
Arrival day: Saturday or Sunday
Return day: Saturday
Eligibility: Good English speakers and general level of fitness required
Age: 18+
Gaining hands on journalism experience in Ghana
Meeting professional reporters and journalists in an exciting work place
Living in a fun intern house in a safe area of the city
Experiencing life in vibrant Ghana
Returning home with new skills and a portfolio that will impress
Media in Ghana is rapidly improving and by taking part in this journalism internship, you can get hands on experience in an exciting environment. We offer the following internships:
• Newspaper journalism
• Radio broadcasting
• TV journalism
You will get to work alongside professional journalists, helping to report on a variety of issues, from politics to sport. We will work hard to match your interests with an exciting internship in Ghana.
As an intern, you will typically work from 09:00 to 17:00. You will get to take part in a range of activities, from researching for a local paper to broadcasting on TV – there is plenty you could get involved in. Your predominant role will be to help with editing, copy-writing, reporting, interviewing and researching. Working as part of a vibrant team, there will be journalists and reporters there to offer guidance throughout your time as an intern.
There will also be plenty of opportunities to get involved with local schools and academies to teach classes in media, creative writing and basic journalism, allowing you to give back to the community. Past interns have helped to oversee the production of a newspaper, created by local children.
For interns looking to develop their travel writing skills, work on their own stories or create a photography portfolio, the team in-county have extensive connections and will help you reach your goals.
If you are over 18 and a fluent English speaker with a real passion for the media and news, this is the internship for you. Aspiring reporters and media professionals are both welcome to take part. You need to have good literacy and communication skills to be able to make a real impact when in Ghana.
University electives and dissertations
Are you currently studying journalism or a media-based course? Get some hands-on experience in Ghana and use it towards your degree or conduct research for your dissertation. Get in touch and we will help tailor an internship to fit your course requirements.
As an intern, you will live in shared accommodation with other interns and volunteers.
There are plenty of communal areas to use to relax in the evenings and the weekends.
The accommodation has single sex rooms and western bathrooms.
There is a wall around the accommodation and there is a guard at the gate at all times.
The accommodation is located in Teshi Nungua, about 20 minutes drive from the center of Accra and 10 minutes from the sea front. It is close to local amenities.
Breakfast, lunch and dinner are provided for you, seven days a week.
You will be provided with a packed lunch to take with you each day.
Breakfast and dinner is home-cooked and served at a large dining table in the accommodation.
The food is varied but you will have plenty of opportunities to try out Ghanaian food.
Clean drinking water is provided for you at the accommodation.
What do I need to know regarding Covid-19?
We have been working closely with our partners in Ghana and keeping an eye on the current travel restrictions to ensure we have the most up to date information and give you peace of mind. Please see the links below for more information.
Program updates:
We expect there to be small changes to the program in order to accommodate restrictions in place at the time of travel. These may include:
social distancing
accommodation amendments
private transfers instead of groups
proof of a negative Covid-19 test upon arrival (taken within 72 hours before travel)
wearing masks and other protective clothing
extra health and safety measures
Depending on when you are due to travel, some of these may become obsolete. We advise to be prepared for a quick turnaround of travel arrangements and having back up options should changes need to be made.
Airport: Kotoka International Airport (ACC)
Arrival day: Saturday or Sunday. You will be collected from the airport and driven to the accommodation
Departure day: Saturday
Access to your own personal 'My Oyster' account – our online portal where you can find out much more about the program and manage your booking
Dedicated contact time with an experienced destination manager to discuss the project, answer any of your questions and for us to find out more about you
Help and advice from our UK office before arrival and whilst you are away
In-country support
Pre-departure information covering medical, safety and project advice
Gold level, 24/7 Pharos crisis management and incident support cover
Financial protection: ATOL (if we book your flights); IPP (if we don't book your flights)
Thorough orientation on arrival
Accommodation (see the 'accommodation' section above for details)
Advice on visa requirements
Oyster plants a tree in Africa with TreeAid to help reduce the impact of global carbon emissions
Airport pick-up
3 meals a day, seven days a week
Oyster Worldwide volunteer t-shirt
Oyster luggage tag
Welcome home pack
Certificate of Recognition (on request)
References (on request)
Flights – as an ATOL bonded company, Oyster can book flights for you
You need a valid passport that meets the requirements of the country you will be travelling to
Insurance (covering your time with Oyster and any planned independent travel)
Any costs associated with changing your return flight date if you need to
Independent travel costs
Home country travel costs
Spending money for additional trips, food and entertainment
Tourist visa
Provide a recent police certificate/DBS check
Regardless of which type of media internship you take part in, you will typically be working 09:00 to 17:00.
You will be shown how to get to your work on the first day. The easiest way to travel round the city is by taxi or tro tro.
You can intern for a minimum of 4 weeks throughout the year. The arrival day is either Saturday or Sunday.
There are two main seasons in Ghana – wet and dry.
The rainy season is between March and November
From December to March, the harmattan, a dry desert wind, blows through Ghana, meaning this is the hottest time to visit.
All food and accommodation is provided on this project. You will need to budget for snacks, souvenirs and travel. We recommend bringing at least £30/$45 a week.
ATMs can be found all over Ghana. You can also find exchange bureaus.
Cash cards are a safe and convenient way to take your money traveling with you – they act just like debit cards, but do not have the same fees as you might have to pay on your bank cards from home. We recommend the Caxton card. Check out our blog for details on how the card works.
You will need a visa to travel to Ghana. You need to apply for it at least 15 working days before travel.
We will provide you with the necessary documents and advise on how to apply.
Most of our volunteers arrive on their own. When you arrive in Ghana, you will meet plenty of other volunteers.
If you want to travel with a friend or group, let us know – we are happy to organize group trips.
You will need a yellow fever certificate on arrival in Ghana.
You should visit your doctor or travel nurse to find out what vaccinations you will need. Your routine vaccinations will need to be up to date; hepatitis A and typhoid are likely. You should follow your doctor's advice.
Please check below for where the closest hospital to the project is- your doctor may ask to know this so that they can provide information on rabies.
There are plenty of medical facilities in Accra. Medical facilities are good and there are a variety of medical clinics, surgeries and hospitals.
Ghana is a safe country to travel to. A full briefing is provided at the start of the projects, covering health, safety and cultural expectations. Common sense rules apply and volunteers are advised not to walk alone at night and to look after their valuables.
Throughout the internship, you will be living in shared, dormitory-style accommodation with other interns. The house is surrounded by a wall and the gate is guarded constantly. There is a swimming pool and plenty of communal space to relax in. The bathrooms have western toilets and showering facilities. Food and water will be supplied at the accommodation.
Food in Ghana is amazing and very different. You will be given breakfast, lunch and dinner, 7 days a week (while you are at the accommodation).
Typical breakfasts include Milo, tea or coffee with toast and spreads, and fruit. Lunch will be a packed lunch that you can take to the project. For dinner, you will typically have rice dishes, meat, beans, chicken, beef, fish and plantain.
When out, you can try banku or fufu stew, red red stew and jollof rice
Supervision will be fairly intensive during the first few days, when you will receive a thorough induction and work-related training. Once you are comfortable with things, you might not always have a supervisor working alongside you, but there will always be staff and other volunteers around to help, and you will always be accompanied for any high risk activities.
Staff at Oyster's head office and in-country will be responsible for your safety and welfare while you are at the project. This will start from the moment you are picked up from the airport until the time you are dropped back there. Before and after these times, you will be outside Oyster's responsibility and should make sure that you act safely and avoid risk. This is also true if you choose to leave the project during your time off. We will give you plenty of guidance and advice about this.
Typically, during your time on the project, you will be working Monday to Friday. You will have evenings and weekend free, giving you plenty of time to explore Ghana. The team can be flexible if you have any travel plans.
There is plenty to do and see in Ghana.
Key highlights include:
Kakum canopy walk
Cape Coast
Mole National Park
Wli Waterfalls
Kumasi market
The team can help you organize excursions and they can book bus drivers for your trip.
You will have no access at the house. A very cheap local sim can be bought and 1GB of data is 90p/$1. There are also plenty of internet cafes near the accommodation.
Phone reception is good in Accra and you can buy a local SIM card easily.
Ghanaian plugs are either type D or G. The standard voltage is 230V.
Other adventures like this